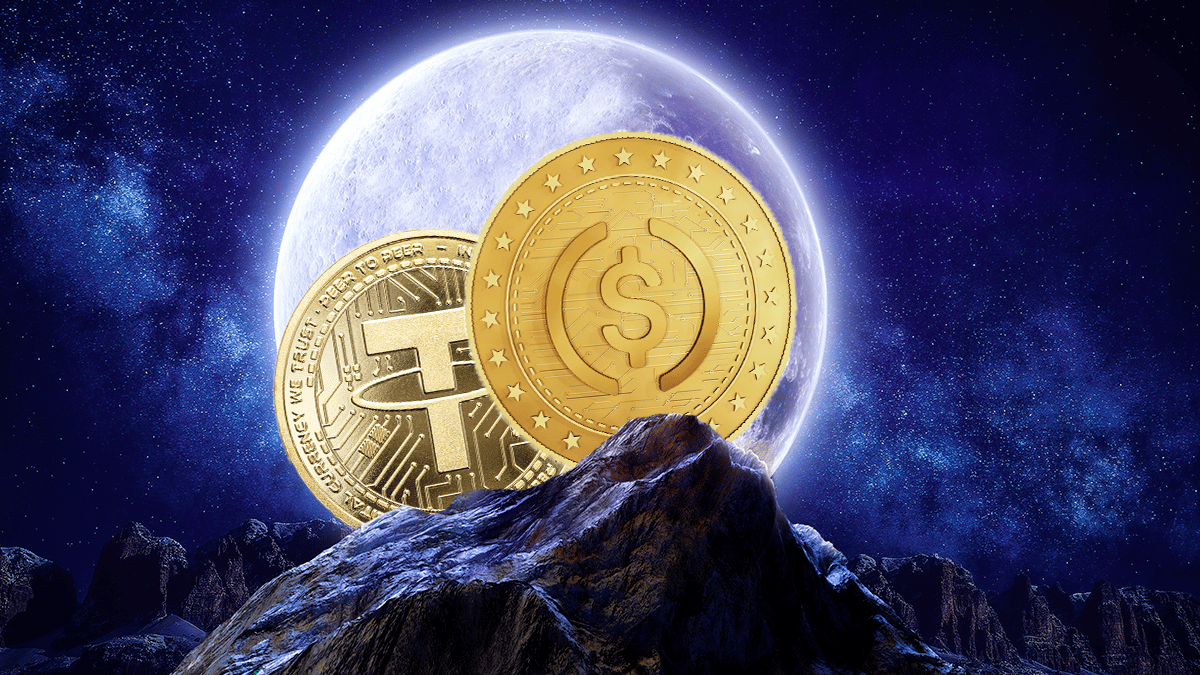 Key facts:
The market capitalization of USDT and USDC already have a dominance of 13%.

If other stablecoins are added to the statistic, the dominance rises to more than 17%.
The current bitcoin (BTC) bear market is causing some investors to flee this and other volatile cryptocurrencies and move their money towards stablecoins. These are tokens that maintain price parity with another asset, usually the US dollar.
The top two stablecoins by market cap are tether (USDT) and USD coin (USDC). Days ago reached an all-time high in their dominancethat is, in the percentage of the money invested in cryptocurrencies that is destined for these 2 assets.
Together, USDT and USDC reach 13% dominance. To have an idea of ​​what this magnitude represents, it is useful to know that BTC has a dominance of 43% currently. For its part, ether (ETH), the cryptocurrency of the Ethereum network, accounts for 14% of the market.
Although these numbers are high, it is worth clarifying that the dominance of these two stablecoins reached its highest point last Saturday, June 18, reaching 17%. That date coincided with the drop in the price of BTC below USD 18 thousand.
The trend in the graphs of the dominance of both stablecoins shows a bullish pattern that opposes the current market decline.
USDC wants to dispute the reign of USDT
A particular detail that reflects this trend is that, during this time, USDT, which owns a current dominance over 7%, has significantly reduced its market capitalization. It went from a historical maximum of over USD 82,000 million, to around USD 66,000 today. The issuance or burning of USDT is done directly by the organization behind Tetheramong other things, in order for the token to maintain its parity.
On your side, USDC has increased its capitalizationnamely, has issued more stable tokens this past month, totaling $5 billionwith a current capitalization of over USD 55,000 million.
about dominance, It is a concept that refers to how much percentage the market capitalization of a cryptocurrency occupies. regarding the sum of the capitalization of all circulating cryptocurrencies and tokens.
Stablecoins offer stability before volatility
The growing dominance gained by stablecoins can be directly linked to the cryptocurrency market crash. It is natural to think that people run away from cryptocurrencies like BTC or ETH and keep their portfolios in stablecoins.
However, there is another scenario, which is positively affecting this dominance, and it is the growing interest in access to foreign currency among the inhabitants of developing countries. In many cases, government policies have curbed access to international financial tools and national currencies are constantly depreciating.
An example of this is Venezuela, a country whose political and economic situation has forced its population to seek options for access to foreign currency, specifically US dollars. Such has been the current influence that stablecoins are having on the Venezuelan economy that, the prices within the parallel market (black market) of the dollar are made based on the price that USDT has within the P2P exchange platform of Binance.
An analysis on where the term "USDT" is most searched on Google, shows how in the top 10, most belong to the category of developing countries. Cuba is the country that occupies the first place on the podium.
Although many people have migrated their capital to stablecoins while the "crypto winter" passes, others see in this type of cryptocurrency an option that allows them to obtain savings modalities against vulnerable economies.