Spotify is the leading platform for streaming musical with its more than 480 million registered monthly users.

According to a study, Mexico ranks third among the most innovative countries in Latin America.

The use of Artificial Intelligence will be, according to some specialists, the big bet of brands for this 2023.
The popularity of the use of Artificial Intelligence continues to bear fruit and, now, Spotify is the company that has entered this market, creating its own DJ.
Technology, like everything in life, continues to advance and, with it, changing people's lives. We have already seen what happened, to mention one example, in 2020, the year in which, due to the pandemic, technology was not only a refuge, but was also a lifeline for both companies and people themselves.
In this sense, digitization had a more than important growth in a historical period in which, without a doubt, the use of technology was vital to face the day to day.
Taking this as a starting point, Latin America can be considered one of the most complex regions in all areas, which is why issues such as innovation, technology and digitization are a little later compared to what is happening in other latitudes.
Mexico, according to the results of the Global Innovation Index 2022developed by the World Intellectual Property Organizationis in the third position of the most innovative countries in Latin America, a ranking led by Chile and Brazil, which speaks, in general terms, of progress towards digital maturity.
Today, beyond talking about the metaverse, Artificial Intelligence seems to be the big bet for brands in 2023, a fact that we can even corroborate with the series of initiatives that are being launched from various industries and, in addition, specialists. so they predict it.
Spotify launches its own DJ… created by Artificial Intelligence
At present, it is known that streaming is the main business model for the music industry, for artists, since we are talking about a time in which digitization continues to adapt to reality and to people's daily lives.
Under this framework, let us remember that, a few days ago, Spotify announced that it already has 489 million monthly active users worldwide, data that corresponds to the fourth fiscal quarter of 2022.
Q4 '22 $SPOT delivered great platform growth. We ended 2022 strongly despite a challenging year. Expect us to move faster with more intensity of effort, driving even greater efficiency in 2023. pic.twitter.com/rII7hHwRy1

—Daniel Ek (@eldsjal) January 31, 2023
Now, the Stockholm platform, following the trend of 2023, Spotify is getting on the Artificial Intelligence bandwagon, the same one in which brands like McDonald's, Microsoft, among others, have been traveling for some time.
As part of a new tool that it will make available to its users, Spotify has launched its own disc-jockey (DJ) created by Artificial Intelligence. This is a new function that will allow Internet users play songs along with AI-generated spoken commentary and that, according to the company, have an "incredibly realistic voice".
In other words, it is an initiative that emulates radio programs, with the difference that, instead of the announcer, the speaker is Artificial Intelligence.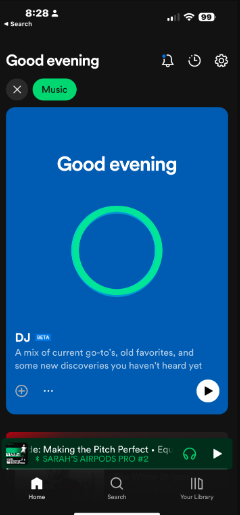 At the moment, this tool is in beta mode and, for sure, it is not known when it will be available on the Spotify platform.
In short, one of the greatest benefits that the pandemic allowed was to grant a greater change towards a scenario that, even, had already been going strong: that of digitization.
Now read: