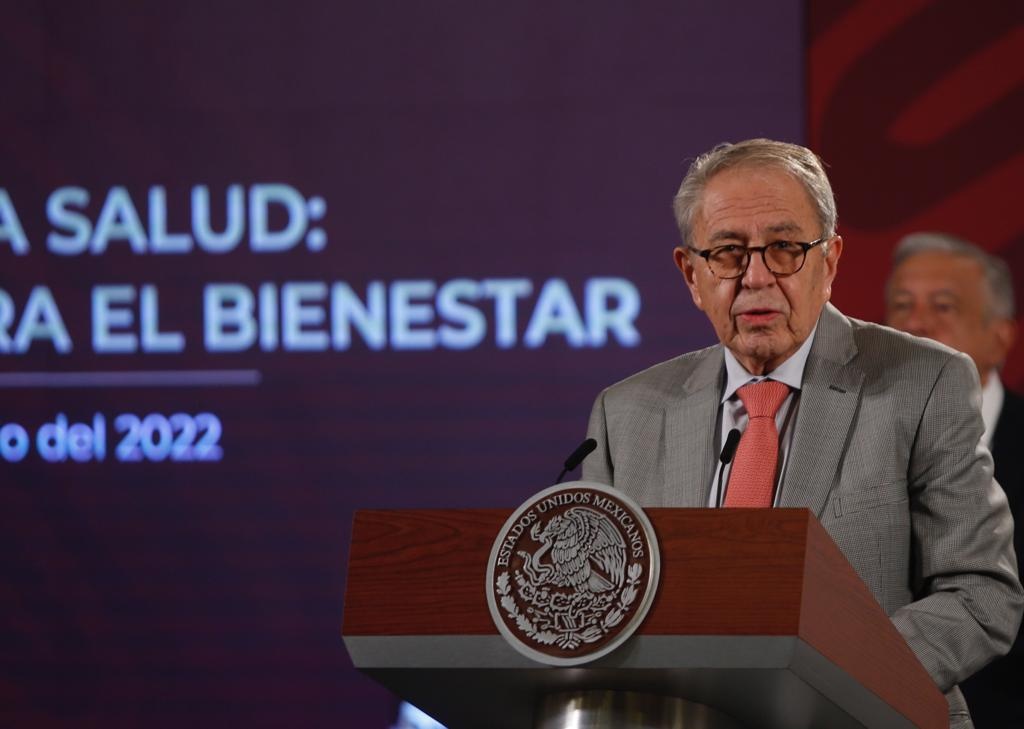 Of the 10,920 doctors and specialists who registered at the National Recruitment Day, some 6,229 did not attend their appointment.
Only 4,494, 41%, went on to the next stage, reported the Secretary of Health, Jorge Alcocer Varela.
Dr. Alcocer said that in addition to 197 doctors, 2% could not prove their specialty.
According to EL UNIVERSAL, of the 10,920 doctors and specialists who registered with the National Recruitment Day, 57%, about 6,229, did not attend their appointment and only 4,494, 41%, went on to the next stage, reported the Secretary of Health, Jorge Alcocer Varela.
Dr. Alcocer said that in addition to 197 doctors, 2% could not prove their specialty.
In the case of labor demand by institution, the INSABI 2 thousand 313 attended and 2 thousand 245 were accredited; 1,376 attended the IMSS and 1,282 were accredited; 569 attended the ISSSTE and were accredited. 551; Pemex attended 252 and 243 were accredited; among others.
While for the response of applicants by medical specialty was:
Of Internal Medicine only 10% were accredited, of medical-surgical emergencies 13%gynecology about a third and in greater quantity anesthesiology were accredited 663 and general surgery also about a third.
By federal entity in the response to the call was above 60% in Campeche, Oaxaca, Aguascalientes with the highest accreditation and the lowest participation, Colima, Jalisco and Guanajuato with less than 30%.
There will be a new round of recruiting doctors
As a result of the national day of recruitment and hiring of specialist doctors, in which 14 thousand 323 vacancies were offered for five federal health agencies, 41 percent of the 10 thousand 920 registered doctors will go to a second stage, reported Jorge Alcocer Varela, Secretary of Health.
About the National Day of Recruitment and Hiring of Medical Specialists.
Remember that to counteract the shortage of medical specialists in marginalized areas of the country, The federal government announced the call for immediate hiring of these professionals to fill 13,765 positions that "have been unoccupied for years."
Later, it was pointed out that there were more than 9 thousand seats that they had NOT even received a request from the doctors. Of which, 3,390 belong to indigenous areas in distant places, near the states of Taxco, Veracruz, Zacatecas, Michoacán and Oaxaca.
Why don't Mexican doctors go to rural regions?
According to Dr. Mauricio Sarmiento and what was said in Medscape There are some reasons why Mexican doctors do not want to return to rural areas after their social service and they are the following:
I am dedicated to defending health personnel against the arbitrariness of the country's health authorities and from my experience I conclude that the health system is authoritarian. There are various laws and regulations that regulate medical practice, but it is the same authorities that have no interest in complying with them. They treat health personnel in a despotic manner, without respect and violate their labor and human rights. Generally, when some of these cases happen in medium or large cities, we have instances to which we can go to report and sue, but in rural communities it is very difficult to defend health personnel.
2. Bad working conditions.
It is a daily practice that health personnel are hired for three, six or nine months and after that time their contract is renewed. This should not be like that; the contracts would have to be for an indefinite period of time and with legal benefits. Temporary contracts are only part of the violence against health personnel, it is a way to control them, since their performance depends on whether or not they are hired again.
3. Lack of supplies and medical equipment.
The Zero Shortage Collective has documented that in recent years the shortage of drugs has increased, as well as counterfeit drugs and non-filled prescriptions. What is the use of having the best doctors without the supplies?
On the other hand, in addition to the lack of drugs, we must recognize that modern medicine is not individual work, but team work. The best medical specialist is useless if you do not have other doctors and a large number of health professionals at your side to address the problems of society.
4. Violence and insecurity.
In many columns I have talked about the violence suffered by health personnel. It is something that the authorities do not want to mention, but that the vast majority of health personnel know. Doctors do not want to go to rural areas because there is no one to guarantee their safety. We have had cases like that of Dr. Mariana, who despite denouncing that there was violence against her, the authorities ignored her and even threatened not to leave her health center.
Mexican doctors do not trust our authorities, we know that in case of violence they will wash their hands and leave us to our fate. It is no coincidence that those positions that nobody wants to occupy are in states of the republic considered insecure.
Related Notes:
Savings Pharmacies: What happens when the contribution to the doctor is voluntary?
Jacobo Grinberg, the Mexican neurophysiologist who discovered "telepathy" and disappeared
They exhibit the most frequent complaint towards doctors: "misinformation"