A strategic error deprived Carlos Sainz of pushing even harder aboard his F1-75 in the last stage of Q3, although the Spanish Ferrari driver was generally happy with his performance on track.
Leaving aside the start from the bottom of the grid at Monza for using more elements in your power unit of those allowed, as in Paul Ricard, it is time to go back to the Azerbaijan Grand Prix to find a Carlos Sainz starting beyond the top three classifieds.
Still with time to take even one more turnbut already with the battery not properly managed or the correct preparation regarding the tires, the #55 was left in no man's land due to a lack of communication.
"Even so I stayed a tenth and a half from pole, so I didn't have to go wrong"
"It has been a quali a bit chaotic", acknowledged the Spanish Ferrari driver himself after staying at 171 thousandths of the pole position achieved by his teammate at the top.
The Mercedes have been gradually approaching the pace of the Italians in the last grand prix, with the 'worst' Ferraris still in the memory, and on this occasion Lewis Hamilton was even able to stay ahead of Sainz, a touch of attention to take into account without forgetting, yes, the delicate conditions in which the track was.
Loading tweet…
1576204167466471424
strategy error
«A lot of traffic in Q1 and in Q2, without being able to do good laps. Then in Q3 I think we were right with the tyres, going out with the soft »said Sainz, endorsing his team in the first place.
However, immediately afterwards the driver from Madrid brought up the fault that has prevented him from getting the most out of his car. "The only thing… yes, the last lap… I was the first to cross the finish lineand here with what the track improves, it is clear that those who come from behind are going to improve you, "he explained.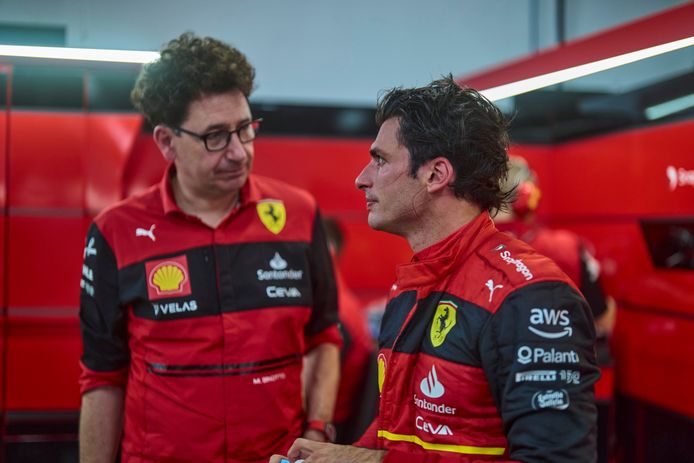 «These are things that we have to continue improving, because ideally you want to be the last to cross the finish line, and I think I was the first and I did not know that I still had another lap to go, because they haven't told me. To improve that side; Even so, I have stayed a tenth and a half from the poleso I haven't had to go wrongSainz clarified.
How far can you go in the race? According to Sainz, he has to "come back, try to get to the podium», the one that has already been climbed up to seven times in 2022. «We started 4th, a good start and fight for the podium and if you can win… This is a circuit in which it can happen of all or nothing, or a lot Safety Car or a boring race because you can't get too far ahead, so let's see what we find tomorrow, "Sainz closed.