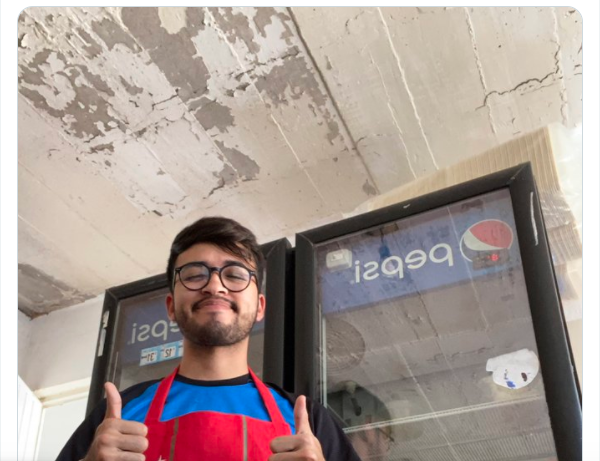 It seems that a new "battle" between Coca-Cola and Pepsi, the two most popular brands of cola, has started over a dispute over a grocer.
On Twitter, the user @ Isamirt2 He shared an image in which he exhibits the gift that Coca-Cola gave him, which, apparently, will be used for his daily tasks.
Beyond the gift itself, what has been put on the table, and that the tweeter himself exposes, is that, on this occasion, Coca-Cola has been the brand that, in his words, "has put trout" , and not Pepsi, the competition.
And the thing is, the photo shows us the subject posing with a Coca-Cola apron in front of an almost empty Pepsi refrigerator, in addition to the fact that right there he wrote: "@PepsiMEX put on trout, @CocaColaMx did give me an apron and you neither its lights ".
@PepsiMEX put on trout, @CocaColaMx Yes he gave me an apron and you or your lights pic.twitter.com/XHR18S8FAS

– Isamirt (@ Isamirt2) January 4, 2022
As we know, one of the most important brands in the world is Coca-Cola, a company that has known how to create strategies to attract all types of audiences.
One of its main audiences is precisely the niche of stores and local food establishments, since it is there where many drinks such as soft drinks, water, etc. are consumed.
Not surprisingly, sometimes we see some food outlets with tablecloths, tables, glasses and other products of a specific brand, which can be Coca-Cola, Pepsi or any other soft drink company.
Over the years, the battle between Coca-Cola and Pepsi, the two most popular cola brands on the planet, has given great marketing and advertising strategies in order to win over consumers and, why not? "Steal" customers.
Today, Coca-Cola is the most popular soft drink brand in the world, but although Pepsi remains below it, it has managed to win over the public through its own strategies.
And this is precisely what, in his own way, points out the tweeter, who "showed off" the gift that Coca-Cola gave him and that he can use as part of his daily activities.
Let's not forget that, for a few years now, practically everything has come down to what happens on social networks, Twitter being the one that most hosts conversations about complaints or, even, successes of the brands, which is why it is essential, today in day, design effective strategies to attract the attention of audiences.
For consumers, social networks are also a great window to expose complaints, claims, suggestions, but also positive comments on what, as it is considered, companies are doing well.
In this case, as simple as it may seem, the winner is Coca-Cola and it has done so with one of its most important consumer niches. Even through a tweet, the brand added to the enthusiasm of the user to dedicate a couple of words: "You lights magic."
Lights ? magical?

– Coca-Cola Mexico (@CocaColaMx) January 5, 2022
This type of situation, although it seems otherwise, is of great help to position brands in such a volatile scenario as social networks.
Now, we must not forget that, within all the negative that can exist on platforms such as Twitter, Facebook, Instagram or TikTok, there are, at times, some relevant stories regarding the strategies used by brands to satisfy the needs or tastes of your consumers.
Now read: