South African Sheldon Van der Linde has scored the second DTM pole at the Lausitzring circuit after signing a time of 1:30.998. The Team Schnitzer driver has managed to overcome the adjustment in the 'BoP' made by AVL to win pole position. Despite having lower pressure in the turbo of his BMW M4 GT3, Van der Linde has surpassed René Rast by more than a tenth. For his part, Maro Engel was third, while Mirko Bortolotti has finished in fourth positionachieving a 'top 4' with cars of different brands.
Sunday's qualifying session began with a great exchange of 'blows' based on fast times. Maximilian Götz, Kelvin Van der Linde, René Rast and Maro Engel occupied the first position of the time table during the first half of training. He even repeated René Rast, before giving the baton to Marco Wittmann. With everything, Dennis Olsen signed a 1:31.424 that remained as a reference to beat during a good stretch of the session, although Nico Müller managed to beat the Norwegian driver by just over a tenth.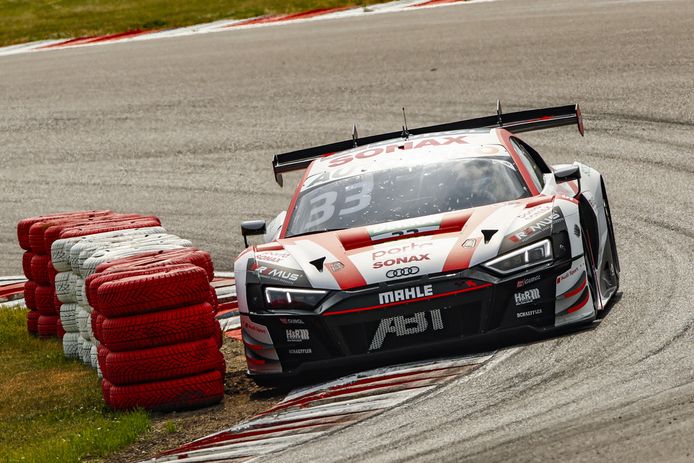 When the fight for the first position entered its critical phase, all the action came to a sudden stop. A spectacular and gigantic fire in Felipe Fraga's Ferrari 488 GT3 Evo forced the red flag to be shown. The Brazilian driver was desperately running for a fire extinguisher, but neither his quick reaction nor the presence of four marshals with as many fire extinguishers managed to put out the flames first. When they finally managed to stop the fire, the car was completely destroyed. It seems unlikely that Fraga could be in today's race.
Overcome the scare and once the car was removed, the last minutes of qualifying left a carousel of fastest laps. Maro Engel, René Rast, Mirko Bortolotti and Nick Cassidy beat Nico Müller first. However, Sheldon Van der Linde delivered the decisive blow over the checkered flag to take pole with a time of 1:30.998. René Rast still had time to reply, but the Audi driver had to settle for second position after beating Maro Engel.
After losing the leadership of the DTM during yesterday's session, Mirko Bortolotti has achieved a positive fourth position from which to recover this first place in the general classification, since Lucas Auer will start ninth. Between them appear the two Audis of Ricardo Feller and Nico Müller, as well as the Ferrari of Nick Cassidy and the Mercede of Luca Stolz. In addition, it is worth mentioning the tenth place obtained by David Schumacher, in what is his best performance to date in classification.
2022 DTM Qualifying 2 results at Lausitzring
Photos: DTM