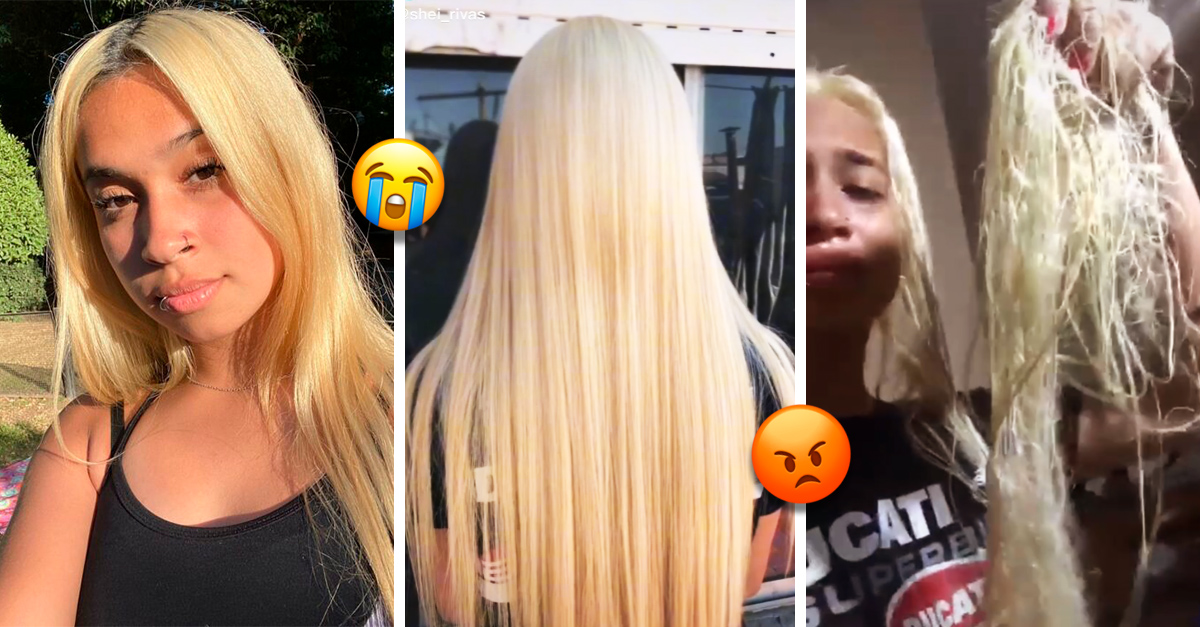 The tedious touch-up is something every color-treated woman has to deal with, as no girl likes to go around showing off the grown root on top of an amazing shade of hair that is obviously unnatural.
However, painting the hair or, failing that, bleaching it is something very delicate that should be left in the hands of beauty experts, since the misuse of products can cause severe damage not only to the hair, but also to the hair skin.
This happened to Sheila Rivas when she went to a beauty salon to touch up the roots of her hair. Unfortunately, the manager left the product for longer and ended up leaving her bald.
Sheila is a girl originally from Buenos Aires, Argentina, who recently went viral on TikTok after posting a video where she says that to show off her newly arranged hair at her XV-year party, she went to a hairdresser where they applied bleach for a long time and they left her hairless.
During the recording, the girl recounts that the stylist, who has been treating her for four months, normally left the bleach for approximately 40 minutes, but this time she left the product for two hours, since she was fixing her blinds.
@shei_rivas

#greenscreen #videoviral #fyp #pelada #peluquera

♬ Je te laisserai des mots – Patrick Watson
During an interview with a local media, the young woman confessed that when the stylist began to wash her hair, she had her eyes closed and began to feel very cold in her head, but as soon as she opened her eyes, she saw how the woman pulled the locks of her hair in the trash.
I couldn't believe it, I saw my hair everywhere. She was throwing my hair in a garbage can and she didn't say anything to me. She didn't want me to text my mom.
The moment she realized what was happening, Sheila tried to yell at her mom, but the stylist turned up the music so her mom couldn't hear her.
A short time later, the girl's mother arrived, who demanded an explanation from the woman for what happened, to which she replied that it was the fault of a new product she was using on Sheila's hair.
Given the situation, the mother took the girl to another place in the hope of repairing the damage, but unfortunately it was already too late and there was nothing else to do.
Sheila was devastated and sad to have lost her hair, so she decided to tell her experience through a TikTok, which has gone viral on social networks.
Sheila's story has endless comments, where users have given her their support and have sought ways to help her with the issue.
The girl who dreamed of wearing long blonde hair during her XV party is now undergoing a special hair treatment to get it back. For now, she must wear a wig.
The teenager's mother continues to seek justice for her daughter, since at the moment, the stylist has evaded her responsibility for the bad procedure she did on Sheila's hair.