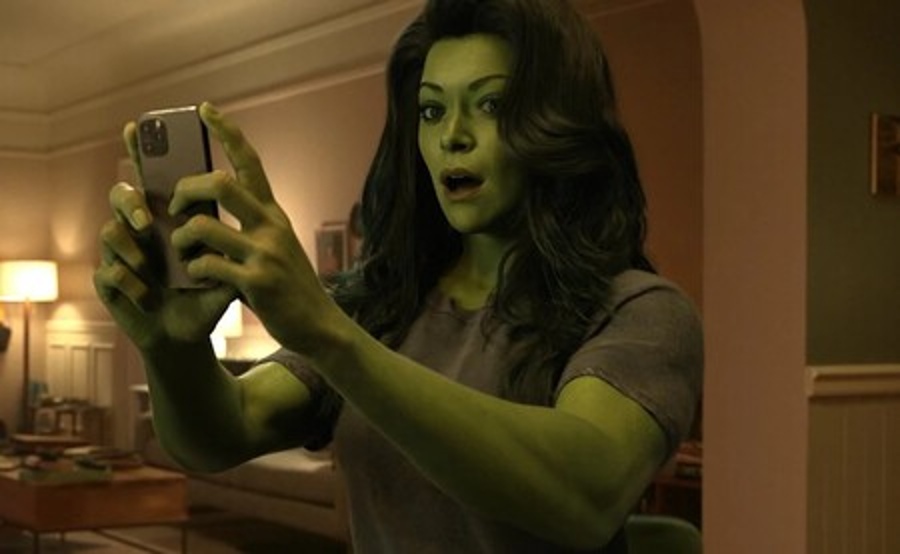 The She Hulk series will have its premiere on August 17 and the first season will have nine episodes.
Jennifer Walters (Maslany) is a lawyer with a sense of humor who uses dating apps like Tinder and has the power to become the Hulk without losing her temper.
Many Marvel fans were left with a little taste for CGI (computer generated imagery) by the trailer.
She Hulk, the new Marvel series, already has an official trailer and release date on the Disney+ (Disney Plus) streaming platform.
The premiere day of the nine chapters of the new content will be on August 17, 2022, although it could vary depending on the markets in which the entertainment giant's platform is available.
The series, which will feature Tatiana Maslany as lawyer-turned-radioactive hero Jennifer Walters, will arrive two months after the company premieres Ms. Marvel on June 8.
In those same weeks, the attention of fans of Marvel content will be focused on Thor: Love and Thunder, the next film in the saga that will be in theaters on July 8.
In She Hulk, Walters plays a lawyer who specializes in advising "superhumans." She additionally has some powers that she gets luego of receiving a blood transfusion from his cousin, Bruce Banner (Hulk, of course).
Starring in the series are Mark Ruffalo, in his role as the Hulk, Jameela Jamil, who will make her debut as Titania, and Tim Roth, who will play Abomination.
The series, in a comedy key, combines the judicial genre with that of superheroes. It is the creation of Jessica Gao and will be directed by Kat Coiro and Anu Valia.
She Hulk will be Marvel's third series in 2022 after "Moon Knight" and the aforementioned June premiere of Ms. Marvel.
An important fact is that in the three contents characters that were unknown in live action have been presented. The strategy was different from the first months of Disney +, when the series brought to streaming had characters that came from the cinema as stars.
They criticize the CGI of She Hulk
"I loved the legal comedy tone that the She Hulk trailer presented and Tatiana Maslany is number one. But I swear I haven't seen a main character 100% in CGI so LOOSE in a long time. In photos maybe she gets away a little more, but the physics of her movements is wrong, wrong, "said a user on Twitter.
I loved the tone of legal comedy presented by the trailer for #SheHulk and Tatiana Maslany is number one.

But I swear I haven't seen a main character 100% in CGI so LOOSE in a long time. In photos, maybe he gets away a little more, but the physics of his movements is wrong, wrong. pic.twitter.com/8FrJK6fxMC

— Lucas Baini | Camera in Hand (@Lbaini) May 17, 2022
HOW GOOD SHE-HULK'S CGI LOOKS! #SheHulk #MarvelStudios pic.twitter.com/3dUF73duKJ

— Agent Multiverse | Geek News (@AgtMultiverso) May 17, 2022
Marvel give a little more desire to the CGI #SheHulk pic.twitter.com/VKAinPRqrn

— 𝑮𝒆𝒏𝒊𝒖𝒔 𝑮𝒂𝒎𝒆𝒓 𝑴✨ (@bottle_genius) May 17, 2022
The CGI is ugly, but the series catches my attention 👀 #SheHulk pic.twitter.com/P9Q6iorNii

— Cinestr3s (@cinestr3s) May 17, 2022
The CGI problem in #SheHulk is the face. The body and animations are fine, decent, but the face looks horrible.

They still have 3 months to improve it and I am confident that they will. The rest looks BRUTAL. pic.twitter.com/qgvPT7iBjH

— Geek Zone 🍿 #SheHulk #ThorLoveAndThunder (@GeekZoneGZ) May 17, 2022
Abomination's CGI was fine. The Hulk one there more or less. The She-Hulk one is so bad it reminded me of the bad CGI of the Scorpion King in The Mummy 2 and that movie is from 2001. pic.twitter.com/XG0FhSbYlW

– Mario Mojica Neck (@mariomojc) May 18, 2022