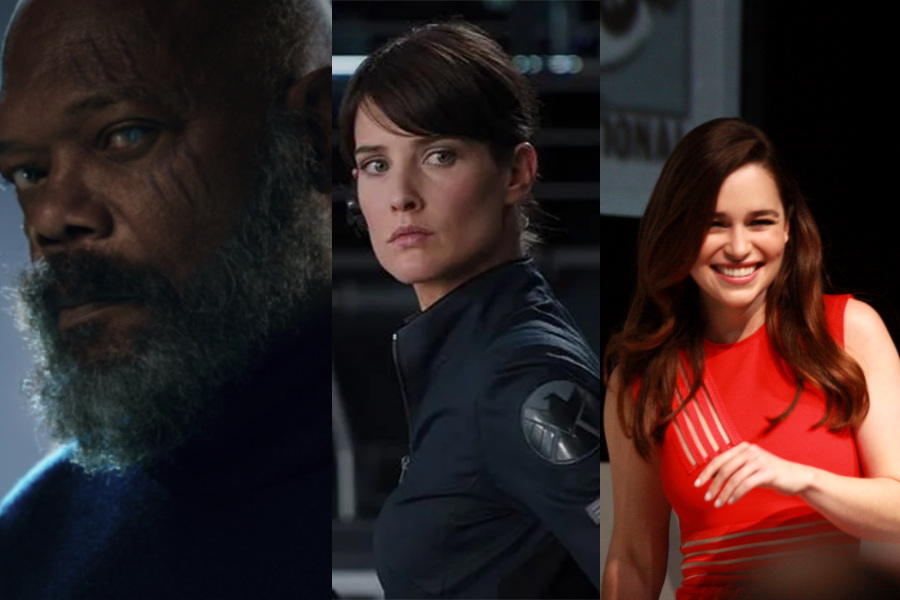 The streets of Leeds have become the epicenter of the action of Secret Invasion, where there are new images from the locations with Samuel L. Jackson, Emilia Clarke and Cobie Smulders
The Skrulls are already among us, and everything indicates that the Marvel Cinematic Universe will enter another level when their intentions are discovered in the new Secret Invasion series, which is already being filmed on location in Leeds, England, from where new images arrive.
It may interest you: Emilia Clarke's reasons for joining Secret Invasion
Through different twitter profiles, some of the new images of Secret Invasion have been released, a series that is recorded for Marvel Studios, which has been joined by Samuel L. Jackson, who will return in his role as Nick Fury, the director of SHIELD, and who is the architect of the Avengers Initiative.
OLHA ELE! Samuel L. Jackson as Nick Fury in new Secret Invasion set images. pic.twitter.com/jLCGc1d0Yi

– Nação Marvel 🌙 (@nacaomarveI) January 23, 2022
Actress Emilia Clarke, who arrives in the Marvel Cinematic Universe, also joined the recordings, in a role that has not yet been revealed to the public.
🚨 Emilia Clarke not set for "Secret Invasion", new series from Marvel Studios. pic.twitter.com/kJUdOllIhN

– Nação Marvel 🌙 (@nacaomarveI) January 23, 2022
And the support of Nick Fury could not be missing with the presence of Maria Hill. Cobie Smulders is already in England recording her participation in the new Marvel Studios proposal
MARIA HILL ✨ Cobie Smulders behind the scenes of "Secret Invasion"

(via @scarletearp) pic.twitter.com/RXCKqpjhSr

– Nação Marvel 🌙 (@nacaomarveI) January 23, 2022
Even Smulders and Emilia Clarke have already filmed some scenes together on the streets of Leeds, which
OR FOUND DAS LENDAS 🚨 Emilia Clarke and Cobie Smulders not set of Secret Invasion.pic.twitter.com/13F3410XdZ

– Nação Marvel 🌙 (@nacaomarveI) January 23, 2022
In Secret Invasion, the saga written by Michael Michael Bendis, the heroes of the Marvel Universe discovered that the Skrulls had begun to replace the heroes and infiltrated Earth through not only the government but also the Avengers.
Through careful planning and surprise, the invading aliens almost succeeded in taking over the world permanently. As they grapple with paranoia, Earth's Mightiest Heroes must band together to battle an armada of Skrull ships carrying an army of super-charged alien warriors.
Secret Invasion stars Emilia Clarke, Kingsley Ben-Adir, Olivia Colman, Carmen Ejogo, Christopher McDonald, and Killian Scott.
Marvel Studios' Secret Invasion, an Original Series, coming soon to @DisneyPlus. #DisneyPlusDay pic.twitter.com/2Jjzw8Uz29

— Marvel Studios (@MarvelStudios) November 12, 2021
Secret Invasion will premiere on the Disney+ digital platform, with a date yet to be confirmed.
Do not miss: The 10 moments of Secret Invasion that should not be forgotten
Fountain: Twitter
The Secret Invasion is about SMASH and Marvel Comics Mexico
The alien race of conquerors known as the Skrulls have been infiltrating our world for decades. They have used their power to shapeshift in order to weave their way into the highest levels of government, the military… and even the superhero community. Is that five-star general who he appears to be? Is it Iron Man? Or is it the Skrulls?
Nobody knows! The Skrulls' abilities defy all technological and mystical detection. Brother turns on brother and hero on hero as the Skrulls use their positions of power and ultimate weapon of confusion to launch a massive offensive and conquer Earth! This has been going on for years in silence. But now, the full force of the Secret Invasion is upon us!
SMASH and Marvel Comics Mexico bring you one of the Great Events that defined the history of La Casa de las Ideas, Marvel Essentials: Secret Invasion, authored by Brian Michael Bendis and the strokes of Leinil Yu, in an event that is a reference of The House of Ideas.

Also being read:
Everything you need to know about the arrival of Disney + Date, content and presale!
Disneyland: The world's first amusement park
All Disney+ content revealed
The luxurious suite that hides the Disneyland castle
Hugh Jackman's Butt Survives Disney+ Censorship