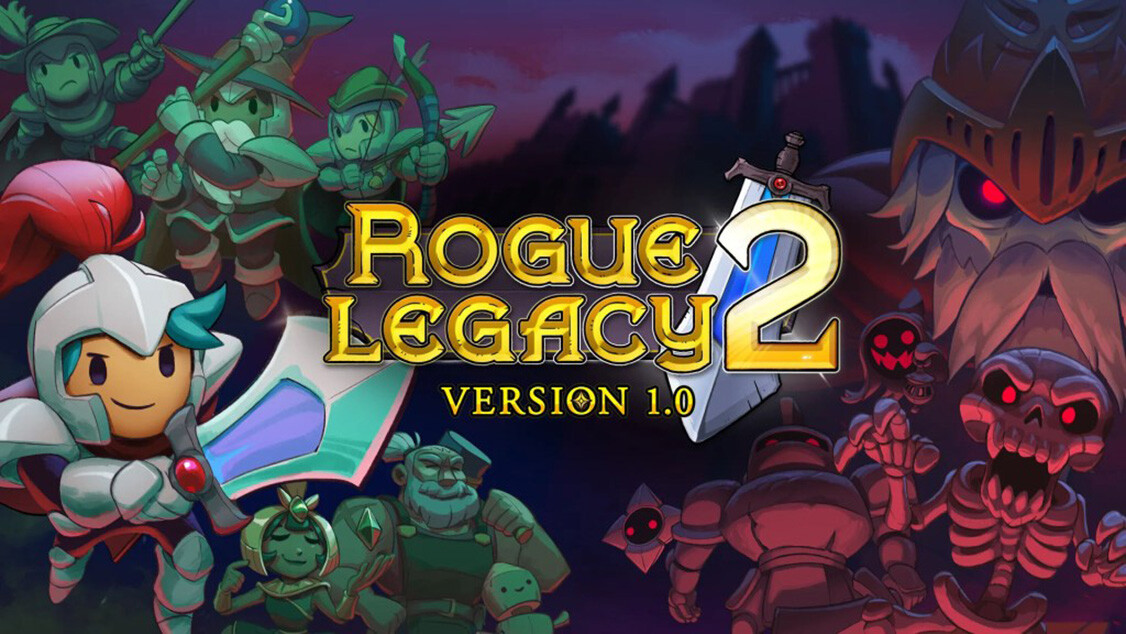 In June 2013, Rogue Legacy went on sale, a rogue-lite that was characterized by its innovative mechanics and its great difficulty –although the latter is in keeping with its genre–. Finally, after months in early access, its sequel, Rogue Legacy 2, is now available for PC and Xbox One.
I owe you the narrative
On many occasions, the story is the main element of some video games (as is usually the case with graphic adventures). In others, however, the narrative can go unnoticed (as often happens in many shooters). In the case of roguelites, we find ourselves with a "miti-miti", some developers decide to delve into this point, while others ignore it completely.
In Rogue Legacy 2 The latter occurs much more than the former. Although there is a story that is deepened throughout the entire title, the reality is that it does not mark a crucial point for the player; It is not what encourages one to continue playing. In fact, it is something that remains completely secondary, almost forgotten somewhere in the back of the mind. The game invites us to something else: action.
Like father Like Son
It is common knowledge that rogue-lites are designed so that our character(s) die tens, hundreds, thousands of times. Yes ok Rogue Legacy He did not invent the rule, if he knew how to take this base and give it a very promising twist: every time we die, a new character precedes us.
The funny thing is that the character that precedes us in question – we will have to select one of three options that are given to us – has some trait that can solve our lives or ruin them forever. What I mean by this? We will be able to select a cook –yes, it is a class within the game–, who has a pacifist trait. So? Our character will not be able to do any type of damage to the enemies, but he will be able to collect an abysmal amount of gold by breaking only a few pieces of furniture. I'll leave it up to you if that's a good thing or a bad thing.
The traits of the characters are not the only thing to consider, as I hinted previously, we also have races. There are 15 in total, some of them traditional, like archers and wizards, and others more original, like boxers and cooks –the best, in my opinion–. Each of them has a specific style of play.
To unlock the races in question we need gold. This precious metal will also allow us to obtain (buy) certain improvements, such as more life, more damage, more weight capacity, etc. As we make the desired purchases, we will build our dream castle.
And there's even more… Although up to this point it can be considered a more than complete title, the people at Cellar Door decided to incorporate more issues to be taken into account by the player. One of them are the relics, with which, in exchange for determination (element that will depend on each character), we can modify our attributes and/or abilities.
Although one of the characteristics of the genre is the randomly generated maps, the reality is that in Rogue Legacy 2 this really feels little present. Although they do not repeat each other, the rooms look too similar and the enemies are constantly repeated, as well as being scarce for everything the title claims to offer.
Pixel art is a thing of the past
Leaving aside certain additions, the gameplay of Rogue Legacy 2 It hasn't changed much from its predecessor. However, regarding the graphic section, the developers decided to swerve. On this occasion, they left aside the beloved pixel art and turned to a 2.5D aesthetic, that is: 3D animated characters, accompanied by hand-drawn backgrounds.
As far as character, enemy and map design is concerned, I found myself with one of lime and one of sand. When it comes to characters and enemies, I have nothing to criticize. Each of them has its own imprint. And not to mention some features that even change the color palette of the game. The only problem in this instance is, as I mentioned previously, the lack of variety of scenarios. Not only is the construction of them a problem, but artistically they also look very similar.
Decent soundtrack, great soundscape
There is not much to highlight from the game's soundtrack. It's not bad, but it really doesn't add anything to the experience. As I said many times: it happens without pain or glory. Now, something that did catch my attention was the sound setting. The game has a unique sound for each element that is shown on the screen. Personally, I found these sounds much more immersive than the soundtrack itself.
System Requirements
MINIMUM: Requires a 64-bit processor and operating system – OS: Windows 7 – Processor: 2.0 Ghz – Memory: 8 GB RAM – Graphics: Nvidia GTX 680, AMD R9 280X – DirectX: Version 11 – Storage: 3 GB Available space
RECOMMENDED: Requires a 64-bit processor and operating system – OS: Windows 10
Processor: 3.0 Ghz – Memory: 8 GB RAM – Graphics: Nvidia GTX 680, AMD R9 280X – DirectX: Version 11 – Storage: 3 GB available space