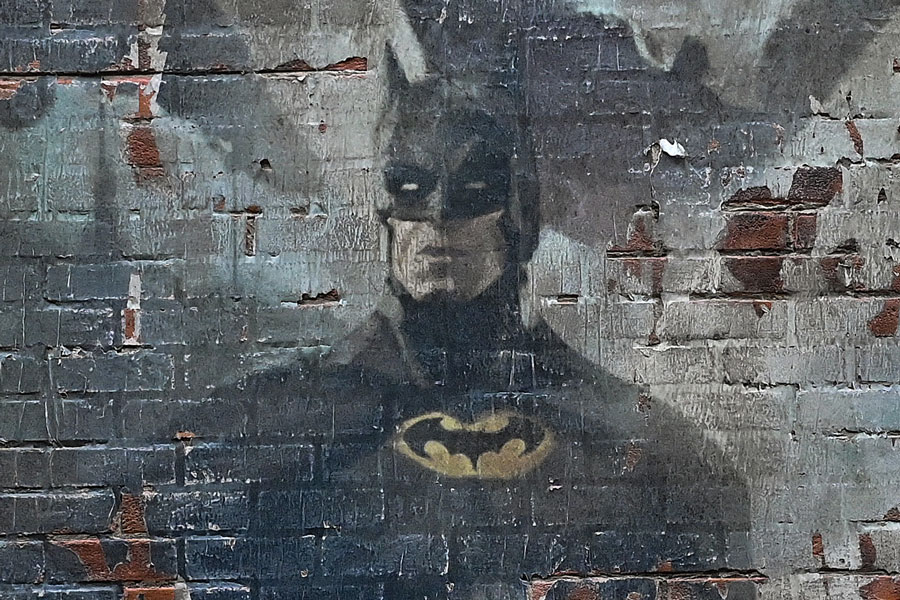 Images from the Batgirl set show the presence of Robin, Black Canary and Hugo Strange, as well as a new suit for Michael Keaton's Batman.
The production of Batgirl is already underway, and although it has been confirmed that Michael Keaton will be the Dark Knight of this reality, there are still many details to know about this new DC proposal. Among the things that are now known and will have to be clarified are the details that some recent images from the Batgirl film set have shown: the presence of Robin, Black Canary, Hugo Strange and Keaton's new suit for Batman.
New Batman costume and Robin presence
The most important image of those released corresponds to a mural where we see the presence of Michael Keaton's Batman wearing a renewed suit, preserving the characteristic shield of Tim Burton's cinema but with some parts of the cape and hood modernized.
In addition, we have the presence of a Robin, which confirms that at least as a character or legend, the Young Wonder exists in the reality in which Batgirl will develop.
As the Twitter user pointed out @Nightwingology, the mural could pick up Kaare Andrews' Robin art from a variant cover of Robin 80th Anniversary 100-Page Super Spectacular.
The more I look at it, the more sure I am the mural on the Batgirl set lifted Kaare Andrews' Robin from the 1970s variant of the Robin 80th Anniversary Special. pic.twitter.com/w9BbpeFFB6

– Nightwingology (@Nightwingology) January 10, 2022
Another important piece of information is that it may be Dick Grayson, the original Robin, and not Drake Winston, a character introduced in the Batman 89 comic, who follows the story of Burton's Batman in sequential art.
Will Hugo Strange be present in Batgirl?
Another of the details seen in the set design of the film Batgirl in a mysterious character with his eyes covered, whom network users have immediately identified as Hugo Strange. Will be?
Hugo Strange is one of the first Batman villains, having debuted in Detective Comics # 36 of 1940, a few months before Joker and Catwoman. On television he was played by BD Wong in the series Gotham.
Will we see the return of Black Canary?
Finally, a couple more photos reveal the presence of Black Canary. Although we do not know if it is the same one that Jurnee Smollett gave life to in Birds of Prey (and the Fantabulous Emancipation of One Harley Quinn), there are some details that could indicate her return.
The first is the graffiti poster that apparently announced a live performance of Black Canary, who in the aforementioned film, before justice, was a Black Mask nightclub singer.
Then we have a poster where we read the legend Black Canary and we see the character with short hair and what looks like a mask.
We don't know if it's just references that will appear in the Batgirl movie, but the mere references to Hugo Strange, Black Canary, Robin, and Keaton's new Batman suit keep us looking forward to this new DC movie.
Search in our online store:
DC Comics Deluxe – Batman: 1989 Film Adaptation
When Warner Bros. Batman hit theaters in the summer of 1989, this action-packed, atmospheric, and art-directed masterpiece by Tim Burton shattered all box office forecasts and rewrote conventional wisdom about what they could go for. comic book movies, both economically and artistically.
Following the success of the film, DC Comics – guardian of the Dark Knight's four-color adventures – set out to attract as many of these moviegoers as possible to comic book stores, and their first step was an official adaptation of the new box office hit from Burton.
Created by comic book legends Dennis O'Neil and Jerry Ordway, and released at a time when home video was still in its infancy, Batman: The Official Warner Bros. Movie Adaptation became the "second round." of the film for countless fans… and for many, it opened the door to a new world of sequential narrative.
Batman: 1989 Film Adaptation presents for the first time this celebrated version of the academy award-winning film in a deluxe hardcover volume. This 30th anniversary edition includes the complete original work, as well as high-quality scans of all original Ordway pages in black and white.

Also being read:
This is what Henry Cavill would look like as Batman
This is how Robert Pattinson looks like Batman
The most expensive movies in Hollywood
Hunks who have played 'Batman'
Batman would die by flying like he does