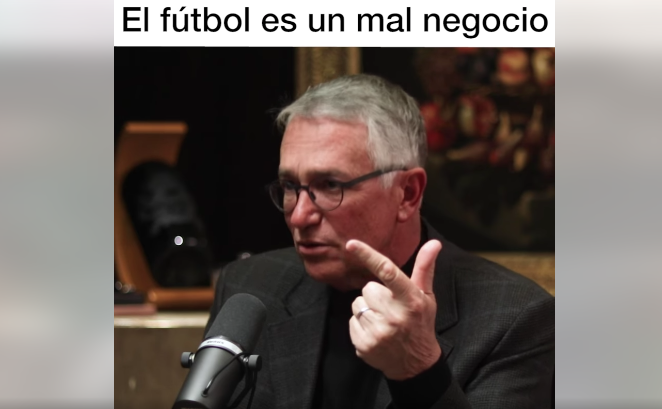 Ricardo Salinas appeared in a new podcast by Roberto Martínez and, among other topics, talked about why soccer is a bad business.

Roberto Martínez has almost 2 million subscribers and has interviews with Vicente Fox, Residente, among other characters.
In a recent interview with podcaster Roberto Martínez, Ricardo Salinas revealed some reasons why soccer is a bad business.
For some it is a sort of Mexican Elon Musk, but what cannot be denied is the fact that, in recent years, the owner of TV Azteca, Ricardo Salinaseven when it comes to a controversial character in social networks, some praise the way in which the businessman performs on social networks.
It should be noted that on his Twitter account alone, which is the one in which he has been most active, he already has a million followers, who do not miss the opportunity to complain about some of the services of the Salinas Pliego companies and , sometimes, they receive a response from the tycoon that, without a doubt, manages to generate a lot of noise.
For this reason, it is not surprising that the businessman has appeared in a new episode of the podcast by Roberto Martínez, a podcaster who, over the months, has been growing exponentially, to the point that among his interviewees are the former President of Mexico, Vicente Fox, important members of the entertainment world and a large number of content creators.
In one of his most recent broadcasts, it was the turn of the businessman and owner of TV Azteca, who, among many other topics, He talked about soccer, one of the most powerful industries in Mexico, but also one of the most unequal.
Is Mexican soccer a bad business? This is how Ricardo Salinas explains it
As of today, it is known that TV Azteca owns the current Mexican soccer champion, Atlas, a club that is also playing a second final and could become a two-time champion next Sunday if they beat Pachuca, a team belonging to businessman Armando Martínez of Grupo Pachuca.
However, for Ricardo Salinas, soccer in Mexico is a bad business and, talking with Roberto Martínez, he explains his reasons:
"I have never been a soccer fan," Salinas Pliego begins by saying. "I played more individual sports and not so much as a team. So when we bought some teams, since then, it's been one problem after another. People have the idea that millions and millions of pesos are managed in soccer, and yes, but the coaches earn millions, the players earn millions and the owners of the teams are the ones who lose millions and millions of pesos, why not? achieves".

"The only place where soccer is a good business is where the broadcasting rights cost a lot because they are sold on pay television, not in commercials, and where tickets to the stadium are very expensive because they are super luxury stadiums and they are for rich people. And in Mexico, we don't have super luxury stadiums or rich people. We have 'shitty' tickets and broadcasting rights, the television stations pay you what they can sell advertising. Soccer has always been a losing business," says Salinas Pliego.
Ricardo Martínez has almost two million subscribers on YouTubea podcaster who, over time, has shown a significant evolution in terms of content.
Now read: