Halfway between a glass blender and a kitchen robot, the new Xiaomi Smart Blender is, in appearance, a appliance to make smoothies or gazpacho: but its heat function also allows you to make purees and creams.
With the design to which the so-called Chinese Apple has accustomed us, and its usual smart featuresthe device wants to conquer the cooks who are more friends of household appliances, but is the Xiaomi Smart Blender really useful?
We have tested it thoroughly and this has been our experience.
Features and functions
The Xiaomi Smart Blender is a simple looking appliance. Its box includes a foot, a glass, a lid, a small brush to clean the blades and the usual manual.
The first thing that stands out is its size. We are facing a large-size blender, with a 1.6 L jug, something to always keep in mind when we talk about household appliances.
The good part is that you can make shakes for a regiment, the bad is that It still doesn't fit in the kitchen. The width is not a problem, but it is almost half a meter high, so it does not fit on many countertops if you have drawers above it.
| Name | Xiaomi Smart Blender |
| --- | --- |
| Nominal voltage | 220-240V |
| mixing power | 1000W |
| heating power | 800-950W |
| Max cold drink capacity | 1600ml |
| Max capacity of hot drinks | 1200ml |
| Dimensions | 188 x 222 x 436mm |
| speeds | from 1 to 9 |
Xiaomi Smart Blender – Glass blender with eight multi-angle stainless steel blades, hot and cold dual mode, 9 speeds, OLED dial, Xiaomi Home App, white (ES version + 3 years warranty)
The appliance, yes, is nice. It looks robust and functionalwith only a control panel very similar to that of the air fryer of the same brand: a roulette with a led panel on the front from which messages are displayed and with which speed and temperature can be controlled, in addition to using one of the predefined programs to make shakes or creams.
As usual in Xiaomi household appliances, the blender It can also be operated with the mobile, through the Mi Home application. It always seems more complex to me to handle an instrument like this from the mobile than to do it on the device itself. But it is a matter of taste, the application, in any case, works perfectly.
cooking tests
The design or functions of an appliance are of no use if the final result is not satisfactory, so we have tried to do shakes, soups and creams in the Xiaomi Smart Blender to see how it responds. For this, we have used some of the predefined functions.
In a first test we have made a banana, pear and milk smoothie. Nothing is easier than putting the peeled and cut fruit in the blender, adding milk, closing the lid and starting the programme. In less than a minute we have a shake with a smooth texture and without a single lump.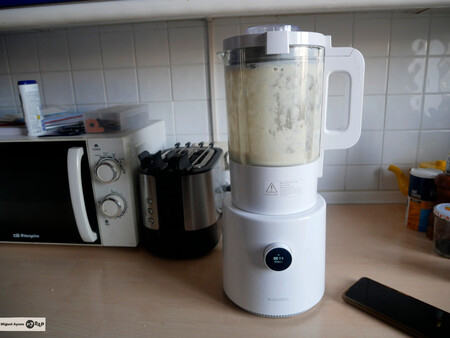 We are more curious about the function with heat, which is the true strength of the Xiaomi Smart Blender. To make vegetable creams we only have to introduce the peeled and cut vegetables, cover them with water and broth and add the dressings that we like the most. There are two pureeing programs: "creamy soup" and "chunky soup". Both have almost 40 minutes of cooking. We tried the first one and the result is a very fine and well emulsified pumpkin and carrot cream. The kind of cream you would make in a Thermomix.
Assessment
No "but" to how are the shakes and creams in the Xiaomi Smart Blender. The question is, as always, does this appliance help us save time or save effort?
In my case I have doubts. Actually, to make a cream you just have to cook everything in a pot and then pass an arm blender (which takes up much less space). But it is also that the jug of the Xiaomi Smart Blender it cannot be put in the dishwasher. The device has, yes, with a cleaning function: you put water in the jug, the blades move and clean. Of course, of course, you have not forgotten to clean it as soon as you cook, something that can always happen.
Xiaomi Smart Blender – Glass blender with eight multi-angle stainless steel blades, hot and cold dual mode, 9 speeds, OLED dial, Xiaomi Home App, white (ES version + 3 years warranty)
Leaving this detail aside, the appliance It can be useful if you are a fan of shakes and creams, but keep in mind that the Xiaomi Smart Blender is halfway between a blender and a food processor also in terms of price, which is around 90 euros. There are very good blenders well below this price, and from 150 euros one begins to find kitchen robots that they do many more things
. As always, in the end It all depends on your needs, space and budget.. The Xiaomi Smart Blender gives what it promises.
In DAP | Analysis of the Mi Smart Air Fryer