"Your brand is what people say about you, when you are not present", phrase by Jeff Bezos, founder of the giant Amazon, which invites us to reflect on the value of public relations in the construction, permanence and strengthening of the image and/or positioning of a company, a campaign or a product.
Public relations are a fundamental tool within a comprehensive communication strategy that provides tangible benefits such as empowering key messages, maintaining a good image, recognizing and monitoring key audiences, building new relationships and alliances, The attraction of new customers, in short, contributes to giving greater value to the company, product or campaign, and potentiating its awareness among the target audience.
With 10 years in Mexico, RP Media is positioned as a 100% national communication, public relations and media boutique agency that is constantly evolving in accordance with the new trends in online and offline communication, which has allowed it to collaborate as a consultant and business partner of national and international companies in sectors such as the pharmaceutical industry, the technology business, the world of interior design and consumer companies.
Made up of a team of professionals with extensive and recognized experience in internal and external communication, relations with the media, digital communication and social networks, media training, crisis management, as well as content generation, graphic and audiovisual design; the main added value of RP Media It is its human quality and spirit of service, strengths that have allowed it to have the preference and permanence of clients for many years, the close collaboration with companies, associations and the government, as well as the recognition and closeness with editors, columnists and journalists from the major media across the country.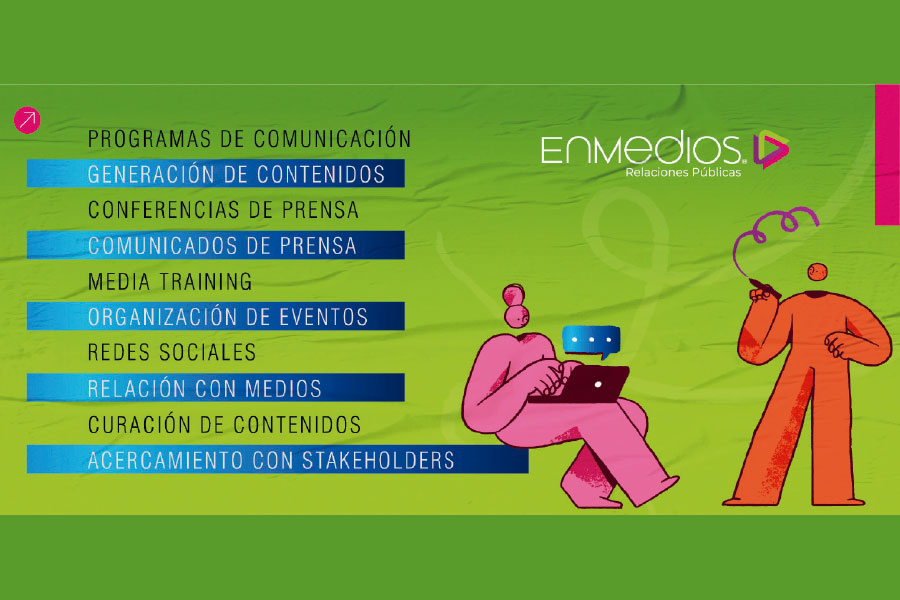 "ENMEDIOS RP WORKS LIKE A TRUE BUSINESS PARTNER, DESIGNING COMPREHENSIVE STRATEGIES ACCORDING TO THE NEEDS AND ADAPTING TO THE BUDGET OF EACH ONE OF ITS CLIENTS"
As specialists in communication and under a successful methodology, RP Media works as a true business partner, designing comprehensive strategies according to the needs and budget of each of its clients, taking advantage of all its expertise to achieve, and even exceed, the planned success criteria.
Currently, Enmedios RP has a portfolio made up of national and global clients, collaborating with various strategic projects, including Boehringer Ingelheim, Bayer, Chinoin, IFA Celtics, Armstrong, Allurion, Dynatrace, Agua Inmaculada, Grupo Fabry, Grupo SANED, among others.