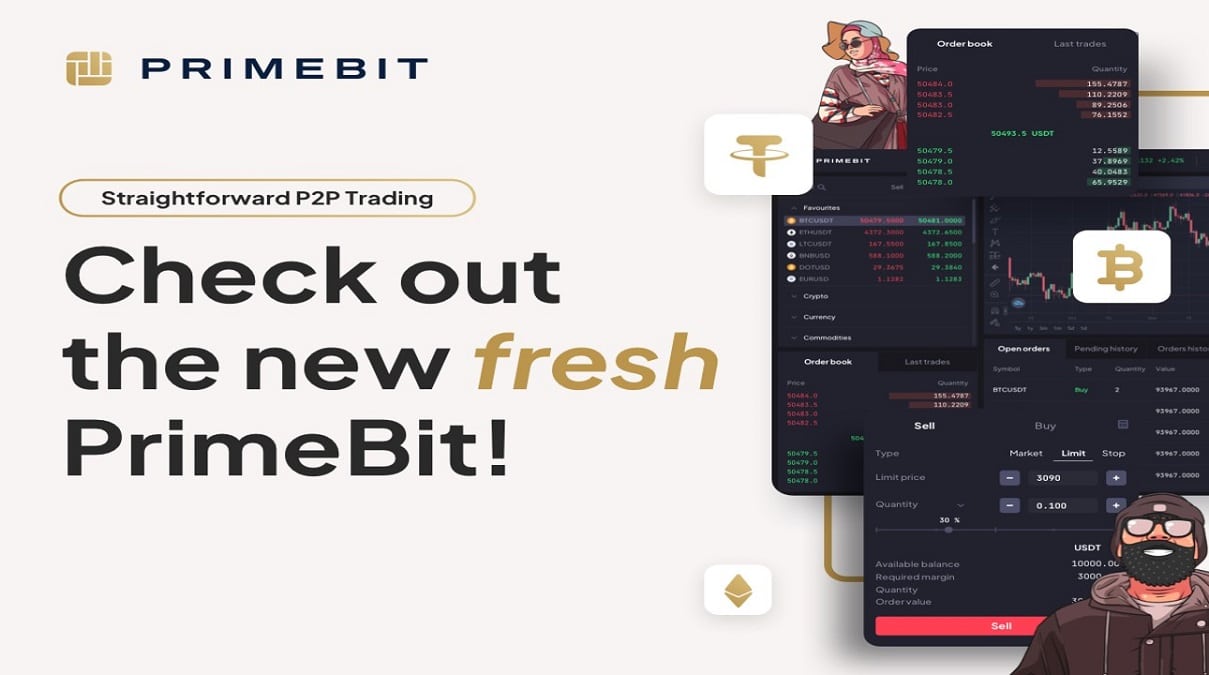 Key facts:
PrimeBit offers perpetual contracts on the assets stocks, indices, crypto, commodities and FX.

You can manage the risk of your transactions by setting "Take Profit" and "Stop Loss" levels.
After three years of great performance and a hack-free history, PrimeBit introduces the new face of P2P trading. At the heart of this platform is a simple yet incredibly attractive affiliate program backed by an easy-to-understand interface, a lite version for smooth trading, and multiple asset classes. The new PrimeBit.com is here.
Give your friends a chance to win.
And win with them!
The affiliate program of PrimeBit is transparent and easy to understand. Bring a friend – you get up to 30% of the revenue share. Refer a Friend – They get up to 30% of the revenue share and you get 5% of the revenue share from traders invited by your friends.
You see, if you are a people person and care about those around you, they will care about you. You can even earn profit without making a single transaction. Plus, with Unilink, PrimeBit's affiliate tool, you can use digital assets and create your own professional marketing campaigns in no time.
Explanation of the peer-to-peer trading platform.
Don't hate the game, hate the player.
PrimeBit, unlike forex brokers, facilitates transactions by matching buyers and sellers. The main difference between P2P trading and standard forex brokers is that you place bets against other traders. That's why operating with PrimeBit It is so exciting. See for yourself: put your skills to the test and start trading against other experts.
Unlimited benefits. Limited risk.
Make trading more accessible.
The new improved version of PrimeBit marks another step in improving the trading experience. PrimeBit offers seamless integration with MT5 (MetaTrader 5), real-time API for algorithmic traders, mobile app and "software-free trading" thanks to the web trader. A new LITE version offers an even easier-to-operate interface that helps you focus on what's really important: placing profitable orders.
PrimeBit offers perpetual contracts in multiple asset classes (Cryptocurrencies, Stocks, Indices, Commodities, FX). The perpetual aspect of contracts means that you continue to make a profit if you are on the right side of the market because your contracts do not expire. If the prices go against you, your loss cannot exceed the deposit. You can also manage the risk of your transactions by setting the "Take Profit" and "Stop Loss" levels. If you are interested in fast returns, you can increase your profits with leverage trading up to 200:1 on all assets.
Don't get left behind
PrimeBit in a nutshell.
Thanks to multiple payment processors, you can easily (and almost instantly) deposit and withdraw to and from PrimeBit. Effortless registration with Facebook or Google can be useful for those who opt for social logins. Those who value privacy can set up an account without a document-backed verification process. In all cases, personal accounts are protected by 2FA.
Thanks to technological solutions and organizational superiority, PrimeBit is able to offer lower fees than most exchanges operating on the market. In case of doubt, you can always contact the human support that works 24 hours a day, 7 days a week.
Don't get left behind. ¡sign up on PrimeBit and compare yourself with other traders!
---
Disclaimer: The content and links provided in this article are for informational purposes only. CriptoNoticias does not offer legal, financial or investment recommendations or advice, nor does it replace the due diligence of each interested party. CriptoNoticias does not endorse any investment offer or the like promoted here. click here for more information.