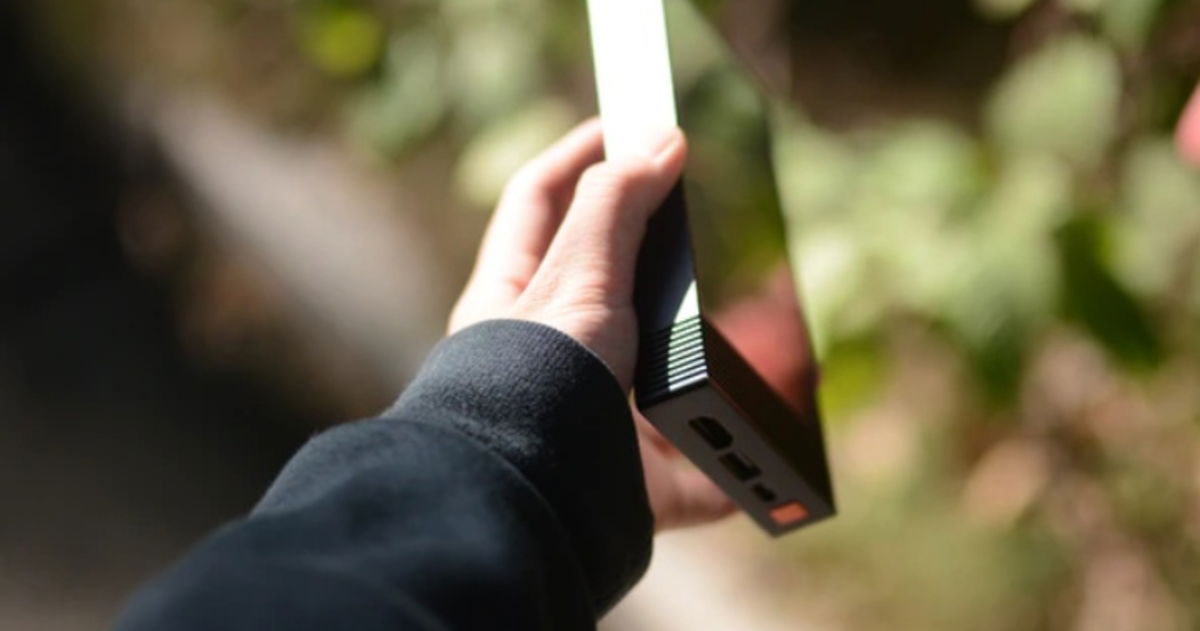 Few technological products combine portability with functionality so well.
The portable chargers they have become, given the amount of devices that we usually carry, in one of those must-have tech accessories that we all carry bag, especially for those of us who travel full of individual chargers, so much so that we could power a city. if you were thinking about change charger laptop or you are interested in this world, because you've been bitten by the technology bug, we want to present you a product that will surprise you for the multiple possibilities which raises
Image and energy in a perfect size to take with you
Under the protection of one of the great funding pages of early projects, kickstarter, the development team of PDGO invites us to meet a product Really portable with the load capacity most of your devices, with a capacity of 100W and one screen attached to a resolution of 1080p. Instead of having two items, this device invites you to combine them and charge at the same time you can expand the capabilities of your screen Or simply, replicate it at the moment.
The main features of loading the product would have to lead us to talk about your size, only 14 centimeters long by 8 centimeters wide and 1.3 centimeters thick. With a weight of 220 grams, this device includes connections HDMI, USB Type A and USB Type C. With a capacity of 10,000mAh, enough for most devices that we carry with us, this portable charger can reach powers of 100W, with a bidirectional port and the technology of quick charge QC3.0. The PDGO is designed in such a way that it helps dissipate heat, so you can charge devices and use your screen without reaching 40ºC.
And speaking of the screen, the possibilities that occur to us are unlimited. For example, if you are using a Photo camera, you can use this product as an extra screen. You can also use the screen with your laptop and increase the element management capacity thanks to a new extension. That you prefer to sit down and enjoy a camping with the possibility of seeing the photos and videos that you have recorded on a larger screen, but with the certainty that you will not run out of battery at any time? That's done. The truth is that the idea of put together screen and charger It has been so new to us that we could not miss the opportunity to show you the advantages of this product.
Before talking about the price and availability of the product, we should comment on the compatibilities of the same, which I already tell you that they are wide. First of all, if we talk about computers, this product is compatible with equipment windows and mac. As for game consoles, the portable charger with screen is compatible with PlayStation Y microsoft. In addition, it is also compatible with android phones, phones iOS, cameras conventional and action cameras, as would be the case with the famous GoPro.
Now yes, knowing all the characteristics of this product, we want to invite you to know the rest of details that are missing so you can make a purchase decision. Thanks to the information obtained in the funding page of the PDGO, we know that the product will be available, for users who bet on their purchase today, in the month of May 2022. The disbursement will not be too strident, although it will be more expensive that a conventional portable charger.
To get one of the first units of the charging device, you will have to pay 158 euros, shipping costs to Spain included. This sales pack includes the charging device itself, with an attached screen, although if you want go a little further and buy two units to complement the offer, you can get them for €283. As you can see, the combination of screen and portable charging is a really interesting option for many users and the team behind PDGO offers you a device according to what we expect of the same.
Related topics: Technology
Subscribe to Disney+ for only €8.99! to subscribe
3 months of Amazon Audible FREE! Access over 90,000 original audiobooks and podcasts Free Trial