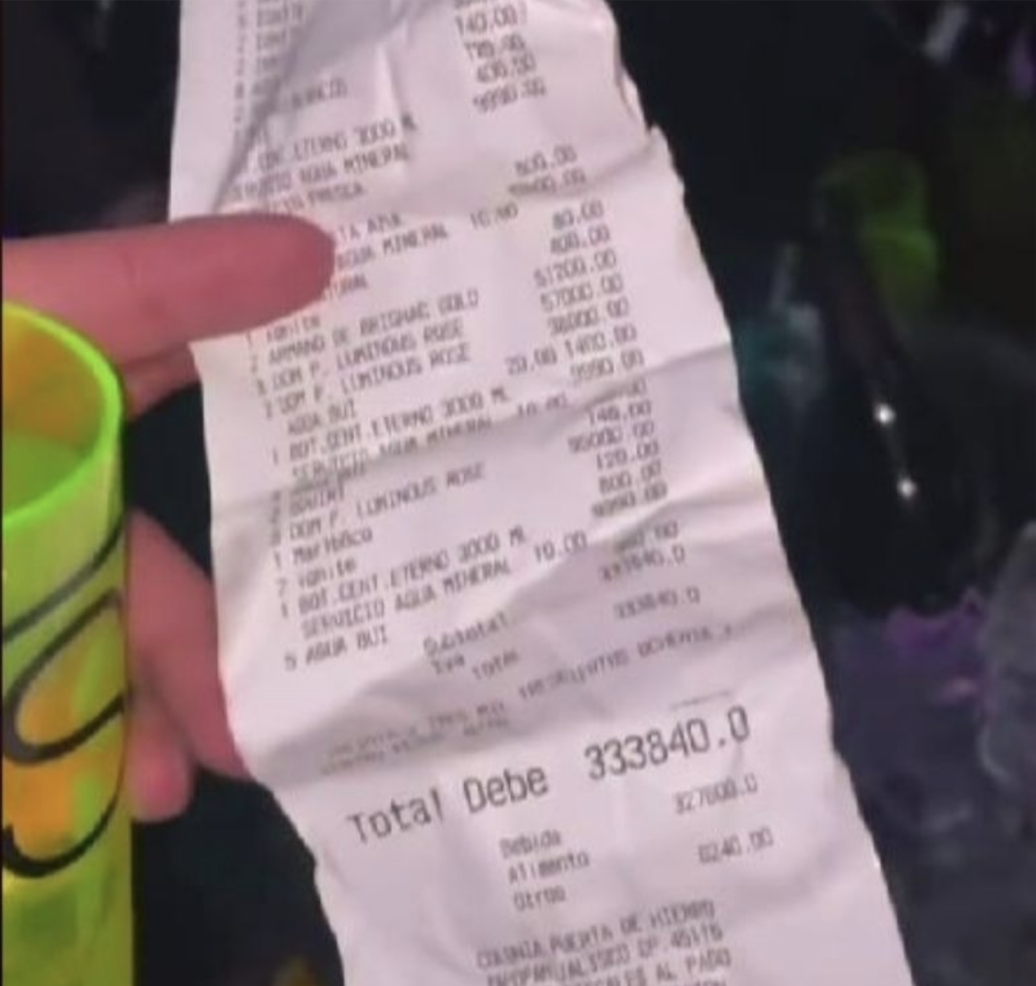 They show a bit of the experience lived in La Santa Zapopan and surprise Internet users.

TikTok users compare the ticket paid in a club with the purchase of a car and land.

Others are happy about the waiter who serviced that bill and the tip he should have gotten.
La Santa is known for being a brand of exclusive clubs where people in search of fun and high-quality alcohol congregate, including famous influencers and celebrities from the show business; however, this was not known to the group of friends who went to the Zapopan branch last weekend.
In social networks, the story of Laura Aguirre is already going viral, who uploaded a video to TikTok in which she recounts how after enjoying the music and dancing at the bar in Guadalajara, she and her friends end up in shock when they see her account.
And it turns out that all the good atmosphere and the party cost them the stratospheric amount of 333 thousand 840 pesos, something that they certainly did not expect when the waiter brought them the classic black folder with the ticket.
"I only went out to dinner", wrote @lauuraaguirreh in the description of the video, which also shows a table full of buckets with empty bottles.
The clip already has more than a million reactions and 9,427 comments; Some Internet users have criticized the large amount "wasted" for a night out, others have even compared the payment with the purchase of a car or land and others have emphasized the tip that the waiter should have put in his bag, which, if a minimum of 10 percent is considered, it would have to be about 33 thousand pesos.
"The guy who asked for a mineral water for 10 pesos seeing that they want to split the bill", alexa vipel.

"Me and the panas put 100 pesos each and we have food and ratatouille left over," Maclovin.

"How do you call the rich in that situation? 'Wey I just bring like 50 thousand pesos'?, Dylan Hernandez.

"The truth is sad to live in a system that allows inequalities of this size", neniom.

"10 Tsurus, 5 small fields, 2 medium, 1 large, a cafeteria, 25 thousand geese… well, each one", Cheshave Cheetos.

"Don't you think that's a lot? No matter how rich one is, I don't think it's right to spend all that. And how are they still alive? After taking all of that." Mario.

"Sister, apparently you are rich and I am just looking for new friends, if you want I can be your pet", Nardo Lopez.
The Saint
Partying in Mexico is an adventure that ends with the discovery of peculiar restaurants, clubs and bars, and even with the adoption of food and drink preferences.
However, exclusive establishments seek to provide other types of experiences, for example, in La Santa dozens of the best champagnes in the world are uncorked every night, in addition to having live music and letting the bubbles flow among the visitors. This is, according to the brand, one of the reasons why its prices are so high.
Its decoration is elegant and combines modernity with the classic, for example with crystal chandeliers and neon lights, without forgetting that the nightclub has a large pool.
The valued bar also stands out for its exclusive cocktail bar, with an offer of highly renowned drinks, such as Dom Perignon and Armand de Brignac, which in the place costs 25,600 pesos.
Now read:
Converse will operate its own eCommerce system in Colombia and Panama in July
Influencer asks his followers for money and manages to pay his rent in less than 24 hours
This is Kueski's first campaign of 2022: the bet is financial inclusion