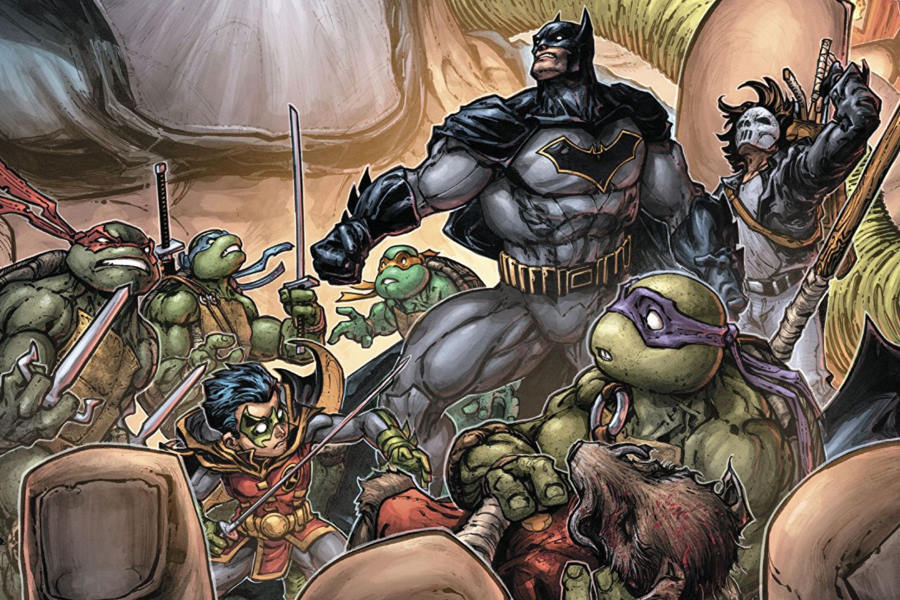 Batman is not only an icon for DC Comics, the Dark Knight has starred in the strangest crossovers with characters emanating from other companies
Throughout the years we have seen an infinity of comics parade through our eyes, in which we find personal comics of each of the characters or where they join forces and work as a team to defeat evil.
Do not miss: Top 5: The contributions of television to the mythology of Batman
But some of those that have caught our attention are the crossovers that our favorite characters have made with another character, such is the case with Batman.
Gotham's Dark Knight has always been characterized by working alone, sometimes with Justice League, but when he asks for help to defeat evil, he does so with characters we never imagined seeing him.
Batman seems to be the king of strange crossovers, since we have been able to see him work or face other characters that do not even seem to belong to his world. Here are the weirdest crossovers Batman has ever had.
Batman / Hellboy / Starman
It is a limited series of crossover between companies, which is written by James Robinson and with an art by Mike Mignola. These copies were published in 1999 and only had 2 volumes.
In this crossover Hellboy joins forces with Batman and Starman on an adventure that takes them from the rooftops of Gotham to the jungles of the Amazon to rescue the first Starman, Ted Knight, from a Nazi organization that plans to use him to resurrect an ancient God.
Batman / Judge Dredd: Judgment on Gotham
Written by John Wagner and Alan Grant, illustrated by Simo Bisley, Batman / Judge Dredd: Judgment on Gotham was published in 1991.
In this comic we see how Judge Death arrives in Gotham through a dimensional leap, Batman manages to defeat death and returns in spirit form, among the remains of his body he finds a belt that makes him take a dimensional leap traveling to Mega-City One, where he confronts Mean Machine, who are captured by Judge Dredd, but Mead Machine manages to escape and flees to Gotham to search for Judge Death.
Judge Dredd and Batman will have to join forces to defeat Scarecrow and his assistant Beny, who team up with Judge Death.
Batman vs The Incredible Hulk
Battle developed in 1981 between an intelligent millionaire expert in martial arts and a scientist who transforms into a powerful creature to destroy, both with a great interest in science. These two characters will be involved in a fierce historical confrontation.
Bruce Banner works at one of Bruce Wayne's companies developing a gamma ray weapon that could help him cure his transformed state for good. But The Joker steals this weaponry, with which he takes away his powers from Shaper of Worlds and drives him crazy.
Banner and Wayne work together to retrieve the gamma weapon and heal it once and for all. Everything spirals out of control when an armed team attacks the laboratory and the Hulk appears, who completely loses control. One of the most remembered crossovers of Batman with the heroes of La Casa de las Ideas
The Darkness / Batman
It is a confrontation between the Dark Knight, Batman, and the Dark, Jackie Estacado, a mafia assassin and possessor of this incredible power. Thanks to a series of crimes committed in Gotham, Batman investigations are led by The Darkness. He is visiting the city in order to expand the business of the Franchetti clan, but, due to a situation that is out of his hands, Jackie decides to do something good in his life, without thinking that this would bring him great consequences. with his uncle Franciso Francetti. This event opens the way to independence and war between Jackie and the Franchetti family.
Batman / Aliens
Published in 1998, it tells us about Batman's confrontation with the Aliens. Investigating the disappearance of one of the Wayne companies, Batman travels to the jungle near Guatemala and Mexico, where he meets a special operations team, both are attacked by the Aliens, several members of the team die, while Batman begins to Familiarize yourself with the life cycle of Aliens and collect samples of these.
Several members of the team sacrifice themselves to explode a nest of Aliens so that Batman and two members of the team can survive, but along the way they find several surprises, not only from the Aliens, but from the true face of one of the survivors.
Batman / The Spirit
Published in 2007, written by Jeph Loeb and illustrated by Darwin Cooke and J. Bone, this comic presents an incredible crossover between the masked vigilante, The Spirit, and the Dark Knight, Batman.
When the Asmerican Criminologist Association holds its annual convention, members are aware that the Criminals of America are holding their own meeting, but things get even worse when Batman's criminals meet Spirit's. With dozens of villains on the loose, the security of the nation is at stake. Two totally different superheroes must join forces to defeat them.
Batman & Spider-Man / Spider-Man & Batman
Two great opportunities are what we have to see these magnificent superheroes fight crime together, both written by JM DeMatteis.
In the Disordered Minds comic we see a parallel between the tragic origin of these two characters as well as their natures and also their arch-villains. It is a story where science finally finds the final solution to be able to put an end to the Joker and Carnage.
On the other hand, in Dawn of a New Era, the typical adventure of the eco-terrorist Ra's Al Ghul is narrated, this time using the villain Wilson Fisk and with Spider-Man helping Batman and Talia.
Batman vs Predator
Written by Dave Gibons and illustrated by Andy Kubert, published in 1992. The story tells of two boxers in Gotham, each sponsored by a mobster. After the fight one of the boxers is brutally murdered in his apartment, followed by his sponsor.
After his investigations, Batman realizes that the boxer had his skull and spine ripped off. When Batman manages to find the murderer, he realizes that he is the Predator.
One of the batman's most difficult battles begins that almost cost him his life.
Spawn / Batman
Posted in 1994, we see Batman's trip to New York in search of an arsenal of high-tech weapons and robots that use decapitated human heads as their brains, for his part, Spawn investigates a stranger who is kidnapping the beggars of Rat City. , in their various investigations, these two know each other, but everything becomes a great confusion.
This is one of Batman's deluxe crossovers, featuring a story written by Frank Miller and illustrated by Todd McFarlane.
Batman / Ninja Turtles
Comic that reunites the Dark Knight with the TMNT, an adventure that is brought by James Tynion IV and Freddie E. Williams II.
Which occurs through a dimensional portal that the Foot Clan and Shredder open in the space-time fabric, if this were not enough, the famous Penguin will ally with other villains from Batman's gallery to make their own in Gotham, So there will be no choice for the Teenage Mutant Ninja Turtles and Batman to join forces to jointly defeat a tremendous alliance of evil.
Named this as the best crossover of 2016, since it brings together several elements that create a detailed and well-made plot of two totally different types of heroes belonging to different worlds.
It may interest you: Meet all the children of Batman: the complete list
Sources: DC Comics / Marvel / Image Comics / IDW / Dark Horse Comics
Get hold of the best Batman stories at SMASH Luxe
On these dates do not miss the opportunity to make yourself a collector's item. Personalize your passion with the Smash Luxe Collection: Batman, a numbered luxury box that, in addition to your name, in addition to four fundamental pieces in the history of the Bat Man:
All-Star Batman and Robin The Boy Wonder
Batman / Flash: The Button
Detective Comics: 80 Years of Batman
Batman & Catwoman: The Wedding Album
You will receive these volumes in a metallic box and in your name, or in the name of whoever you want to give this collector's item, that every good fan of the Dark Knight must have.

Also being read:
This is what Henry Cavill would look like as Batman
This is how Robert Pattinson looks like Batman
The most expensive movies in Hollywood
Hunks who have played 'Batman'
Batman would die by flying like he does