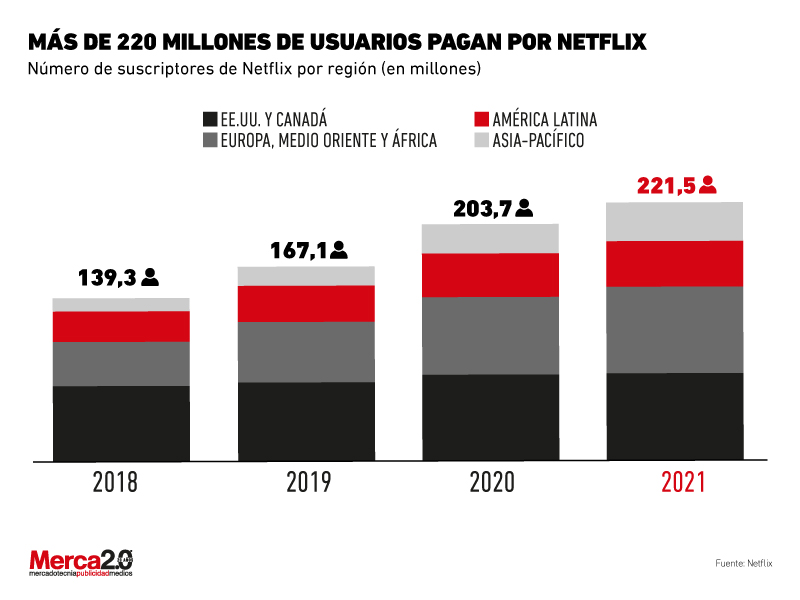 We show you how it has been growing number of users who pay to watch Netflix in the different continents of the world.
For some time now the world of entertainment has changed completely, where technological evolution allowed the arrival of a new format that would change the way of consuming audiovisual content, thanks to the streaming platformsthis type of web alternatives that allow the digital population to enjoy podcasts, movies, series, webcasts and music videos, among other types of formats.
Despite the wide variety of content that we can find, the audiovisual aspect has gained outstanding relevance among users, since it allows millions to access their favorite movies and television programs whenever they want. Despite this, there are some companies that have achieved a better position in the minds of consumers. digital consumers compared to others.
Bearing in mind that these are world-class companies, reports from each company show that Netflix leads the market with more than 220 million global subscriberswhile Amazon Prime is positioned in second by approaching 200 million, Disney + in third with 104 million (despite its recent appearance compared to other platforms), among other leading markets.
Also, the Mexican market is not so far from this reality, since according to the Statista study where it shows the most popular streaming video platforms in Mexico During 2021, 94 percent of surveyed users had Netflix, while 27 percent of them had Amazon Prime, 21 percent Disney+. 4 percent YouTube Premium and 3 percent HBO Max.
Likewise, these streaming apps have grown during the last couple of years due to the decrease in social mobility around the world due to the pandemic, where the digital world was booming, thus adopting millions of new digital consumers.
Despite this, although a considerable part of the success of these digital platforms is due to their content, their marketing strategies They have managed to constantly add millions of new users, adding year after year the accumulated total of subscriptions.
We have an example of this with one of Netflix's most recent hits, The Squid Game, which despite the fact that it was a highly successful series, its work did not end there, since the brand opted to create a store with different merchandising items from the seriesthus increasing the possibility of generating new income for fans, offering quality products related to different of their best series.
In the same way, other companies are doing their part to dethrone the streaming giant, as is the case with Amazon Prime, who even chose to create their own version in a series of The Lord of the Rings, where the same creator of the company, Jeff Bezos, personally announced his teaser to attach millions of views in just a few minutes.
The positioning of the most recognized streaming platforms is not only due to their contentbut to all the marketing work behind it that has managed to endure over the years (and will continue that way).