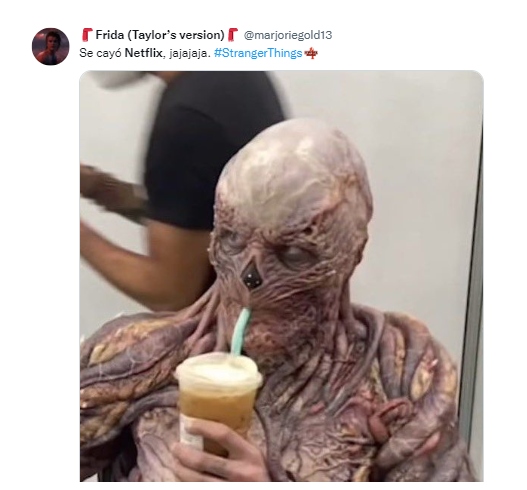 Despite a hiccup in recent months, the number of Netflix subscribers has been on a growing trend for a decade, going from less than 22 million in 2011 to almost 214 million in 2021.
Worldwide, Netflix spent around $12 billion on content in 2020.
Stranger Things 4 – Volume 1 recorded 286.8 million hours watched. That tops the second season of Bridgerton, which reached 193 million hours in March.
Netflix was not broadcasting for a brief period in the early hours of this Friday, July 1, after the expected release of the last two chapters of "Stranger Things 4".
According to the global uptime monitoring site downdetector.comuser reports of problems with Netflix intensified around 2 AM, Mexico time.
Complaints about errors entering Netflix or playing its movies and series reached a maximum of almost 13,000 in the hour following the start of the collapse. Variety.
"Stranger Things 4" has already set the record as the No. 1 English-language series on the service in its first four weeks of release, as reported by Netflix based on total hours watched.
The two episodes of Season 4 Volume 2 clock in at almost four hours of total running time: episode 8 is 85 minutes long and episode 9 is 150 minutes long.
Netflix dropped at the premiere of volume 2 of Stranger Things 4
Netflix isn't the only platform that has struggled with successful launches.
Other streaming services, such as HBO Max, suffered interruptions with the end of season 2 of "Euphoria" in early 2022 and the release of the final chapter of the series "Mare of Easttown" in May 2021.
On the networks, and after Netflix resolved the apparent technical problems, many subscribers to the platform and fans of the series from all over the world went to social networks to tell their experience and share memes with the villain of "Stranger Things 4" , Vecna, as the protagonist. They blame you for not being able to access the service.
"Did someone else's Netflix crash? I guess there are too many people lined up waiting for volume 2," one Twitter user wrote. "Vecna ​​laughing at us because Netflix crashed #StrangerThings #Netflix," another noted. "I stayed up all night to see the end of Stranger Things and Netflix crashed. I feel like a loser," said a third user of the social network that is about to buy Elon Musk.
Me watching Netflix fell at the premiere of Stranger things 4😭😭😭😭😭 pic.twitter.com/dY2p6VOWAY

– Max tapia ツ (@Maxtapia28) July 1, 2022
Netflix watching how it gives us all a mental breakdown because it fell in the middle of the premiere of Stranger Things pic.twitter.com/RUYfsS38xY

– Diana's love postings (@didi_pez) July 1, 2022
Netflix servers now // me and my bestie waiting for stranger things vol. two pic.twitter.com/nl4I4nvwir

– Nicholas 🫀 (@nicolvsfl) July 1, 2022
Netflix went down lol. #StrangerThings pic.twitter.com/4KOPuHOPjr

— 🧣Frida (Taylor's version)🧣 (@marjoriegold13) July 1, 2022
Now read:
This is how Stranger Things fans prepare to receive the end of the last season
There will be a spin-off of 'Stranger Things' and this is what we know
Netflix, in crisis, gains ground with fourth season of 'Stranger Things'