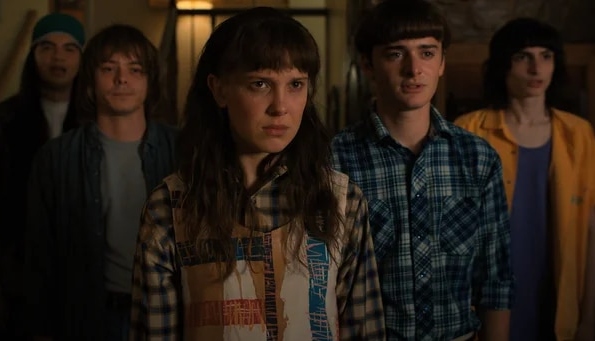 Netflix adds warning to Stranger Things 4 premiere over Texas school shooting.
"The opening scene can be harrowing," Netflix warns of Stranger Things 4.
CBS has canceled the season finale of FBI.
The premiere of the new season of Stranger Things 4 takes place this Friday, May 27, days after the shooting at a school in Texas, United States.
What is the problem? The opening scene of the hit series' fourth season begins in a way that Netflix understands audiences should be warned about.
That's why the streaming service has added a warning plaque to the premiere of Stranger Things 4, which occurs three days after the massacre at Robb Elementary School in Uvalde, Texas, which left 21 people dead, including 19 children and two teachers.
The warning, shown only to viewers in the United States, reads as follows: "We shot this season of Stranger Things a year ago. But given the tragic school shooting in Texas, viewers may find the opening scene of episode 1 harrowing.
And Netflix adds: "We are deeply saddened by this unspeakable violence, and our hearts go out to all the families grieving a loved one."
Netflix warns for Stranger Things 4
The warning comes right before the beginning of the previous season's recap which autoplays at the beginning of episode 1 of Stranger Things 4 for US audiences only.
In addition, Netflix also added a text in the description of the premiere.
There, he included the following note: "Warning: Contains graphic violence involving children."
In the rating of the series, he added one that was not there until last week: "Disturbing images".
On Friday, May 20, Netflix released the first eight minutes of the premiere of the fourth season of "Stranger Things" as a preview before the official release of Volume 1, this Friday the 27th.
This opening scene shows a massacre involving Millie Bobby Brown's psychokinetic and telepathic character Eleven, and shows the blood-covered corpses of several children.
Although it had already been publicly revealed before the Uvalde school shooting, Netflix decided to add a warning card to the premiere episode, given the timing of the premiere in relation to the tragedy, and because this particular scene is very graphic.
Change of plans for the school shooting
Before Netflix, and because of the Texas school shooting, CBS canceled the season finale of "FBI" and changed the premiere dates of Physical and The Orville: New Horizons.
Stranger Things 4 Volume 2, which includes episodes 8 and 9, will be released on July 1.
Stranger Things Season 4 premiere date and time
Stranger Things Season 4 Volume 1 will be available on Netflix this Friday, May 27 at 2 AM Mexico time4 AM Argentina time and 2 AM Colombia time.
Now read:
Netflix is ​​a victim of crime in Mexico: they steal their activation in Oxxo
Netflix goes ahead: launches eight minutes of the new 'Stranger Things'
By mistake, Little Caesars is "promoting" Stranger Things