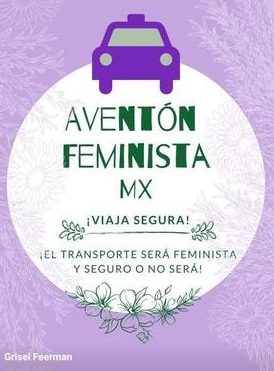 It has become "normal" to hear that public transport users are violated, whether verbally, physically or sexually. With the income of the apps Transport companies such as Uber, DiDi, and Cabify the trend continues and despite the fact that companies have launched programs where women can feel safe, users take other options to avoid risking, one of them is the "Aventón Feminista MX".
Transportation in Mexico, a limitation for Mexican women to access safe mobility
During the pandemic, 2 out of 3 women in the world suffered some form of violence, data from the Organization of the United Nations (UN) Women.
And figures from the Executive Secretariat of the National Public Security System –obtained through the UN– revealed that from January to October 2021, 809 women have been murdered for reasons of gender in Mexico and 51 femicides were registered in the capital.
Violence is not something natural, it is not normal and to put an end to it, women have organized themselves to raise their voices in different spheres, whether personal, family or in public spaces.
Within the public space is transportation, which presents problems in its operation and sufficiency, and constitutes a barrier for women to access their right to safe mobility, because in "the 10 million trips they make a day, of which 73.9 percent are on public transport, nine out of ten women have suffered acts of violence," says UN Women and Greenpeace.
To prevent, women have changed their routines or pay in means of transport that cost twice as much, such as taxis, whether free or from applications such as Uber, DiDi or Cabify; however, from 2017 to 2020, 457 investigation folders were opened against drivers of apps for various crimes, mentions Forbes giving voice to the National Council of Private Security.
Mistrust in public transport; neither Uber nor DiDi is the "Feminist MX Ride".
With the acts of gender violence that are experienced in the country, women avoid public transport and there is a perception of insecurity that forces them to move to new forms of organization so as not to lose their autonomy.
This is how "Aventón Feminista MX" was born, which is being made up of organized women who are willing to return security and tranquility to users when taking a taxi –of whatever type-; and also to give an opportunity to those women who want to be taxi drivers.
The collective's proposal is to create a community of drivers who serve different areas of Mexico City to serve users who no longer trust conventional transport for fear of insecurity and violence.
So far there are 15 drivers who offer their services in the northern zone of the State of Mexico, in the eastern zone, the western zone, the central zone and the southern zone of CDMX.
In the presentation of each driver comes their availability, coverage by area, description of the car, payments and sanitary measures, and services.
Its services include: simple and collective trips, trips pet-friendly, trips with waiting, parcels and purchases, trips to the airport, night trips, foreign trips, ILE accompaniment, light removals, sale of vegan products, 420 friendly, sales of clothing, food for banquets, sale of cosmetics, transfer of values.
If you are a woman and want to access the service, you have to provide your name, the service you are requesting, the number of passengers, pets, or packages, give the exact address and day and time to check availability.
It is not yet a robust platform like Uber, DiDi or Cabify, but "El Aventón Feminista MX" is showing that safe transportation is possible where you can build community and at the same time travel to any destination without experiencing gender-based violence.
See more: