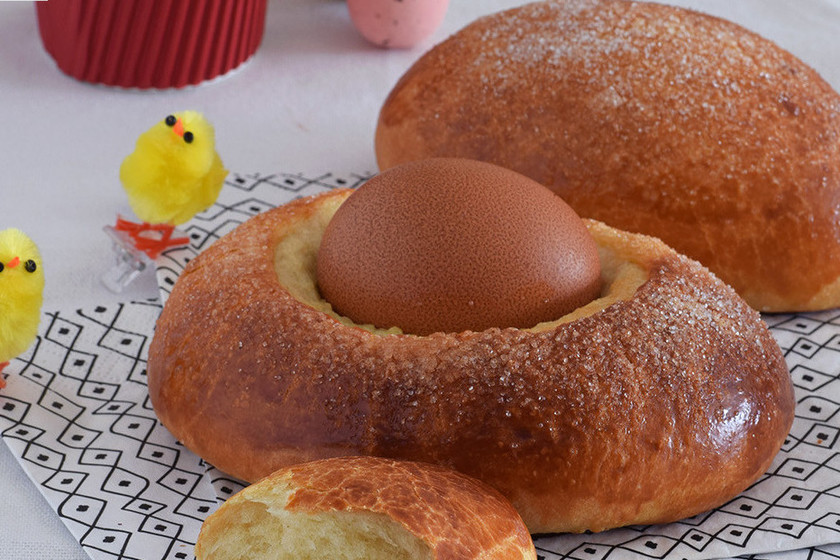 Heat the milk until it is warm to the touch, and try to have the eggs tempered. Crumble the yeast in the milk and add a pinch of the already weighed sugar, mix and let it ferment for about 20 minutes.
In a large bowl, mix the flour with the sugar, the salt, the citrus zest and the two slightly beaten eggs. Combine everything a little and add the milk with yeast. Start mixing everything and knead a little; when it takes consistency add the olive oil.
Knead vigorously for about 15-20 minutes, by hand, or use a kneading machine. To help us knead we can let the dough rest, covered, for 30 minutes before continuing. With patience it will become elastic and manageable; It is not advisable to add more flour.
When it is homogeneous, elastic and smooth, form a ball and cover with a shower cap or plastic film. Let rise until doubled in size, about two or three hours, depending on the ambient temperature. Prepare two large trays with parchment paper.
Deflate and weigh to calculate the weight of 12 units. They will be approximately 100 g, although we can make them smaller to have about 15-20 in total. Flatten each portion, forming almost a rectangle, and fold the sides in towards the center. Turn over to leave the gaskets underneath and roll gently, pressing with your hands on the indentation to create surface tension.
Distribute on the trays leaving enough space between them. Beat in a bowl the egg yolk with a splash of milk and brush the monas with a brush. Let rise until doubled in size in a draft-free place.
Preheat the oven to 220ºC. Repaint with egg and place the boiled eggs carefully in the middle of each monkey (optional). Add sugar on top to taste and place in the oven, lowering the temperature to 170ºC.
Bake for about 20 minutes, moving the trays so that they bake evenly. They must stay well browned outside. Wait a bit out of the oven and transfer to a wire rack to cool completely.