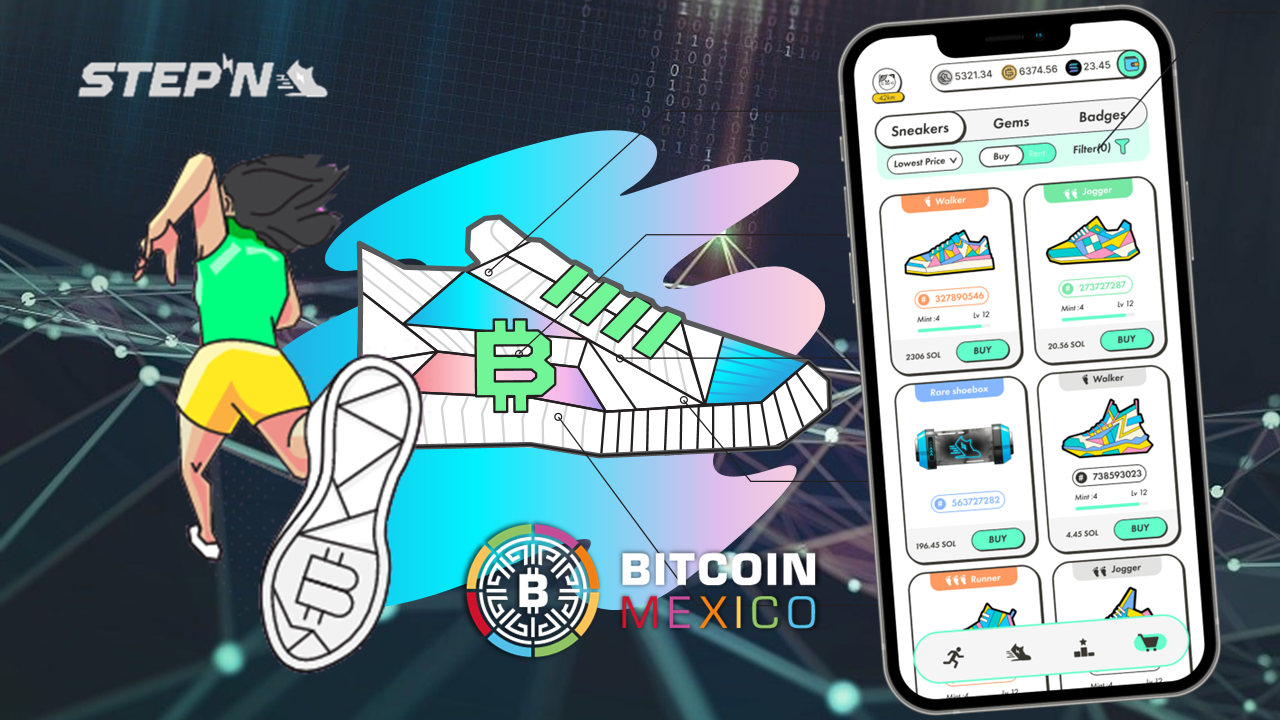 Stepn is a mobile app that allows its users to walk and run in order to earn tokens, of course by first investing in an NFT.
Stepn seeks to break the cycle of other NFT games and is working on a price stabilization mechanism in order to develop long-term sustainability.
There are some products and services that are out of the ordinary, and try to give a different option to enthusiasts of crypto assets. One of them is stepna mobile app that allows its users to walk and run in order to earn tokens.
Due to this creative formula, similar to that proposed by Pokémon Go, the app has become a well-known name in the world of crypto games, especially those related to blockchains known as play-to-earnor GameFi.
Is The NFT-based fitness app launched in beta last December and has managed to grab just over 2 million users monthly assets worldwide, More than impressive figure for an app that requires you to buy an NFT just to use it.
How does Stepn work?
Some people consider that What has made Stepn such a successful game is that it is essentially a financial product with a gaming twist.
To earn tokens and record mileage, lUsers must spend approximately $600 dollars up front to get a pair of virtual sneakers. These shoes are in the form of a non-fungible token that runs on the Solana network and the Binance chain, so they can be resold.
Due to what game appealthe first gamers boasted how much fun it was, in addition to their earnings, just by exercising outdoors.
Slope?
It should be noted that the price of the game's utility token, Green Satoshi (GST), began to show growth last March, part of the increase in people's interest in this game, managing to reach approximately 8 dollars, before the negative effects of the crypto winter began to show.
The price of the token presented an even more pronounced drop when it was announced that stepn blocked Chinese users, so today, the asset is trading around $0.18 cents, which represents a fierce drop of 97 percent, from its maximum of last April 28.
Is Stepn sustainable?
The million dollar question that many companies, and their users, face in order to continue their project in such a competitive world is, is Stepn sustainable? In this regard, many specialists have questioned the financial sustainability of the play-to-earn model.
This is because it is basically cyclical, in In the case of Stepn, gamers are motivated to earn tokens, and then invite them to spend them, in addition to, cAs already mentioned above, new gamers must first invest in some NFT sneakers, so that later, the game invites them to earn more tokens to get more pairs, which they can rent or sell.
The problem with this model is that it requires the game to be really addictive, so that gamers are willing to continue playing without charging their coins, or that the app continues to attract new players who buy only to replace those who charge.
So, If new external capital is not injected, the cycle will have no other option but to gradually reduce the price of the tokens, in addition to the fact that it will be impossible to attract new users. Because of this, his detractors have even drawn similarities between this game and pyramid schemes.
Therefore, if Stepn wants to stay in the game, he will need to have several updates to keep the activity engaging, and to attract new users.
Another point to note is that its developers must offer sustainable profitability over time. Likewise, its creators must ensure that the price of the token remains valuable. Stepn must also ensure that the time it takes for a new user to break even is not too long.
To respond to these needs, Stepn is working on a price stabilization mechanism, with the aim of making sure that the cost of his coins is at a rate that allows new users to get an affordable pair of sneakers, but that are not cheap. so cheap that established gamers have no incentive to mint new footwear.
This is known as price manipulation, and the firm will be able to achieve it through the dual-token system. So, once the price of his "utility currency" GST is too high and the shoes are expensive, Stepn can ask his players to burn their "government currency" GMT to mint new shoes.
This will result in the GST supply growing, leading to a liquidation and hence cost reduction.
It is still too early to indicate which path the firm will take, however it is a good time to look at the mistakes of its contemporaries, learn from them and move on

you might be interested: