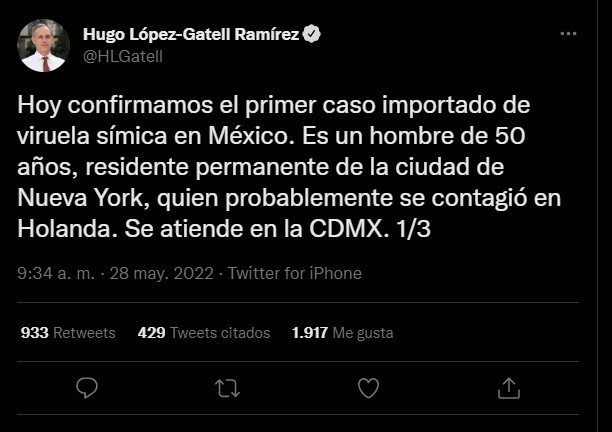 While the Covid-19 pandemic remains stable in most of the planet, there is now a "new" disease that causes concern. The most dangerous thing is its expansion to territories where it previously had no presence and precisely today the first case of monkeypox was confirmed in Mexico. With this, our country is already the second in Latin America with infected people, after Argentina.
The news was released by the Undersecretary of Health, Hugo López-Gatell, through his social networks. What he mentions is that after carrying out the necessary laboratory tests, the contagion was confirmed.
Without mentioning the name to protect the privacy of the patient, he added that it is a 50-year-old man. He also indicated that he is a permanent resident of New York City but has just arrived in Mexico City, where he currently remains isolated and is already receiving the necessary treatment. While it is suspected that the contagion occurred in the Netherlands.
Today we confirm the first imported case of monkeypox in Mexico. He is a 50-year-old man, a permanent resident of New York City, who probably caught it in the Netherlands. He attends the CDMX. 1/3

— Hugo López-Gatell Ramírez (@HLGatell) May 28, 2022
More information in process