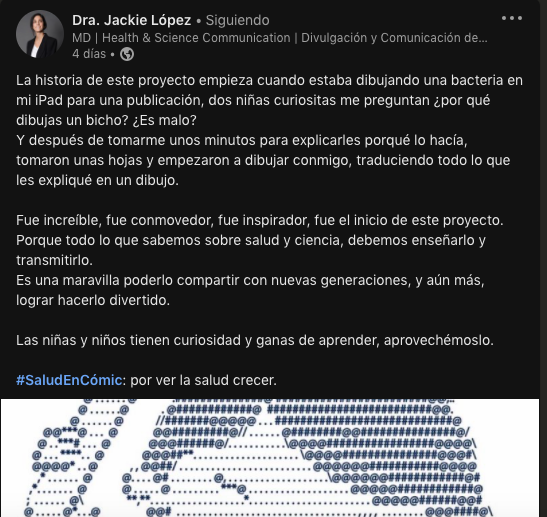 When proper habits are adopted from childhood, they are more likely to be maintained for the rest of life.
It is estimated that four out of 10 new cancer cases could be avoided with a healthy lifestyle.
Mexico currently ranks second in childhood obesity worldwide.
The ingenuity of Mexicans has no limit. Constantly there are new developments that show that all you need is support. In all areas it can be appreciated and here is one more example. It is the project of a doctor and consists of a comic to promote health. In this way, it seeks to reach the little ones to motivate a correct lifestyle from childhood.
It is not a secret that our country faces severe health problems. On one side, the government does not invest enough in this area and the consequences can be seen today. The number of hospitals is insufficient and also not all of them are adequately equipped.
On the other hand, a large part of the population is not aware of the importance of paying attention to their own physical and mental integrity. Only in highly dangerous diseases such as cancer is it estimated that four out of 10 new cases could be avoided with a correct lifestyle.
Create engaging content for kids
In this sense, basic advice such as adopting a balanced diet and doing daily aerobic exercise are enough to avoid risks. And if these changes start when people are children, it is even better because it is easier for them to maintain this new lifestyle for the rest of their lives.
With the above in mind, the Dr. Jackie Lopez He had an idea that he is about to realize. His logic of thought is that to reach the little ones you have to use the communication channels that interest them the most. You must also get a message that is attractive to get better results.
All this led her to conceive a comic with which he seeks to promote health. It's no secret that children love visual environments. To date, companies like Marvel have positioned themselves as leaders in the entertainment industry and it all started as cartoons and drawings.
"The story of this project begins when I was drawing a bacterium on my iPad for a publication, two curious girls ask me why do you draw a bug? It is bad? And after I took a few minutes to explain to them why I was doing it, they took some sheets and started drawing with me, translating everything I explained into a drawing."
At the moment the project is in the final part and it is intended that it will be finished very soon. will bear the name Salud En Cómic and as Dr. López commented in an interview with Saludiario, the idea is that it is within the reach of schools. In this way, it seeks to promote a correct lifestyle in children.
Who is Dr. Jackie Lopez?
She is a General Practitioner from the Universidad Anáhuac Norte in Mexico City. She also has a Master's Degree in Management and Management of Health Institutions from the Universidad Anáhuac Sur and a diploma in Digital Transformation of Health from Harvard University.
In 2017 it started with Health in Short, an audiovisual medium that offers substantiated and verified content but with a friendly language. The idea is to break with the idea that doctors always speak in technical terms that often confuse patients.
She is also quite active on social media. His YouTube channel already accumulates more than 588 thousand subscribers and on Facebook it registers more than 272 thousand followers. In addition, it also has a presence on other networks such as Twitter, Instagram, TikTok and Telegram. In any of the media, its main characteristic is that it promotes Preventive Medicine.