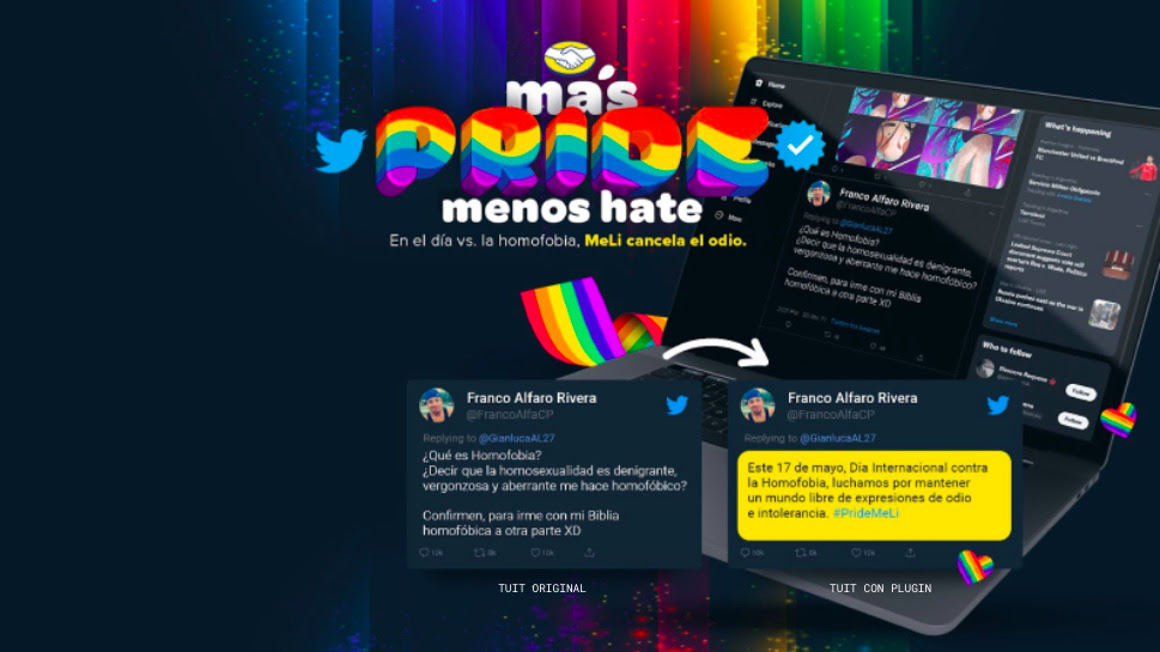 The anonymity of social networks has led to an increase in hate messages.
It is estimated that 7 out of 10 people in the LGBTQIA+ community experience discrimination.
Through this new plug-in, we seek to raise awareness among all the people who post negative messages.
In the wake of the Covid-19 pandemic, there was an exponential increase in the number of people using digital services. It is estimated that there are currently 4,950 million people connected, which represents 62.5% of the world's population. While a negative aspect is that hate messages are becoming more common through the internet. Before this panorama, Free market presented a new digital tool to combat the homophobia.
In that sense, the anonymity offered by social networks is not entirely positive. The reason is because there are people who confuse freedom with debauchery and focus on attacking others. That is why conflicts are becoming more frequent in this type of virtual forum.
Promote tolerance and respect through the internet
With the above in mind and within the framework of the International Day Against Homophobia, Transphobia and Biphobia that is commemorated every May 17, the e-commerce company Free market presented its new innovation. It is a plug-in that detects hate messages and replaces them with a call for tolerance and respect. The goal is to transform hate into pride.
In the search for free and safe spaces for all people, as of May 17 this easy download chrome plug-in It will be enabled for Twitter, TikTok, Instagram and Facebook. Its function is to detect texts that contain words of intolerance or offensive towards the LGBTQIA+ community and replace them with a yellow box with a message in favor of inclusion and respect.
All actions are necessary in a context in which it is urgent to call for social awareness and respect for all people. According to the National Survey on Discrimination (ENADIS), only in our country 7 out of 10 people from the LGBTQIA+ community expressed having experienced and suffered discrimination.
In addition, in an analysis carried out on the social networks of the electronic commerce platform, it was possible to identify that there are cases in which more than 30% of the comments on the content in favor of diversity, inclusion, respect and progress of the LGBTQIA+ community are homophobic in nature. Another reason why this tool is an important step against discriminatory comments.
"Mercado Libre works every day to be an inclusive company for all people, but our work also goes further. We are part of Mexican families, we are part of their purchases and businesses, so it is important to reach them with messages of inclusion and respect. Taking the platforms that can be used in favor of all people is a responsibility that we have, in order to create a yellow pride, where no one feels left out or discriminated against, "said Hernán Cieri, director of marketing at Mercado Libre México.
How correct medical care should be without discrimination for LGBTTTI patients
While this initiative joins others that are directly related to health professionals. Such is the case of the guide entitled Protocol for Access without Discrimination to the Provision of Health Care Services for Lesbian, Gay, Bisexual, Transsexual, Transvestite, Transgender and Intersex Persons (LGBTTTI).
It is an official document prepared by the Ministry of Health (SSa) and its objective is create a protocol to guarantee effective access without discrimination to health services regardless of the sexual orientation of patients. In turn, the guide includes examples of specific care for each of the populations that make up the LGBTTTI community.
The protocol is not exclusive to doctors and nurses but to any worker in the health area, which includes managers and directors, to avoid committing discriminatory acts. Similarly, it seeks to promote a culture of respect for the human rights of LGBTTTI people by staff working in health services.