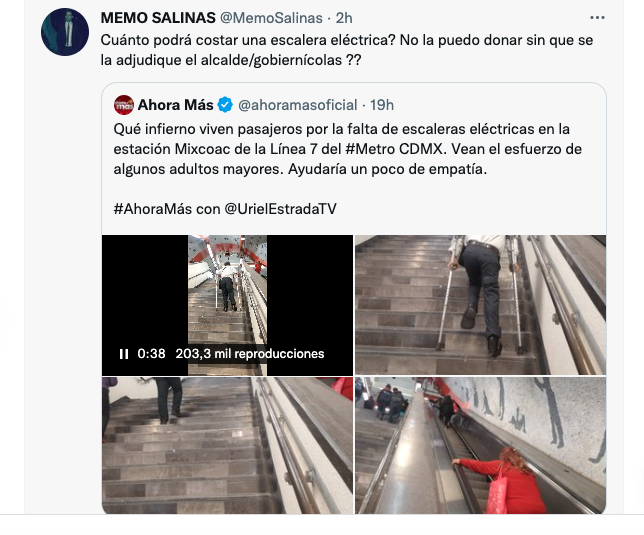 It is estimated that the Mexico City subway transports just over 2,294,447 people daily.

Ricardo Salinas Pliego's nephew has become a relevant character in the digital conversation and on streaming platforms such as Twitch.

Within a tweet, Memo Salinas indicated his intention to donate an escalator to the Metro Collective Transportation Service.
Within the Mexican digital conversation there are various characters that have earned a special place, either due to the quality of their content, the humor of their actions or the great virality they can reach, such is the case of characters like Fofo Marquez or Memo Salinas, who frequently gives something to talk about, the last of his comments being a criticism of the deficiency of some aspects of the CDMX Metro, this supposedly moments after discussing education in Mexico during its broadcast on Twitch.
Memo Salinas, nephew of businessman Ricardo Salinas Pliego, has become, along with his uncle, a relevant figure in the digital conversation, This is due to the way in which they have been able to interact with Internet users, In addition to having appearances with other content creators such as El Escorpión Dorado or through live broadcasts on platforms such as TikTok either Twitch.
In addition to having a large presence within social networks such as Twitter, platform that has been a topic of conversation on more than one occasion, since it is here where Memo, tends to show certain social aspects, such is the case of a recent comment on the deficiencies offered by the Mexico City Metro, space that daily transports just over 2 million 294 thousand 447, according to official data.
Memo Salinas criticizes deficiencies in the CDMX Metro… from his mansion
An important aspect that social networks offer is the reach and the fine line that exists so that everyone can interact, which is why these platforms offer a great opportunity to reach any sector, because the great pressure that a little more than 4 thousand 950 million Internet users can exert can influencers in the decision-making of companies, institutions and even governments.
This is thanks to the great virality that certain content can achieve, which offers extensive organic and unpaid feedback to companies and governments, such is the case of the comment made by Memo Salinas, who mentioned "how much will an escalator cost" along with a tweet, in which you can see his intention to donate it to provide service to a station on line 7, which also shows a series of images of elderly people or people with restricted mobility, who had to upload large stairs.
How much will an escalator cost? I can't donate it without being awarded it by the mayor/government? https://t.co/IwDg0lkEQy

— MEMO SALINAS (@MemoSalinas) December 5, 2022
It is worth mentioning that Memo Salinas mentioned in his comment about his intention to make his donation hard for both the mayor's office and the current government, since Ricardo Salinas' nephew, has a large number of companies such as: CNCI University, Todito Cash, Zignia, Arena Ciudad de México, Arena Monterrey, Arena Guadalajara, Superboletos, the newspaper El Horizonte and the Cervecería "Non Plus" among others, in addition to having a position as Chairman of the Board and Shareholder of Grupo Avalanz ., according to what was indicated by salinaspliego.com.
It is due to this type of actions that both Memo and Ricardo Salinas have been able to win over the networks, because on past occasions, the Mexican businessman went viral due to a comical war that broke out after asking his community to Twitter who would support some of the proposed names for his new animal care foundation.
If the foundation to help dogs and cats started today, what name would they choose? It does not mean that it is the final name but you have to discard it, I chose a short name because I felt like it, my foundation, my rules 😂 😜.

– Don Ricardo Salinas Pliego (@RicardoBSalinas) July 16, 2022
The digital conversation has become the great window that society has to show all kinds of circumstances, since it is within this that they are exposed from comical, funny, vulnerable and even denunciation moments.
now read
He accuses Aeroméxico of stealing 15,000 pesos in belongings and the airline offers him these two options
Spotify in the sights of the White House; They ask for more responsibility in the information about the Covid-19
Raise crows… to clean the streets; Swedish company sets an example of sustainability
"Bad mannered customer"; This is how Tracusa named a consumer who exhibited poor service in networks