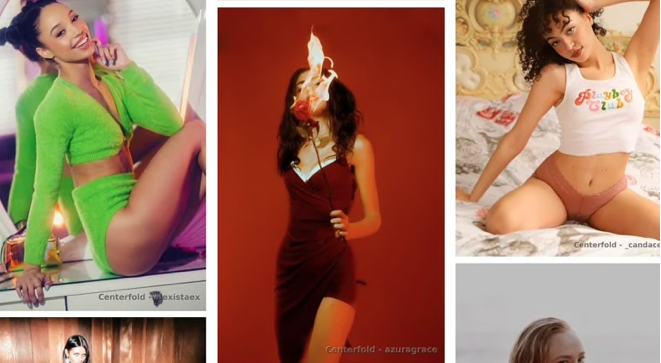 The functions of this site are like Only Fans, where to access certain content the user must pay money.

In the new application you can send a message for a dollar.

It is also possible to choose to unlock access to a post for the same amount.
Every day new applications and digital platforms come onto the market that seek to position themselves around the world. It is the case of Centerfold, a space launched by the iconic Playboy brand for content creators to interact directly with their followers, offer personalized audiovisual content and have a way to develop their own businesses, very much in the style of "Only Fans".
According to data from Statista, Only Fans is one of the most famous applications currently on the market for content creators, where as of 2020, it saw approximately one million active content creators on its platform worldwide.
The statistics platform notes that by comparison, global users registered on the platform were around 85 million. That is why many other apps have tried to create platforms like Only Fans, as is the case with Playboy.
This is how Centerfold works
This application that launched the iconic brand in December 2021 consists, like Only Fans, in entertainment for adults.
The company explained that when it presented it, Centerfold seeks to be "The next evolution of Playboy's long history at the intersection of culture and sex."
The functions of this site are the same as with Only Fans where to access certain content and type of interaction the user must pay an amount of money that varies depending on the case.
The company explains that you can send a message for one dollar, leave a minimum tip of two dollars or join a $20 monthly subscription.
They add that it is also possible to choose to unlock access to a post for the same amount.
Regarding its interface, Playboy explains that it is very simple, with which you can easily navigate through the different options, as well as turn the page into other languages.
People who want to enter will only have to create a user and as mentioned above, they must opt ​​for a monthly subscription or pay for particular actions such as sending a message or viewing a particular post.
Playboy bets on the digital age
This new Playboy proposal is after it stopped publishing its magazine two years ago, so Centerfold is a commitment to a digital reconversion that responds to the demands of these times.
Just a few days ago, Playboy hired Loren Piretra as Vice President of Creator and Influencer Marketing for Centerfold. Piretra is a very famous name in the industry as she previously held the position of director of creator and influencer marketing at Twitch.
"For decades, Playboy has been a thought leader at the intersection of pleasure, lifestyle, fashion, media and activism, and I am excited to join the talented team at this company that has reinvented itself. Working with this legendary brand, whose influence has had undeniable cultural and social impact for nearly seven decades, has energized me to build strategies that reflect the revolutionary spirit embodied by the Playboy brand," said Piretra.
In its launch the creators included celebrities Cardi B, Amanda Cerny, Lana Rhodes, Gigi Goode, Elsa Jean, Ashley Hobbs, Carolina Ballesteros, Chasity Samone and Yoli Lara, among others, to promote this new platform.
Now read:
He auditions "independent adult" of TikTok with Paty Cantú and OV7
"I better go to the store"; chef shows how to make a homemade Dr. Pepper
Outsourcing Law forgets more than a million textile workers