Crystal Dynamics explains on the Square Enix blog the different measures they have taken during development to improve the representation of society in the game and to make it more accessible.
Crystal Dynamics, the studio responsible for Marvel's Avengers, has detailed in an extensive post on the Square Enix blog the accessibility and representation measures they have taken during the development of the title, explaining some of the options that the game will include so that it reaches all possible players, regardless of their physical condition.
In the publication, the designer game, Mariah Robinson, and responsible community and social networks, Meagan Marie, explain how the Californian studio began to worry about accessibility and introduce measures around it from the reboot of Tomb Raider.
During the creation of Marvel's Avengers, they have gone further: the designers and other team members have undergone an AccessibleGames course to obtain the certificate, and learn the necessary practices, which grant the title of "Accessible Experience Practitioner for the player " They have also collaborated with the NGO The AbleGamers and Cherry Thompson, head of accessibility at Ubisoft
Thompson herself has participated in motion capture sessions for Marvel's Avengers, with her wheelchair, and will appear in the game as a character named Cerise. "Our goal is to standardize the representation of the world of our game by reflecting the diversity of the real world, " explains Meagan Marie.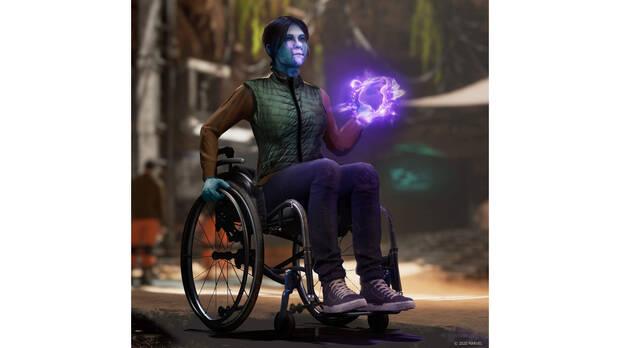 "We have scenes in the game like a day, which is essentially a comic book convention; having representation in a mass of people where everyone shares a passion for superheroes is important to us," he continues, and they assure that within Crystal Dynamics A team specialized inaccessibility has been formed.
Learning the study around accessibility will not only affect representation, but also the options of the game itself. "One of the examples I'm most excited about is our high-contrast user interface," says Marie. "The high-contrast interface feature makes navigation easier for low-vision users or people who find some interfaces annoying or difficult to use."
Although they will share more details on this in the future, Robinson explains that they have a "ton of awesome features" around accessibility: "Fully configurable controls, character-associated captions, campaign captions, and training rooms, to name a few. "
"The game has a catchphrase that helps define the message of how important inclusivity is: 'Take advantage of your powers,'" concludes Mariah Robinson. "We truly believe that anyone can be a superhero, and with Marvel's Avengers, we want them to live out that superhero fantasy."
Marvel's Avengers will arrive on September 4 on PC, PS4, Xbox One and Google Stadia. The title is being developed by Crystal Dynamics, Eidos Montreal ( Deus Ex: Human Revolution ) and NIXXES.