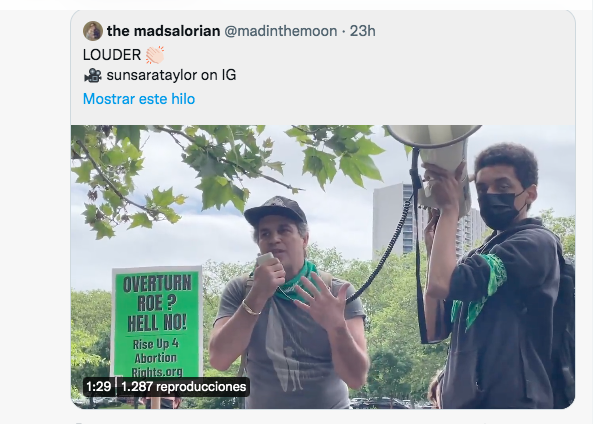 It has been revealed that the actor Mark Ruffalo said that he attended one of the demonstrations due to the request of his daughters.

Within the United States, at least 40 concentrations were reported during the day of pro-abortion protests.

Washington, New York, Chicago, Austin and Los Angeles were several of the cities where mobilizations were registered.
Several organizations that defend reproductive rights, such as Planned Parenthood or the Women's March, called for a couple of days a little more than 40 different concentrations, this within the United States, the massive demonstrations, They took place over the last few hours in cities such as Washington, New York, Chicago, Austin and Los Angeles, where actor Mark Ruffalo was seen wearing a green scarf, during one of the demonstrations, which caused the networks to divide within the digital conversation.
under the motto "Enough of controlling us", was that various mobilizations were carried out, in which thousands of people gathered with the initiative to defend the validity of the right to abortion, which has been seen in conflict by the Supreme Court of the United States, since it has been pointed out intended to overturn the landmark Roe v. Wade, with which the voluntary interruption of pregnancy (IVE) was legalized almost half a century ago.
We appreciate you! https://t.co/r7wEpcnwK1

— the madsalorian (@madinthemoon) May 27, 2022
Mark Ruffalo wears a green scarf during a demonstration and networks are divided
During one of the congregations held during the last few hours in the United States, actor Mark Ruffalo spoke to the community demonstrating his solidarity with the movement; However, it has been revealed that the actor of "if I were 30″ participated in one of the demonstrations, due to a request from her daughters, an act that generated various positions in networks, this due to those who point out that the actor should not occupy his role as a "famous" person within a movement and others who widely celebrate that influential people of voice and life to the conflicts that affect women.
"It's not over until we the people say it's over. It is time to organize and fight the regressive and totalitarian turn to the right in the Supreme Court." Mark Ruffalo on Twitter.
Mark Ruffalo, who is better known as the Hulk by new generations, thanks to his role in the Marvel Universe, has remained highly active in various eventsone of the most recent being his participation in an appeal by more than 150 high-net-worth personalities for more taxes to be applied to them, coinciding with the World Economic Forum in Davos, in which one of the heiresses of the Disney empire Abigail Disney also participated, who were one of the signatories of the so-called open letter "In Tax We Trust" ("In taxes we trust").
Another reason to love this man!!!! 🥰🥰🥰 #markruffalo @MarkRuffalo you are amazing!!!! https://t.co/QrfmkF2XJz

– Patricia Avendaño M (@pavemir) May 27, 2022
I would say that the one who demerits another for a retweet of something that has nothing to do with this Mark Ruffalo mambo is the true definition of "broken ass pete"

— Stoner Lion the rancid from twitch (@StonerLion1995) May 27, 2022
How can it be that mark ruffalo always does everything right?

— Gaby 🌙 (@hiddlestb) May 27, 2022
Hulk became a feminist. the worst ending https://t.co/Nd7LlstL71

— Augustine (@agustinromm) May 27, 2022
now read
This is what the house of a person with depression looks like; impact support campaign
Internet users defend Walmart and Oxxo after consumer criticism for not delivering bags
Taqueria in South Korea takes advantage of the language barrier to insult (and charm) diners
Isla CDMX and Sabritas delight with a musical starring sandwiches