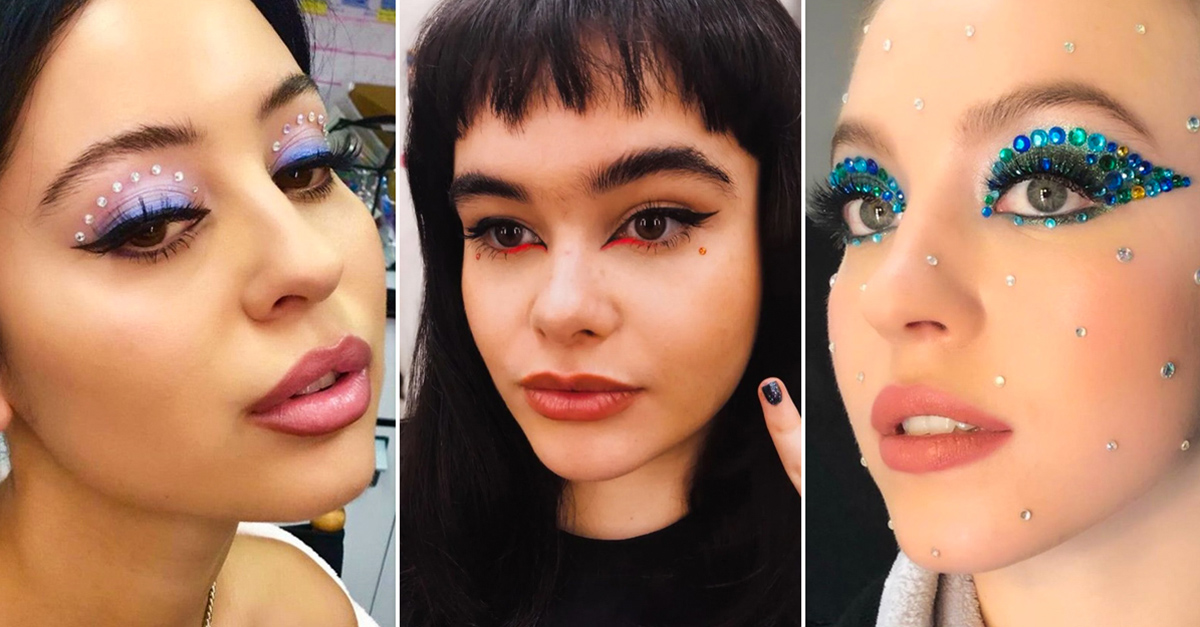 since it premiered euphoriain addition to its incredible plot, its cast has given us infinite inspiration with the outfits most representative makeup we have seen so far. Whether it's perfectly placed gems or striking eyeliner, they're all a safe bet on the abstract makeup trends that have exploded since Rue, Cassie, Maddy, Kat and Jules came into our lives.
So we decided to compile the best outfits created by makeup artist Doniella Davy in the series' first and second seasons. Here are 10 beautiful makeup inspired by euphoria. We're sure you'll want to replicate them all!
1. Indigo eyes
Maddy loved wearing purple eyeshadow and honestly, it suits her perfectly. These outfits purples make us want to bring out our violet, lilac and plum eyeshadows right now!
Since gemstones are an underlying theme in many of the outfits of makeup of euphoriait's a good idea to have a good variety of them on hand if you plan to implement more than one look. Apply purple shadow on the lids, false eyelashes and finish with a generous application of gems. To shine!
2. Pink out of the ordinary
Don't be afraid to wear pink eyeshadow! As long as you define your lash line, even with just mascara, it won't look like a simple "pink eye." Another fun idea to try with pink eyeshadow is to line your waterline with dark blue, plum, or black.
3. A dash of red
Kat's makeup needed to match her feisty attitude, so this red-hot eyeliner style suits her perfectly. If you want an even fine line, it's best to use a liquid liner that has a tiny brush on the applicator wand. The smaller the brush, the more precise the line will be on the inner line of the lower lash line. You can use the same liquid liner to create the dot that leads just above the cheekbone.
4. Abstract outline
These were the initial ideas for the look New Year's Eve from Jules. Actress Hunter Schafer said these shapes reminded her of a "mermaid purse," which is a dark leather lining that protects a developing shark embryo. East look bring the energy of the sea!
Whether you want to wear it just like Jules wears it or adapt it to your style, it is an excellent idea to frame your look and break out of the traditional eyeliner.
5. Iridescent Red Eyes

Crying neon orange tears like Jules instead of the normal boring ones would be more fun, but this one look Red eye makeup with iridescent frame is just as good.
Shimmering gold decals at the corner of the eyes add a color contrast that adds dimension to the whole look. look. Use a red eyeliner and shadow, blending them around the eyes, top and bottom. Finish by placing the decals on the inner corners of both eyes.
6. Gems and diamonds everywhere
How to forget when Cassie debuted with this look of eyes inspired by a peacock totally covered with gems. The blue-green and sapphire stones that line the eyes are simply gorgeous.
If you feel up to the challenge, recreate this look using stick-on gemstones with a mix of teal and blue eyeshadow on the lids.
7. Cherry Palette Eyelids
Cherry-colored lids with a soft shimmer remind us of a juicy palette. Apply a sheer red eyeshadow all over the lid and blend up to the brow. Although this look monochrome consists of a single color, it is simple but very fun.
If you like, you can also add a winged eyeliner on your upper lash line and lots of mascara to complete the look. look of Kat.
8. Watercolor eyes
Kat didn't get much screen time in the season two premiere, but luckily, Barbie Ferreira shared her amazing makeup on Instagram. This gave us a closer look at the rich colors Davy chose for Kat's eyelids.
To recreate this look, blend an iridescent green shade all the way to the brow bone for a dramatic lifting effect. Then add highlighter to the space between your eyelid and brow and apply a bright blue shade under the green with a flat brush.
9. Double sharp eyeliner
Maddy, you better be kidding, because that liner is so sharp it can cut through anything that comes your way. Although it seems difficult to achieve, it is perfect to lengthen your eye and achieve an impact look. You can rely on stencils, thin brushes and a cotton swab with makeup remover, but remember: patience is the main tool.
10. Diamond liner
If you find the long eyeliner too hard to master, you can opt for stick-on diamonds to add dimension and contrast to the shape of your eyes and add a little contour with a silver glitter liner. The great advantage of this look is that there will be no stains or headaches.
What is your favorite?