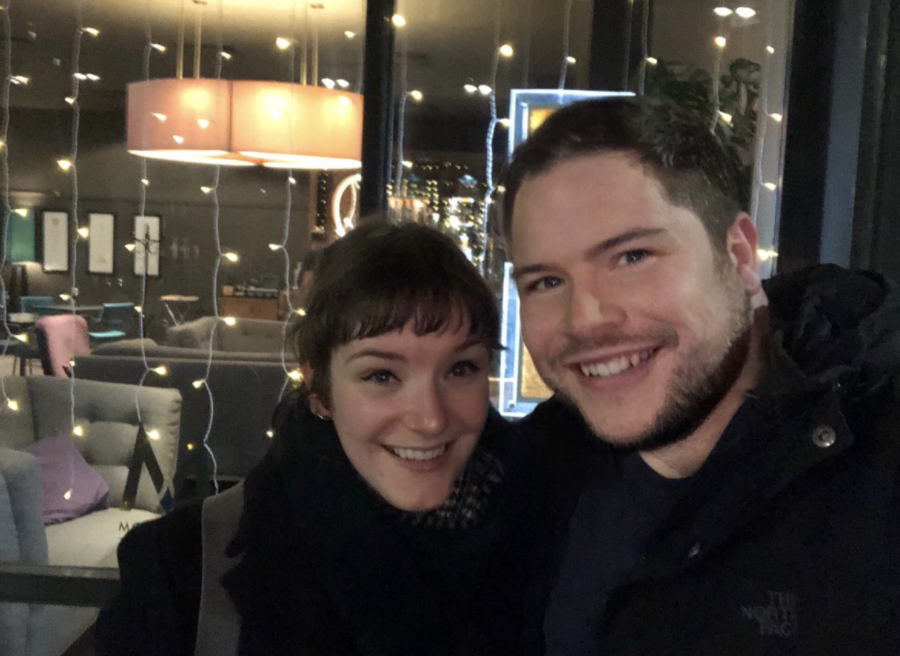 He narrates how eCommerce completely changed his life, and not because of customer service or its effectiveness.

Young finds his other family on eBay and buys him a sister six years younger than him.
A young man from Scotland discovered a secret of his family lineage thanks to information from the eBay seller he contacted in search of an exclusive collector's item.
The advantages of electronic commerce provided the 37-year-old man with the opportunity to meet his biological father and even discovering that he had a sister, whom he did not hesitate to introduce on his social networks.
Ross Colquhoun conducted an internet search for an information brochure from 2012, which accurately describes the preview of the football matches of the teams Liverpool FC, from England, and Heart of Midlothian FC, from Scotland.
This happened two years ago, before the pandemic, but it is now that the story is going viral, which was finally made public on Twitter, and which today reaches more than 8,000 likes.
Colquhoun successfully made the purchase by finding the special edition item; however, shortly after he received a refund for the money paid and a private message from the seller… as soon as he read it he knew that his life as he knew it had changed forever.
"Unknowingly, I bought something from my father, whom I don't know. He gave me a refund." explained Colquhoun.
And it is that, apparently, the father saw his name when he made the purchase and immediately knew who it was, so he wrote to confess the amazing coincidence and introduce himself 37 years later in his life. Ross Colquhoun knew of his father's existence, knew his name and where he came from, but had never seen or spoken to him.
However, given the opportunity to talk to his father, the young man began to learn a little more about the life of his other family and gave details of how he has grown and what he has become. This, until on January 10 he decided to have a reunion with one more character, his sister Erin, 31 years old.
"Just before the pandemic started, I unknowingly bought something on eBay from my dad, who I never met. He returned it. Two years later, he started on a trip to meet my family that I didn't grow up with. And tonight I met my sister Erin for the first time", said the man.
Just before the pandemic started, without knowing, I bought something on eBay from my Dad, who I've never met. I have refunded it.

Two years later it's started me on a journey to get to know my family that I didn't grow up with. And tonight I met my sister Erin for the first time. pic.twitter.com/uGIFVCLBpX

— Ross Colquhoun (@rosscolquhoun) January 10, 2022
"We laughed, cried and shared stories. It was as if we had known each other all our lives. I was very nervous, but it was an absolutely beautiful and positive experience of life."

"We talk about our lives and experiences, which seem very similar. Erin studied at the Glasgow School of Art, while I attended the Edinburgh College of Art. The bewilderment continues though I really want to meet the members of the family that I haven't seen yetColquhoun recounted.
The thread has captured the attention of thousands of Internet users who feel identified with his case or give him words of encouragement for being strong and doing something that many would not be willing to do: meet the father who was never there for them and try to relate to his family. .
That is why the young man thanked his followers for their support and promised to tell the good, the bad and the beautiful of the co-sanguine journey that he has just undertaken.
"Thank you for all the beautiful messages. It was a bit overwhelming. I read each and every one of them. If you have relatives you've never met, it can be very difficult to process. I hope these tweets comfort and inspire others to take the next step.", he indicated.
Now read:
Fans steal advertising from Carlos Rivera: "whoever did it represents us"
He's in diapers at 35 and can't date; tiktoker showcases how he lives with incontinence
Woman applied for 60 jobs, but no one responded to her CV; "I almost died of embarrassment"