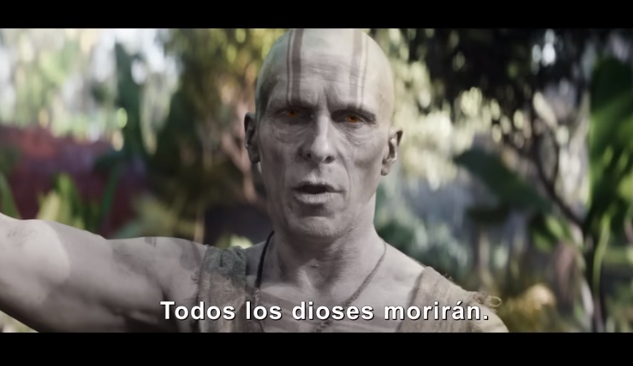 Marvel released the new trailer for Thor: Love and Thunder.
Christian Bale will be the villain: the Butcher of the Gods (Gorr).
Old acquaintances return, such as Natalie Portman, Jeff Goldblum and Russell Crowe, as Zeus.
The new trailer for the imminent Marvel movie "Thor: Love and Thunder" comes with surprises: for example, now It is already known who will be the villain of the film.
This is what fans of the Marvel Universe are talking about on social networks.
Thor's villain is Gorr, also known as "the butcher of gods." The actor: a heavily made-up Christian Bale.
The full trailer was presented with a private marketing strategy: during Game 4 of the NBA Eastern Conference Finals between the Miami Heat and the Boston Celtics.
There you could see for the first time Christian Bale as "God Butcher"
The trailer was then uploaded to Marvel social media across the world.
Thor: Love and Thunder trailer released
The Marvel film, directed by Taika Waititi, is the sequel to 2017's "Thor: Ragnarok" and marks the return of Thor to the Marvel Cinematic Universe after 2019's "Avengers: Endgame".
The film stars Chris Hemsworth in the title role and features Tessa Thompson as Valkyrie.
Chris Pratt is Star-Lord, Waititi is Korg and Natalie Portman as Jane Fosterin his first appearance in the Marvel Universe since 2013's "Thor: The Dark World."
In 2020, Portman revealed that the film would show Foster battling cancer in his human form.
Waititi called the film "the craziest thing I've ever done," hinting that it will include many fan-favorite plot points and a love story.
The new Marvel movie opens on next July 8.
Another novelty that the trailer shows is the performance of Russell Crowe as Zeus, in a role that will allow Greco-Roman mythology to be combined with Norse.
One issue will continue to divide fans: the comedic tone that is still present in the new Thor movie.
Now read:
Marvel reaches an agreement to "revive" Stan Lee and this is how his fans respond
She Hulk Trailer Draws Praise (And Plenty Of Criticism For Its Lackluster CGI)
They discover that Dr. Simi joins the Marvel multiverse with "Doctor Simi Strange"