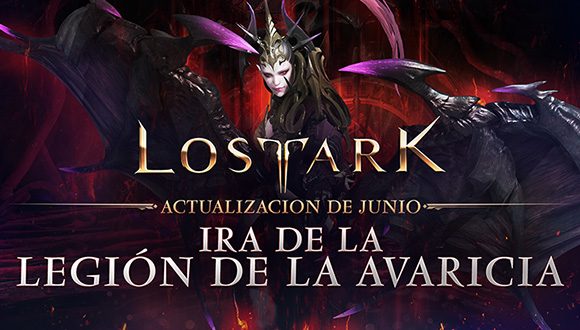 The June update for Lost Ark arrives in Arkesia today. The Wrath of the Legion of Greed includes the Vykas Horde Raid, the Kungelanium Guardian Raid, the Throne Tower solo dungeon, a new event island, new cosmetic items, and more!
Vykas follows Valtan as the second Legion raid to arrive in the Western version of Lost Ark. In this raid, you will face the dangerous members of the Legion of Greed before fighting Legion Commander Vykas. It cannot be revived during the battle, so be ready to fight for your life. Vykas is an 8 player Legion Raid, has 3 gates and is packed with new features, abilities and unique mechanics. Players will need to be item level 1430 to attempt Normal difficulty, and 1460 for Hard.
Players can participate in Legion raids after completing the guide quest [Guía] Warning: Legion Raid'. As a bonus step for the new Vykas raid, you will need to visit the Moon Knights NPC in Vern Castle and start the quest "Bloom Again", which tells the story of the Greedy Legion Commander.
KUNGELANIUM GUARDIAN ASSAULT
A fearsome force of evil in the War of Chains, Kungelanium has been awakened from its icy hibernation by the reappearance of the daemonic legions and the chaos that spreads across Arkesia. Alongside Deskaluda, the frost predator Kungelanium will enter the gauntlet of powerful level 6 Guardians available to challenge in a Guardian Raid. Kungelanium will be available for players to challenge once they reach item level 1460 or higher. Like other Guardian Raids, you can try to beat him solo, with a group, or pair up with up to three other heroes.
You can read our Lost Ark reviews and if it's worth trying.
A few weeks ago, Lost Ark, the free-to-play MMORPG from Smilegate and Tripod Studio, finally arrived in the West. Distributed by Amazon Games, What is the secret behind your addiction?.
With access to the closed beta, I was able to try Lost Ark, Smilegate's Korean "Devil". A free to play MMOARPG coming in early 2022 in the West.
THRONE TOWER
The Throne Tower is a new single player dungeon experience in a twisted dimension with 50 levels. In The Throne Tower, you will fight until your time runs out, working to defeat as many floors and enemies as possible before finding your mate and succumbing to the Daemon Legions. Completing the first 25 floors grants rewards for the first time (you will earn all the rewards for the floors you conquer). The other 25 floors focus on prestige and completion times, proving that you have the skills necessary to conquer anything the Daemon Legions throw at you. Players will need to be item level 1325 to participate.
GENERAL UPDATES
HEARTBEAT ISLAND
Need to relax after battling demonic legions in the hot summer months of Arkesia? Spend some time relaxing on the beach or dancing with your friends on the new event island: Heartbeat Island. You can find Heartbeat Island by talking to Jollous, the festival expert located in major cities, or by sailing directly to it (near Anikka). It is not necessary to complete a quest in a city to enter.
Once you have reached Heartbeat Island, you will be able to collect Festival Coins through various activities, which you can redeem for a variety of rewards. There are daily quests where you'll receive Festival Coins just for relaxing in a designated area, and timetable quests for dancing and defeating Rekiel, the dancing queen.
GENERAL AND QUALITY OF LIFE UPDATES
Added Strength Research that improves the improvement rate of minor characters on their way to item level 1415. This can be researched at item level 1460.
The daily login reward system has been updated.
Added a new setting to change the size of the damage source.
Chest contents can now be sorted alphabetically.
Added preventions to limit the activity of gold sellers. New purchases in the store will now have a 3-day waiting period before they can be exchanged or transferred out of the buyer's account by mailing, trading, gifting, or selling on the Auction House.