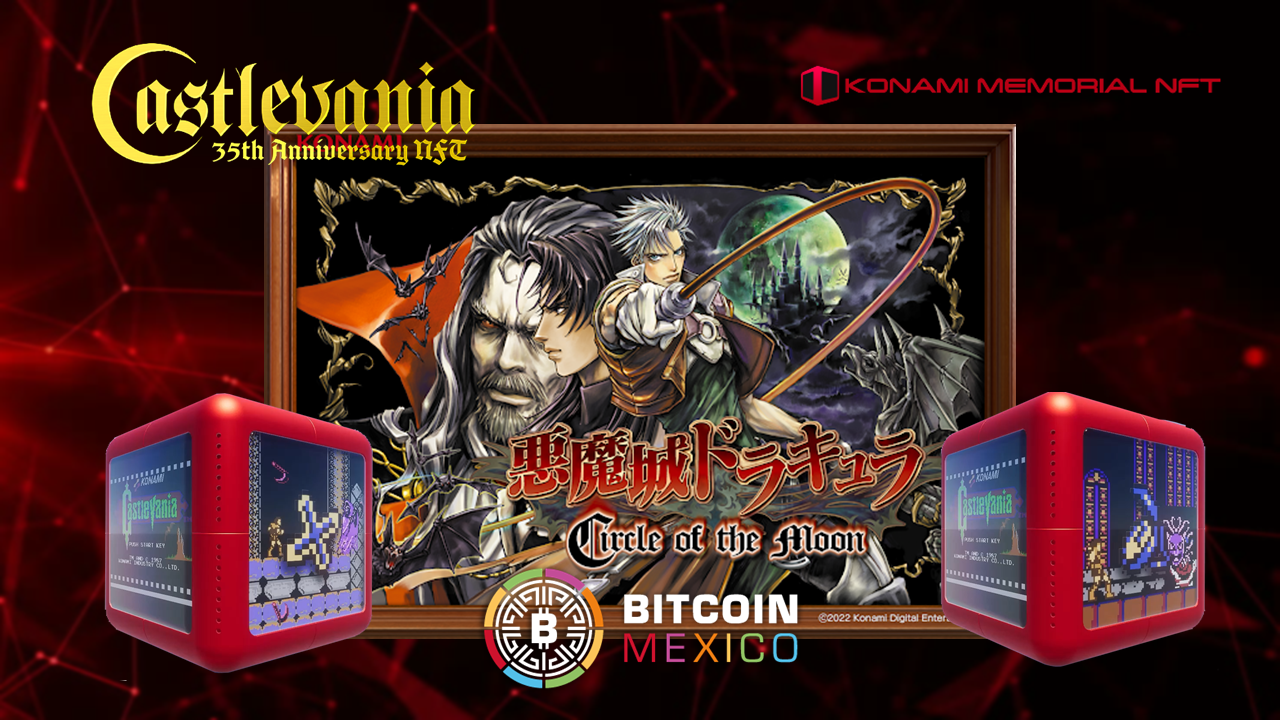 Celebrating Castlevania's 35th anniversary, Konami will release an NFT collection of the classic game.
The tokens will be launched through OpenSea on January 12.
This collection will be the first installment of the series Konami Memorial NFT, in which other successful themes of the saga will be included.
More and more companies are seeing digital assets as a business opportunity, especially after having experienced an extremely interesting growth in 2021. Nowadays, through initiatives such as the metaverse, it is a little more palpable to see the scope of this digital economic environment, and of course the possibilities are looming so far infinite.
Some players from another major industry, videogames, have already set their sights on this sector, highlighting the companies Square Enix and Ubisoft, firms that decided to give non-fungible tokens a chance, and which have received a very good acceptance. by their gamers.
Due to this trend to experiment in the digital environment, recently another great of video games, Konami noted that it will launch its own NFTs.
Konami enters the NFT world
The firm noted that its foray into this digital market will be carried out by one of its great franchises, Castlevania, This title continues to be popular with the public since 1987, the year the game was released in cartridge format in North America for the Nintendo Entertainment System (NES).
The non-fungible tokens of this classic video game will be launched on the market through OpenSea, in addition to the auctions will begin on January 12. The video game company indicated that once it has winners of its auction, it will announce the nickname of each one in its official web portal.
In a separate announcement, the firm specified to all those who want to participate in the auction, that "no guarantees that the value of the NFTs increases after purchase".
Konami Memorial NFT
It should be noted that it is the first installment of the series Konami Memorial NFT, an initiative of the consortium that aims to develop NFT art and that it will not only take up elements of the Castlevania franchise, since it is important to remember that the developer will also He has other successful sagas to his credit like the acclaimed Metal Gear Solid, the classic Contra and Frogger and one of the best soccer games, Pro Evolution Soccer.
Castlevania NFTs will only be a collectible
Although some NFT can be used inside some playable gamesAs the Axie monster NFTs in Axie Infinity and can promote various game models for gamers to get rewards such as crypto tokens, everything seems to indicate that Konami does not want to enter the major leagues of NFTs, this because Castlevania NFTs are designed to be a collectible only, which is why they do not include any extras or built-in features that may be functional in a video game.
Similarly, these tokens also do not provide their next holders with any type of intellectual property or commercialization rights, as is the case with the Bored Ape Yacht Club collection of profile images.
It should be remembered that the French video game developer and distributor firm, Ubisoft, was the first company in the video game industry to bet on the nascent blockchain gaming space, developing in 2018 a model based on Minecraft known as HashCraft, before deciding to take the next step and launch some smaller NFT experiments.
It might interest you: