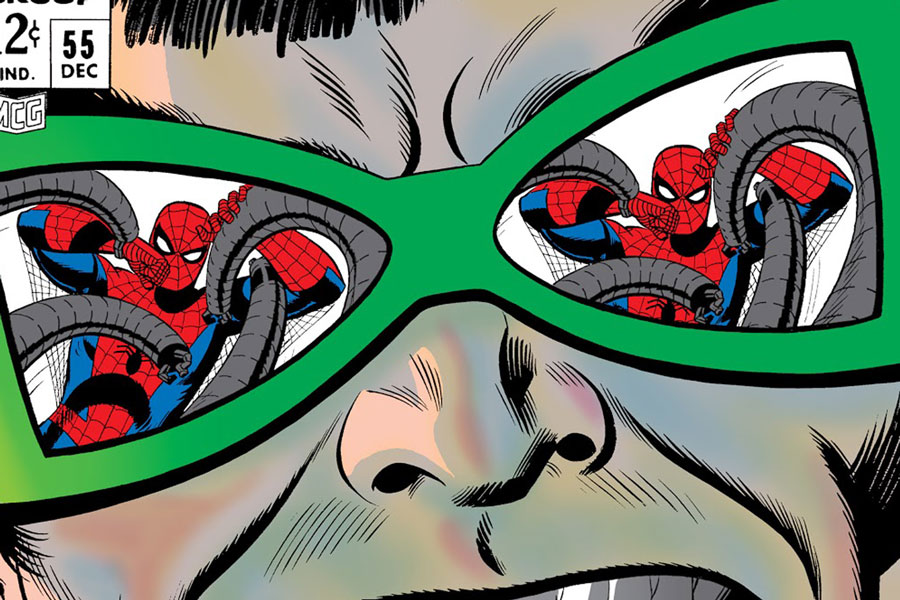 We celebrate legendary artist John Romita Sr. with a handful of highlights he drew for Spider-Man that marked the legend of the arachnid.
By Brittany Matter
It's always a good day to honor one of history's greatest cartoonists, John Romita Sr. In recognition of his extraordinary contributions to Marvel Comics, we bring you an assortment of amazing Spider-Man moments from our archives, drawn by the renowned Jazzy John Romita. Romita's extraordinary work on the first volume of Spider-Man was a major change in style that made his run an instant classic.
John Romirta Sr.'s first Spider-Man
Throughout his illustrious career, Romita Sr. has done many iconic covers and pages, creating memorable moments in Marvel history. It seems only fair to start this retrospective with his first Spider-Man, who appears in the pages of Daredevil (1964) #16 alongside the hero protector of Hell's Kitchen.
Joining screenwriter Stan Lee and reprising Steve Ditko's co-created wimpy Spidey, Romita's lines were bold and authentic, without sacrificing pacing. Ditko's more scrawny Peter Parker also received a more chiseled makeover under Romita's pencils, characteristic of the artist's penchant for drawing Hollywood-looking protagonists on the covers of romance titles.
rhino horns
Romita Sr. was part of the first appearances of several characters, including the rampant Rhino, Spidey's horn-headed foe in The Amazing Spider-Man (1963) #41. Romita Sr. takes this former Russian thug and transforms him into the brutal agent of superhuman strength, bonded to skin as tough as a rhino's.
The birth of a superhero
An especially important moment that Romita Sr. helped cement in Marvel Comics history was Mary Jane Watson's first full appearance in The Amazing Spider-Man (1963) #42. It is in this issue that Aunt May and Peter's neighbor, Anna Watson, successfully introduce their nephew, Mary Jane, who delivers his most famous date.
Kraven the Hunter
When readers think of Kraven the Hunter, we imagine him focused and powerful, clad in his lion's mane vest and surrounded by a host of spider-sized heroes. In other words, the cover of The Amazing Spider-Man #47. This portrayal of the brutal hunter had particular resonance because Kraven was haunted by the image of his mother's spider-infested asylum, and here, Kraven stands tall and confident, as if ready to tame the Wall-crawler.
Spider-Man No More
One of Romita Sr.'s most unique moments with Stan Lee is in The Amazing Spider-Man (1963) #50, when the hesitant Peter Parker sheds his Spider-Man suit, tossing it into a garbage can and walking away. their responsibilities. Romita Sr.'s rain adds a particularly somber tone as Peter resolves to let go of his childhood notions of being a hero.
Even the issue's cover is just as pivotal in encapsulating Peter Parker's arc from budding teen hero to determined adult. The crime boss Kingpin also appears in this issue for the first time.
To crush a spider
John Romita Sr. created a larger than life threat in The Amazing Spider-Man (1963) #66-67 with his portrayal of the master of illusions, Mysterio. With jaw-dropping visuals, close-ups, and a knack for playing with perspective, Romita Sr. makes the Wall-crawler experience terrifying and disorienting.
Via: Marvel.com
Search in our online store:
Marvel Verse – Green Goblin
A brilliant mind, tormented and subjugated by a diabolical dominant personality: it's the Green Goblin!
Although his first appearance in The Amazing Spider-Man #14 in July 1964 seemed like another one of the editorial jokes of the legendary Stan Lee and Steve Ditko, the peculiar schizophrenic identity of Norman Osborn, in the form of Green Goblin, not only broke with success within Spider-Man's rogues gallery but, over time, became one of the most complex and deadly characters in the Marvel universe. Norman Osborn is a successful businessman and father of Harry Osborn – Peter Parker's best friend. Hungry for power and emboldened by the voice of the Goblin's personality, Osborn develops the technology needed to eliminate the only thing standing in his way: the amazing Spider-Man!
This edition collects: The Amazing Spider-Man #14 (1964); #121 and 122 (1973); and #797-801 (2018).

is also being read
Controversy over the new Spider-Man
Benicio del Toro and Zoe Saldana inaugurate the new Disney attraction
Deadpool and Spider-Man taunt Batman and Superman!
Spider-Man will have a new love interest in the MCU
Children get stung by a black widow for wanting to be Spider-Man