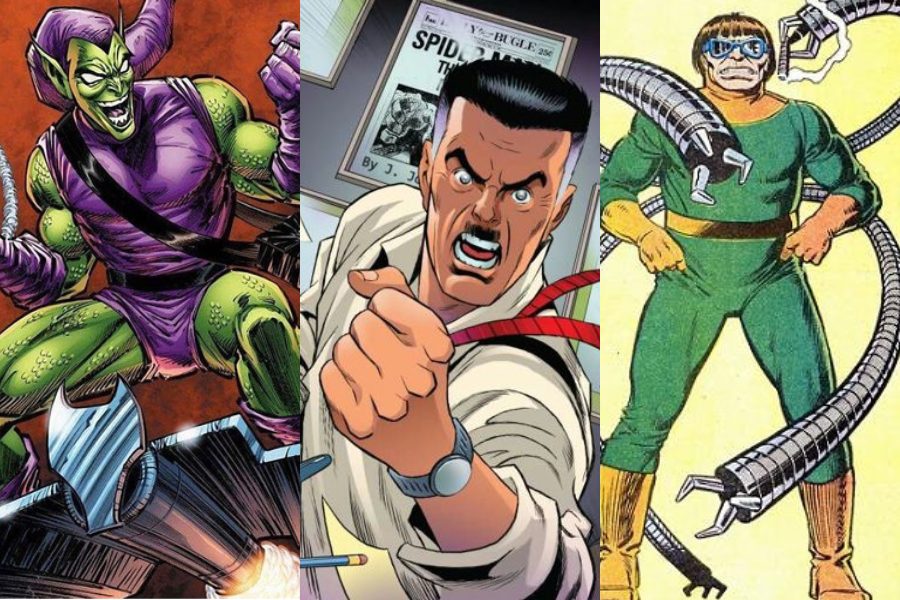 We know that Spider-Man is not a gold coin to be liked by everyone, and for this reason we bring you a list of the characters that have developed a deep hatred against the wall-crawler
After almost 60 years of existence in the Marvel Universe, Spider-Man has become one of the most beloved characters in The House of Ideas, but that does not exempt him from having the hatred of some opponents.
Don't Miss: Top 10: Characters Spider-Man Gets Along With
This hatred does not only come from villains like the Green Goblin, Doctor Octopus or Scorpion, others like JJ Jameson have not lost any opportunity to smear the wall-crawler and seek to turn the city of New York against the friendly neighbor.
That is why we present you the 10 characters who hate Spider-Man
JJ Jameson
Since his first appearance in The Amazing Spider-Man #1 (1963) the furious journalist has used the Daily Bugle as a weapon to end the hero's sympathy in New York.
But that's not where Jameson's hatred of Sider-Man stops, since he has also financed villains like Scorpion or the dangerous Spider-Slayers.
jackal
Miles Warren, a biology professor at Empire State University, was the teacher of Peter Parker and Gwen Stacy, with whom he was in love, and their death caused him an anguish never seen before.
Warren blamed Spider-Man for Gwen's death and by becoming Jackal Warren created clones of Spidey and Gwen, which gave rise to the Clones Saga (an adventure that SMASH and Marvel Comics Mexico will bring you in 2022).
Electro
Although in the movies a Max Dillon has been shown to be a victim of circumstance, in the comics Electro becomes a dangerous criminal, which always puts him in conflict with Spider-Man, whom he bears a great grudge as time goes by. .
vulture
The Vulture was one of the first villains Spider-Man faced, making his debut in The Amazing Spider-Man #2 and after being defeated, Adrian Toomes faced the web-crawler again in The Amazing Spider-Man. #7.
Adrian Toomes is one of Spider-Man's most resentful villains, as each defeat proves to be more humiliating.
Kingpin
Wilson Fisk knows that Spider-Man bothers him for his criminal operations in New York, so the absence of the wall-crawler in The Amazing Spider-Man #50 helped him extend his criminal reign, but not for long since the return of Spidey, Kingpin was defeated.
Although the Kingpin is capable of doing anything to defeat his most hated enemies, Daredevil and Spider-Man, Wilson Fisk dared to buy the rights to Spidey's image to hit him in another sense, the economic one.
Mysterio
Quentin Beck, a special effects specialist in the cinema, always lived with the frustration of not appearing in front of the cameras, so he used his talent to commit crimes dressed as Spider-Man.
After Spidey unmasked Mysterio, Beck became a regular member of Spider-Man's rogues gallery, who he bears a huge grudge against every confrontation that occurs.
scorpion
Blinded by his hatred for Spider-Man, JJ Jameson hired investigator Mac Gargan to find out Spidey's true identity. When it failed, Jameson used Gargan as a test subject for an experiment to create an anti-Spider-Man figure.
The experiment turned Gargan into Scorpion, a villain inspired by the spider's natural predator, but Spider-Man has managed to defeat and humiliate him, something that has developed his hatred against Spider-Man.
Venom
A story of union and rejection starred the Klintar who joined Spider-Man in the Secret Wars, which intensified his strength, but also made him a danger to society, which is why Peter Parker decided to separate himself from the alien suit.
With a hatred against Parker, the suit teamed up with Eddie Brock, a down-on-his-luck photographer who also hates Peter Parker, leading them to create one of the wall-crawler's deadliest enemies, Venom.
doctor octopus
One of the nemeses who has developed a deep hatred for Spider-Man is Otto Octavius, aka Doctor Octopus, who debuted in the pages of The Amazing Spider-Man #3, where a brilliant scientist is attached to tentacles. when he proposed to do an experiment.
Octopus was the founder of The Sinister Six, and not only that, he took Peter Parker's place to become The Superior Spider-Man, something that helped Otto empathize with Peter Parker.
Green Goblin
Norman Osborn is a sadistic and resourceful enemy of Spider-Man. Green Goblin is the one who marked Spidey's life with the murder of Gwen Stacy, a crime for which he will never forgive him.
Osborn sees in Peter many qualities that his son Harry does not have, but hatred is born when Peter Parker refuses to be under his tutelage, which leads to epic confrontations.
It may interest you: 10 costly mistakes Spider-Man has made
Source: Marvel
The Sinister Six threaten SMASH and Marvel Comics Mexico
While still in high school, the amazing Spider-Man faced one of his most chilling challenges when six of his most unnerving nemeses formed a crime team: the Sinister Six!
Years later, Doctor Octopus brings the members back together to carry out his most remarkable plan to date. Time has made them deadlier than ever, even as they've made Spidey's life more complicated!
SMASH and Marvel Comics Mexico bring you Spider-Man: Sinister Six, a volume with stories by authors such as Stan Lee and David Micheline, which cannot be missing from your collection.
is also being read
Controversy over the new Spider-Man
Benicio del Toro and Zoe Saldana inaugurate the new Disney attraction
Deadpool and Spider-Man taunt Batman and Superman!
Spider-Man will have a new love interest in the MCU
Children get stung by a black widow for wanting to be Spider-Man