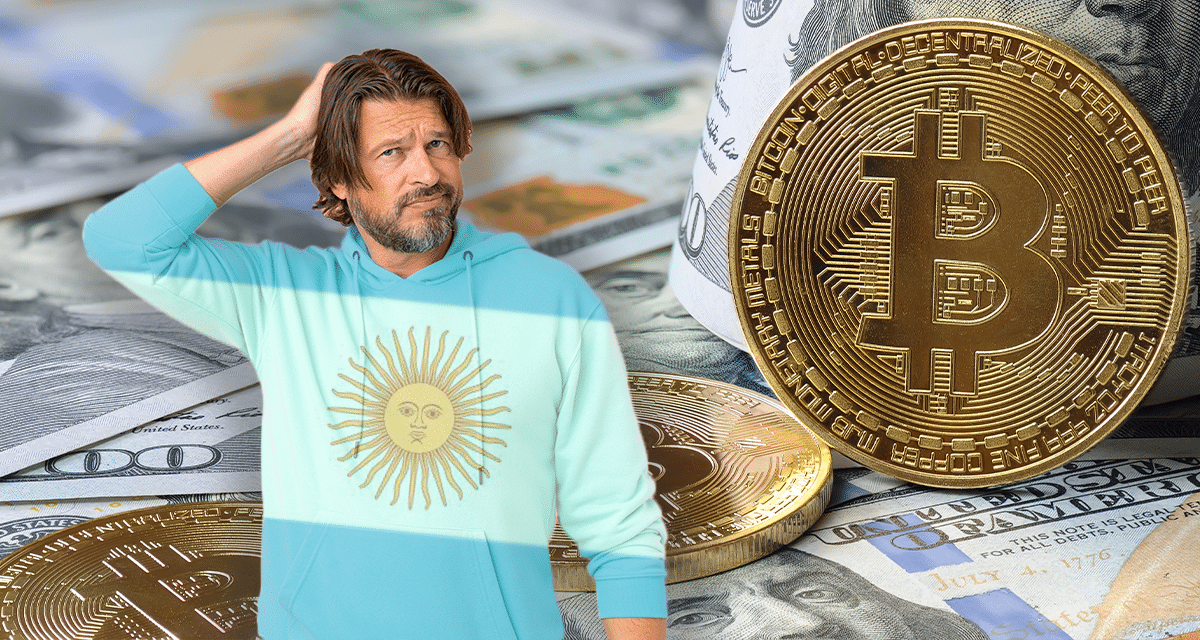 For years, the dollar has become the most used currency in Argentina to protect the value of money over time, a phenomenon that occurs due to extreme inflation and devaluation of the peso. However, given the restrictions that exist to buy it and the growing adoption of bitcoin (BTC) at a national and global level, added to the economic problems of the United States, the question arises: is it still convenient to save in dollars?
CriptoNoticias consulted different specialists on the subject to find out their vision. In response, economist Natalia Motyl forcefully told us: "No, it is not convenient to save in dollars with inflation in the United States of 8.3%". The American powerhouse recorded the highest price increase rate in 41 years.
The specialist argued that the main central banks of the world have shown that each time they have a monopoly on the printing of banknotes, they can greatly affect the purchasing power of the currency. "Today the world's major currencies are corroding in value due to the expansionary monetary policies of recent years," she added.
For this reason, he estimates that the dollar begins to lose its value reserve function. Given this, he pointed out that the acceleration of the adoption of cryptocurrencies worldwide is not a coincidence. He understands that it is the natural response to international mistrust of the world's leading institutions.
"As BTC is programmed, it serves to have a healthy currency. Despite its volatility, as people understand its value, it will start to stabilize and be used as a currency. In the case of Argentina, as the purchasing power is quite corroded, the main thing is to diversify and cryptocurrencies are an option », he commented.
Bitcoin is the future in the face of rising inflation in Argentina and the world, say specialists
For Motil, clearly bitcoin is the future. "It's like gold and a part of the savings that we know we are not going to use must be turned over to BTC," he said. Above all, in Argentina where he believes that inflation will reach close to 70% this year in the most optimistic scenario. Currently, it is 58% year-on-year, the highest in 30 years, according to the latest INDEC report.
From La Crypta, the finance and cryptocurrency advisory company where he is part along with other specialists, they stated that they definitely we have lost the war against inflation a long time ago. Mainly due to the lack of fundamental structural reforms and excessive private interests. For this reason, they see it as essential to start discussing what are the necessary paths to stabilize the economy and warn that cryptocurrencies are an option that is already being evaluated by the main banks in the world.
Regarding inflation in Argentina, Agustín Kassis, the CEO of La Crypta told us: «The debate is eminent, I wouldn't even say debate, because it has already been done. Here what happened is that those who are in the hands of the currency lie to you on purpose. They know it at the same time that they recognize that it is they themselves who are generating the problem. But, since they are responsible for the problem, they never admit it to you. So, they always blame it on the fact that it is multi-causal and so on, when in no first world country is such an outrage said.
So, Kassis states that cryptocurrencies may represent a solution to inflation. «We are not going to ask those responsible for the problem for a solution, but we take it ourselves. This is precisely why cryptocurrencies are an alternative to the kidnapping that we have at the hands of corrupt politicians," he stated.
Bitcoin works as a speculative investment, warns Ruffino
CriptoNoticias also spoke with the public accountant Federico Ruffino, who prefers to differentiate between what it means to save and invest. He maintains that bitcoin works best for Argentinians who are looking for an investment asset, precisely because of its price volatility, which makes large increases, as well as decreases; so it is risky.
Instead, he commented that stablecoins or stable coins (cryptocurrencies that maintain a 1:1 parity to the dollar) work better for savers who want to safeguard the par value of the US currency. Above all, due to the restrictions in Argentina to buy dollars in the banking system.
"Bitcoin is quite volatile and those who are just entering the crypto world do not see it as a safe haven of value. I think that, for the Argentine public, it is easier to explain what a stablecoin is. Many people who used to go to the dollar note are moving to stable currencies, which lowers the demand for the physical, "he said.
The specialist inquired that it would be interesting to know how much Argentines have in stablecoins, given that this alternative must have lowered the demand for dollars in the country. "You have to see how much the adoption of cryptocurrencies by many savers has helped to keep the entire Argentine system from getting out of control," he mentioned.
The accountant believes that in Argentina those who do not go to the speculation of cryptocurrencies, such as bitcoin, see stablecoins as a viable alternative to the dollar. He pointed out that they must be taking a market share or significant market share. In other words, given the increase in the use of stable currencies, the purchase of dollars could be lowering.
"Note that they are already beginning to accept stablecoins in real estate because obviously for a matter of security, practicality and discretion, many are accepting cryptocurrencies instead of the bill in hand. So I think it's here to stay, mostly as an alternative to the dollar bill," he said.
Although it is worth mentioning that there was recently a case of a stablecoin that lost parity to the dollar, causing concern among savers who use this method. We will have to see how it works.
At the same time, he indicated that there will always be people who enter the market through speculation, being cryptocurrencies an ecosystem that is much more dynamic and easy to access than traditional ones. For this reason, some Argentines may prefer bitcoin even before investing in the CEDEAR (stock market securities) or the Merval (main stock market index in Buenos Aires).
The dollar is losing value, while bitcoin is seen bullish
Daniel Vogel, the founder and CEO of the cryptocurrency exchange Bitso, recently told CriptoNoticias: "In Argentina we see a huge adoption of bitcoin and stablecoins due to the need to try to maintain their value." A situation that he sees that grew before the restrictions to buy dollars.
"It is a place where cryptocurrencies make a lot of sense," he estimated. Although on stablecoins, he clarified that it must be taken into account that the dollar is losing value. Precisely in 1985, the US currency reached its maximum value and has been devalued ever since. Although in recent years it has managed to come back a bit, the dollar still maintains a 35% depreciation since that time.
Understanding this, then it would be a lie to say that the dollar allows saving, because in the long term its value has depreciated. Nevertheless, for some it may still be an attractive asset because it does not depreciate as much as the peso does.
In May 2019, the dollar was worth 43.8 pesos, while today it is 207.5 pesos, according to the price of the blue, which means that in three years the national currency depreciated 373%. Likewise, it is worth clarifying that at that time it was allowed to buy dollars at the bank or an official exchange house. While now this can only be done by a small group of Argentines with a limit of USD 200 per month, so the informal market has flourished.
Nevertheless, if what you are looking for is a currency that, instead of devaluing, appreciates in the long term, bitcoin may be a better choice. Of course, speculating that its price will increase over time, a trend that it has been doing since its launch. The more demand it has, its value could rise and it still has a great possibility of growth if it becomes widespread.
The cryptocurrency reached a historical maximum of USD 67,800 in less than thirteen years since its origin. According to data from BuyBitcoinWorldwide106 million people own bitcoin, which represents only 1.3% of the world population. Therefore, there are reasons to think that its use and price could increase drastically, as an alternative to the dollar.