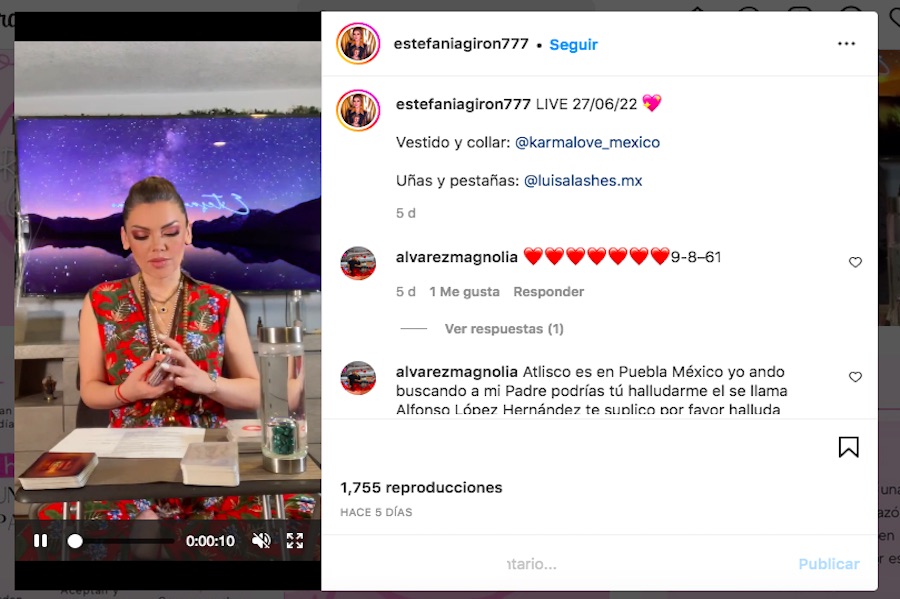 Estefania Girón commented to Merca2.0 why she needs a community manager without children and with a driving license.

The controversy broke out in networks against this vacancy, because a Twitter account distorted the real reasons why a CM with certain characteristics was requested.
The labor market where a community manager it grows. Within portals specialized in offering job vacancies such as Bumeran, up to 16 vacancies related to this activity have been listed. OCC, for example, lists up to 237 job openings when the term is searched within its platform. Of the average of vacancies found and that have been published these days, one announced by a influencer She was criticized on social networks for the profile she requested.
❌ Vacancy alert stupid: to be a Community manager they ask you for a driver's license (?), "time availability" and 🚩 not having children 🚩 pic.twitter.com/SSSDxk5Hsb

— Fra, the fairy of vacancies ✨✨✨ (@frasalazar) June 30, 2022
Estefania Giron was consulted by Merca2.0 through his Instagram account, where he has more than 140,000 followers, for his work that he describes as emotional alchemy, with special activities in the translation of the voice of angels. This occurs after your job vacancy from Community Manager She was criticized on Twitter, for requesting a person without children and with a driver's license.
---
– The work of the Community Manager has escalated more and more, with a more active role outside of simple publications through a computer or smartphone –
---
"The license requirement is due to the fact that sometimes I require my team to be in charge of reviewing events, sponsorships, even payments," he explains to this editor, who consulted Girón for the details of his vacancy, to clarify why it was distorted by a well-known critic of vacancies.
Estefania explains that her activity as a therapist prevents her from being present in the activities that her team must support her, on what she explains that she asks for a community manager without children, it is because the vacancy demands time and that they are 100 percent present.
"That does not mean that if someone with children, committed to work and who complies with the experience applies, they will not be considered (…) for no reason has the intention been to discriminate, exclude or put someone down," he says.
Aspect of the type of activities that Estefania Girón's community manager has to supervise:
Nowadays, the work of the community manager is so important that even platforms like SproutSocial They have been given the task of finding out what the profile of the appropriate social network administrator is.
In its study recommended that he should use videos (83 percent), answer questions (83 percent), and intervene in conversations (68 percent). All this based on the perception of consumers of how they perceived that communication in networks should be.
The work of the community manager has grown more and more and in this proportion is that the trust of brands and personalities in their activity within networks has increased.
DEGREE IN COMMUNITY MANAGER
The value of community manager It is such today that even universities already offer specialized degrees in this activity.
"The Bachelor's Degree in Digital Marketing and Community Manager will provide you with the necessary tools and knowledge to create and direct highly efficient digital advertising campaigns, based on the identification of the target audience and their needs, to generate personalized messages that guarantee the fulfillment of the objectives of the brand", promises the "ieu University" in the promotion of the career it has.
With a greater professionalization of the work of the Community Manager, a wide job offer on platforms such as Bumeran and OCC, it is indisputable that there are new roles to fulfill, especially due to the dynamism that exists in positions of this type.
BEING A COMMUNITY MANAGER TODAY
The value of publishing complete and honest job vacancies, based on the needs that an influencer has or a company registers, determines these opportunities for talent whose life plan is suitable. There are plenty of other job opportunities that cater to talent looking to work from home, have on-the-job childcare, or have special benefits for employees who have become pregnant.
Each employer determines the possibilities of the vacancy based on their resources, especially when it comes to a vacancy that must cover documentation activities, which are no longer limited to writing behind a screen.
Now read: