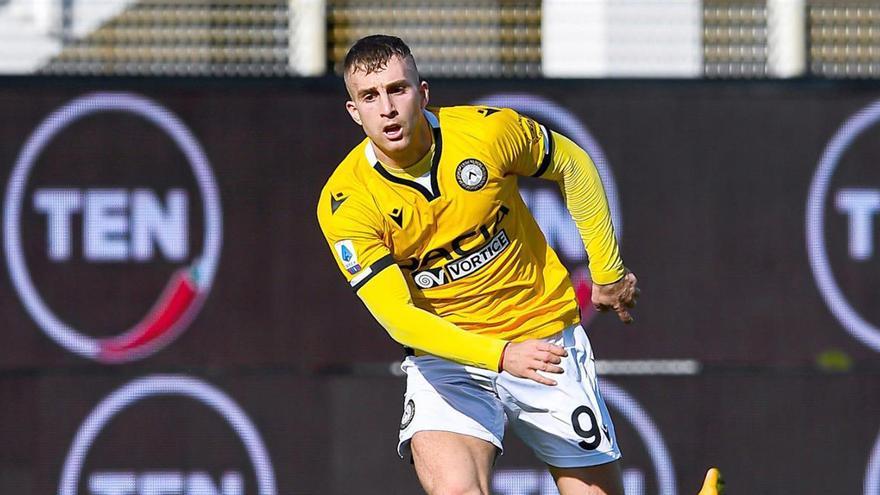 The race of Gerard Deulofeu It began as a roller coaster that the media already placed at the top, baptized as one of the "new Messis". At such a young age and with such an early progression, it was difficult for the Catalan footballer to stand out in a Barça full of stars, and he had to emigrate to straighten out his sports career.
And boy did he succeed, the winger from Riudarenes rears his head in Serie A as one of Udinese's stars, having overcome two long-term injuries. The road has not been easy, as Deulofeu has had to deal with a torn cruciate ligament, and a more recent operation on the meniscus that has not allowed him to shine continuously. Until the current season, in which he accumulates six goals and two assists in 17 games with Udinese played in Calcio. At 27, the Spanish winger has managed to take off, thanks to his maturity and a balanced life, as he recounted in an interview with Radio Marca.
Deulofeu's feelings on an individual level are very good, and he is relieved to have put his physical ailments behind him, despite the irregularity of the team in Serie A: "I am very happy with how this season is going. Yes, we have to improve in terms of the team, but having already overcome the two operations I give a lot of value to being playing and being able to train. When I see that I can train with intensity, it's a joy to enjoy football after injuries." the footballer was honest
The former Barça player is satisfied with his resurgence on an individual level, although he admits that the team, fourteenth in Serie A, has pending aspects to polish: "It is not the same to score ten goals and that your team always wins, as your team draws or loses. This year we are having a hard time getting victories. But not everything can be in this life, it is something that I have also learned.
Deulofeu's difficult start
However, it was not easy for the winger turned second striker to find his place in elite football. Comparisons with Leo Messi in one of the best teams in history weighed him down: "You don't handle the situation when you're young. It was a 'boom' from a very young age, he came from the best club in the world. Everything happens very quickly and you must go through different changing rooms to reach the point of current maturity. I'm young and I've had many experiences already."
The concatenation of football experiences formed a mature player, with a focused head and who has settled into regularity: "Gerard Deulofeu used to be one good game and three bad. Now, Every game I put in a remarkable performance because I perfectly know what the coach and my teammates want. I go to the millimeter for that to happen", the 27-year-old attacker explained.
Deulofeu goes through his happiest moment at Udinese
Two moments of greatest fulfillment stand out in Deulofeu's club tour: "My two happiest stages were my period at Milan and now in Udinese". Gerard claimed to have reached the peak of his performance on the field thanks to his balanced life: "I have a very calm and organized life, I'm very happy. You must first have a clear focus on how to have your personal life and transfer it to the field. You have to go to games with a clean mind.
Despite not having enjoyed it as much at FC Barcelona as at other clubs, Pep Guardiola left an indelible mark on Deulofeu: "I would have loved to have had a full season with him. He was one of those coaches who always stayed with me to explain the concepts. Every player who goes through Guardiola later does better. I have had very good coaches, but I would highlight him." was the opinion of Riudarenes, who was barely able to play games at Pep's Barça.
That Deulofeu can be seen in the mirror of the young people who stand out in the current Barça team. However, on this occasion the economic and sporting context have promoted a policy of relying on the club's promises, with more opportunities in the first team than back then. The Catalan winger was blocked by one of the best teams in history. Still, he marvels at the generations to come: "It seems surreal to me the level of these young boys who are giving at FC Barcelona. When someone gives you that level, it means that they have an incredible future. You have to have a very well organized head for it."
Once he left FC Barcelona, ​​a very different world awaited Deulofeu: "The change from playing with Barça to being at Everton, Watford…, it was a different type of system, of objective, and I had to take advantage of the minimum opportunity that was given to me". For the former footballer from La Masía, this project full of talent promises to bring a lot of joy: "A very nice project is coming to the Barca. They are in a reconstruction phase in which you have to be patient. But I am very happy to see Xavi on the Barça bench, and the board that has come on board. Young players with a year and a half of experience can compete at an incredible level. If the project works well, we will have some incredible years"
The circumstances and the different clubs through which Deulofeu has passed have converted the player from an open winger to a second striker who plays inside: "Since my time at Watford with Javi Gracia I play as a second striker. I have that verticality, and also I am improving in terms of goals. The position of second striker makes me create more scoring chances."