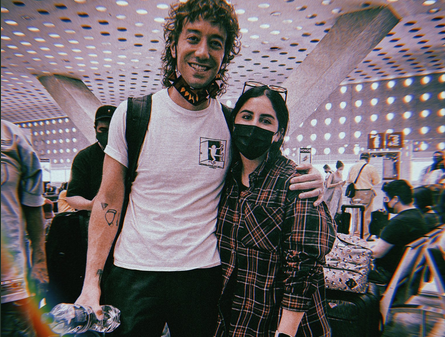 Aeroméxico failure managed to benefit a user, as she managed to travel on the same flight as The Strokes.

Aeroméxico is one of the most important and most recognized airlines in the country.

Ticket overselling is a phenomenon that has been present in many companies, it is not exclusive to airlines.
Through her Twitter account, a user shared her incredible experience, because after receiving bad news from Aeromexicofound himself traveling on the same plane as the band The Strokes. The band recently performed at the capital crown and in other events like the Tecate Pa'l Norte in Monterrey.
Supposedly, the problem was that the airline sold the user's ticket to a third party, which caused her flight to be delayed.
As usual, some companies have been singled out for having implemented a supposed system of overselling tickets, which is considered illegal.
Although this is not the first case, because at some point the airline Volaris has also been singled out for this same reason and, at the same time, the event producer, Ticketmaster, has been accused on several occasions by Internet users of overselling tickets and saturate its pre-sale modalities.
For this reason, many Internet users have been dissatisfied with the service of some companies and have repeatedly denounced the facts before PROPHECY.
"I still hate you, Aeroméxico"; sell your seat but travel with The Strokes
A user shared on her Twitter account the dream of many fans, because after missing a flight, presumably because the company decided to sell his seat to a different person, he had no choice but to travel on a late flight. To his surprise, the members of the band The Strokes were on the flight she was on, same as they appeared yesterday during Corona Capital in Guadalajara.
The user's reaction was quite emotional, as she highlighted this event as something important, although she did not miss this opportunity to clarify "I still hate you Aeromexico" at the end of the tweet.
This is the tweet shared by the user:
Wow, they sold my seat on my flight to GDL, they made me fly on another later AND NOW I TRAVEL WITH THE STROKES! 😭😭😭😭😭 Thank you, universe. ✨

I still hate you @Aeromexico.

—Miss Atomic Bomb. (@karlaxgc_) May 20, 2022
A large number of followers commented on the pleasant experience, while some others took the opportunity to express their feelings about this phenomenon, which, according to their words, is something recurrent for those who travel on the airline.
"This is real? By the way, they have to pay you to put you on a later flight." Joah

"They gave me a voucher and when I wanted to use it they told me that they had already used it! I hate them too!", Joseph Louis Rodben

"GODDESS IS COMPENSATING YOU FOR THE DUFF INCIDENT! yn* m****, @Aeromexico,
don't be nefarious", wiccan strange-maximoff

I also hate @Aeromexico. My first experience traveling and they made it horrible, never again with them. By the way, how does it feel to be one of life's favorites? 𝐻𝑒𝑙𝑙𝑦 𝑀𝑜𝑟𝑛𝑖𝑛𝑔𝑠𝑡𝑎𝑟.
In addition to this, the user shared a video of the concert in Guadalajara and a photo with one of the members of the band, the guitarist Albert Hammond:
No suck, they broke my twitter. Ha ha ha ha ha ha. Look, I just saw you in concert. 🫶🏻🥺 pic.twitter.com/QwEwZ6FE1h

—Miss Atomic Bomb. (@karlaxgc_) May 22, 2022
Now read: