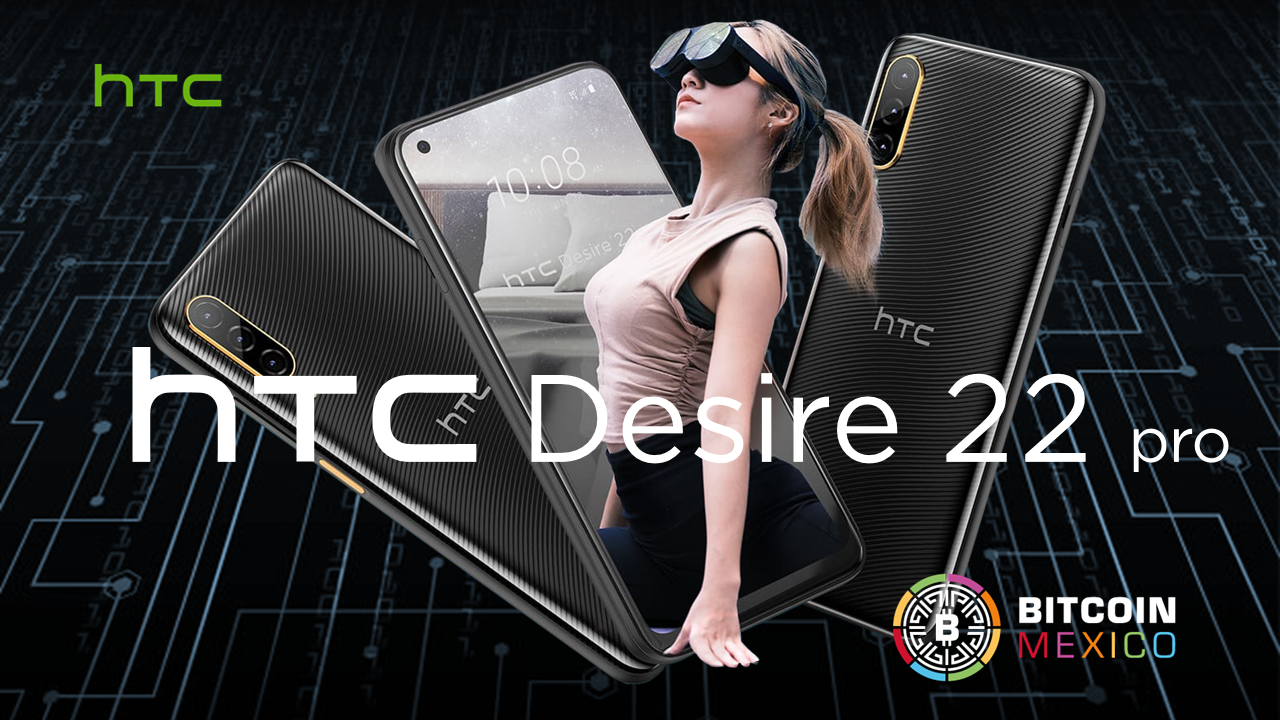 The telephone company HTC has presented its new device Desire 22 Pro model with which the company seeks to enter the world of the metaverse and NFT markets.
This device works with the Vive Flow VR headset, HTC Desire 22 Pro has some pre-loaded applications that allow its users to access and manage digital assets and non-fungible tokens.
Well says a famous phrase "renew or die" and that is exactly what the mobile manufacturer is doing HTCsince although it has not launched a competitive flagship device in years, the firm presented a new attempt to adapt to the new times by present its new HTC Desire 22 Pro device, a model with which the company seeks to enter the world of the metaverse.
This device is designed to work seamlessly with the Vive Flow VR headsetrecently announced by HTCwhich serve to interact with the HTC metaverse called Live.
HTC bets on NFT markets
Similarly, to be completely fashionable, the HTC Desire 22 Pro has some preloaded apps that allow its users to access and manage digital assets and non-fungible tokens.
Vivese also allows you to purchase NFTs on a digital marketplace and "create your own virtual space," as well as including a free non-fungible token, according to the Taiwanese HTC site. The Desire 22 Pro also includes a crypto wallet for Ethereum and Polygon based assets.
However, this information should be taken with tweezers, since it seems that the crypto characteristics vary according to the market, since the information of the device in its UK siteNFTs are not present.
According to HTC Global Product Manager Shen Ye, this phone "opens up new immersive experiences as the perfect partner for VIVE Flow, whether meeting with colleagues in VR or enjoying your own private cinema wherever you are".
Features of mobile crypto
Among the device specifications, the Desire 22 Pro It has a 6.6-inch 1080p screen with a high refresh rate of 120 Hz, in addition to a notch in the upper left part of the screen, where a 32-megapixel selfie camera is located.
On the back of the phone, there are three cameras, a 64-megapixel main camera, a 13-megapixel ultra-wide angle, and a 5-megapixel depth sensor.
If you are interested in multimedia content, this device has image stabilization, night mode and 120fps slow motion capture.
Inside, this device is powered by a Snapdragon 695 processor with 5G technology, 8 GB of RAM, 128 GB of internal storage and a 4,520 mAh battery.
It should be noted that this phone has the possibility of charging with wireless and reverse wireless charging, in addition to running Android 12 and being resistant to dust and water thanks to its IP67 rating. Also, the available team colors are black or gold.
HTC and the crypto market
A relevant aspect beyond the phone itself is that this is not the first foray of the firm HTC in the crypto market. If we do a little memory, we will remember that in 2018 the company launched a blockchain-based smartphone called Exodus 1 .
This smartphone had among its features, a built-in crypto hardware wallet, as well as being able to run a full Bitcoin node. This mobile was followed by Exodus 1Smore affordable the following year.
With the launch of this model, Phil Chen, director of the company at the time, said in an interview for the specialized media Decryptthat in "five years' time it will be trivial to have a Bitcoin node or other blockchain nodes stored on a phone."
Today we are in 2022 and more than half of its forecast, the technology in smartphones is still nowhere near achieving that goal. On the contrary, In order to provide more support and security to users, the competitor Samsung included a secure element in its devices to store crypto private keys.
Desire 22 Pro, the possible new HTC gold mine
The company has a vested interest in this device becoming a hit, as HTC's market share reportedly plummeted in 2018, the year in which the consortium sold much of its division. of telephones to the technological Google.
That was a watershed in the firm's business development, as HTC currently sells very few smartphones, to the point of not even appearing on public smartphone market share trackers.
You might be interested in: