Given the current context, it is possible that many are evaluating acquiring a new computer, so I took on the task of testing the new HP Pavilion x360 2020 for a few weeks to verify, before the release of the promising Tiger Lake chips, how it is that The 10th Gen Intel Core runs on a crowd-focused team.
I say it is a team for the masses because it does not have the most spectacular specifications on the market. The basis of everything is an Intel Core i5-1035G1 chip , which is accompanied by 8GB of RAM and 256GB of storage. Here's their official spec list:
HP PAVILION X360 LAPTOP – 14-DW0001LA
PROCESSOR
Intel Core i5-1035G1 (1.0 GHz base frequency, up to 3.6 GHz with Intel Turbo Boost Technology, 6 MB cache, 4 cores)
RAM
8GB DDR4-3200 SDRAM
HDD
256GB Intel Solid State Drive + Intel Optane
SCREEN
14 "WLED FHD IPS touch screen, 250 nits, 45% NTSC and 1920 x 1080 pixels resolution
GRAPHICS
Integrated Intel UHD graphics
WIRELESS CONNECTIVITY
WiFi 802.11b / g / n / ac and Bluetooth 5
PORTS
1 USB Type-C (power supply via USB port, DisplayPort 1.4; 2 USB Type-A; 1 HDMI 2.0; 1 AC connector; 1 3.5 mm jack for headphones and microphone
OPERATING SYSTEM
Windows 10 Home 64
DIMENSIONS
32.4 x 22.1 x 1.87 cm
WEIGHT
1.61 grams
BATTERY
3-cell, 43 Wh Li-ion
OTHERS
Audio by B&O, 720p HD Wide Vision camera with integrated dual array digital microphones and SD card reader
PRICE
699 usd
Good performance for a day to day and little else
Team performance is acceptable in a sense. For my day-to-day tasks, which rely on web browsing, Slack, video calls, Spotify, and some image editing, the processor showed adequate performance.
Of course, by opening more than 20 tabs in Chrome and opening an app with high graphic demand, I started to feel some stumbling blocks in performance. And I think the 8GB of RAM could be the culprit , it's a figure that is within the average of many laptops for the masses, but 16GB may have been ideal.
What I also noticed a lot during the day is the heat , in case anyone is thinking of working with this laptop on their lap. As usual, reaching a certain temperature the fans are turned on at higher speeds to start with active cooling, the bad thing is that this happens more often than I would have liked.
With my set of day-to-day applications, it was common to hear the fan run at its maximum rpm . And the worst thing is just that, which is heard when the fan is trying to cool the equipment.
I liked the ignition speed. This model has a 16GB Intel Optane drive that practically works as a communication bridge between the SSD and the RAM memory, which is quite noticeable in the startup speed of Windows. 10 seconds and the operating system is ready to use , and if we turn it off we only need 5 seconds to close the lid.
For the start we have the help of a fingerprint sensor on the right side. It is small and not as precise as I would like, but at least if it can identify us, it "avoids the fatigue" (yes, in quotes) of entering the password to log in.
As usual, the battery life depends a lot on what we are doing and in what way we are using the equipment. On my traditional day, set to "Best Performance," the battery lasted just over four hours . A figure that can be improved if we are more cautious with the brightness of the screen and if we change the configuration to "Battery saving", but do not expect a spectacular autonomy either .
A laptop that can be made into a tablet
The design of this 2020 HP Pavilion x360 is uncomplicated. It's solid, but not the most streamlined . Its weight is 1.64 kilos and its dimensions 32.4 x 22.1 x 1.87 centimeters are within expectations for a model with a 14-inch screen.
One of the selling points is its hinge that, as its name implies, allows us to make a 360-degree turn to become a tablet or to go to some mode where we can take advantage of its touch screen.
But none of these modes of use convinced me. Its weight, the size of its screen and its thickness, make it practically a huge, heavy and ugly tablet. I definitely stick with the traditional laptop mode.
I think part of the fault is the huge bottom frame that it incorporates . I know that perhaps its inclusion is necessary to put much of the hardware that makes the screen work, but it makes the size of the device increase significantly .
The screen is 14 inches, has a resolution of 1920 x 1080 pixels, it is an IPS panel and its brightness is 250 nits. I like its sharpness and color reproduction, although it is difficult to visualize in sunlight .
The keyboard is within expectations. It does not have a huge route but it is comfortable for long days of writing, all this text and several other writings here were made with it. Its negative point is that there is no backlight , which will make it difficult to use, for example, at night and with lights off or dim.
One of the elements that for me are decisive when buying a laptop is the trackpad . The one on this model is big and precise , I loved it. Perhaps the only complaint is that I felt that before pressing it to activate the click, the entire trackpad sinks, giving a strange sensation that is even difficult to explain.
But from there on out, all gestures, both navigation and multitasking, are reproduced very well on the trackpad . I am an intensive user of Windows 10 desktops, and I did not find any problems with the recognition of my four fingers or with the fluidity of switching between screens or apps.
The connectivity section is quite complete in this HP Pavilion x369 2020. On the right side we have an SD card reader, a USB-C that works to transfer files, such as DisplayPort 1.4 or even to charge the battery , a USB-A and an HDMI 2.0. On the opposite side are a USB-A and a 3.5 mm jack that in combo works as an audio output and a microphone input.
We have a proprietary HP charging connector, but as I said, we can also USB-C. Although I would recommend taking a good look at which charger is used, or at least taking care that the power matches that provided by the charger that is included in the box.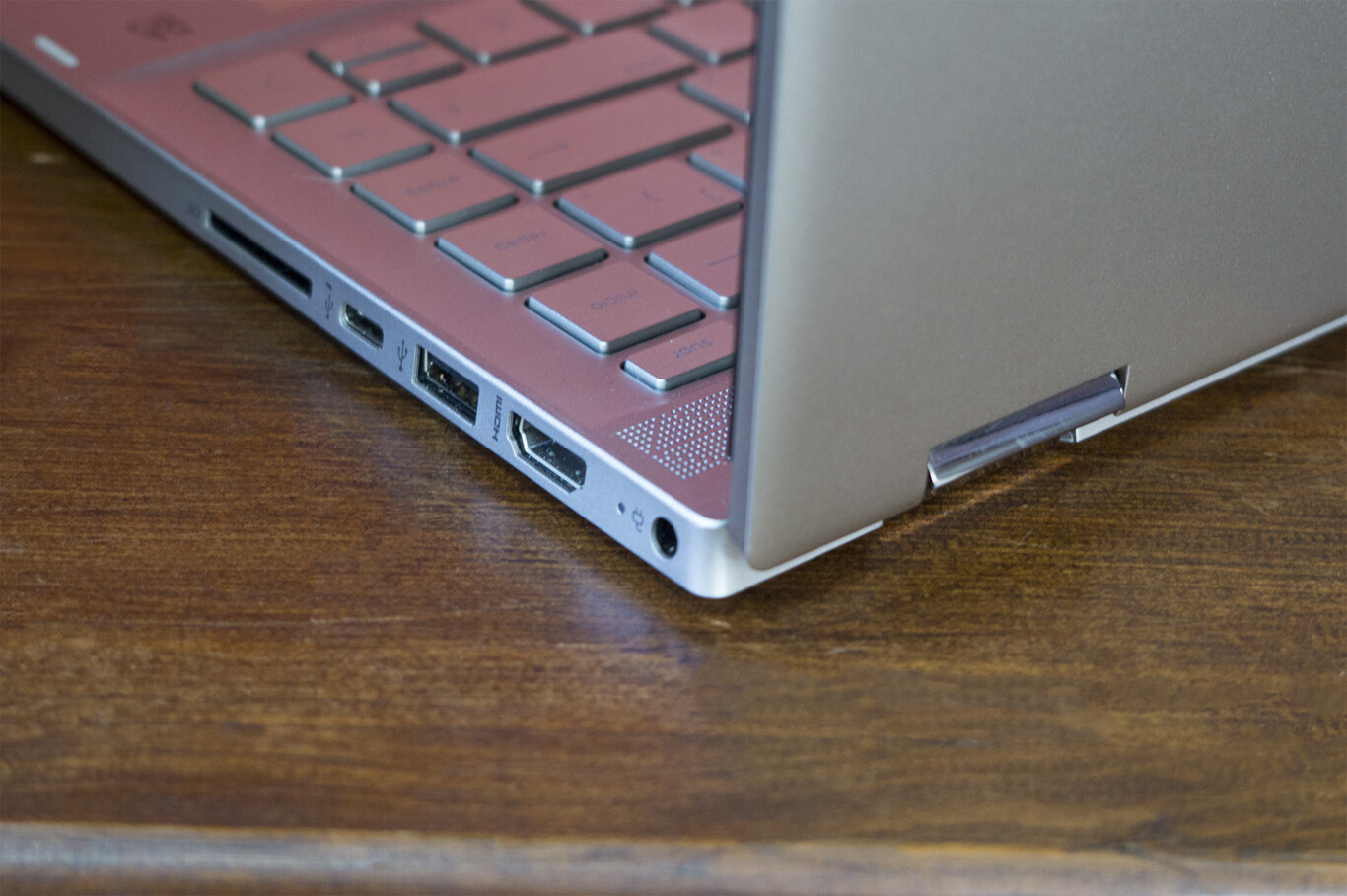 The B&O logo is printed on the case, making it clear that it is the firm in charge of the audio. However, there is very little to highlight in this section. The speakers are under a grill between the keyboard and the screen, and their performance is based on powering the middle frequencies, forgetting about the treble and, mainly, the bass.
Opinion
In general, the HP Pavilion x360 2020 complies as a laptop. The trackpad , performance, screen, and keyboard perform very well for the segment where it competes. Although it also has room for improvement, mainly with the tablet concept, the battery and with some improvements in its general design (like that huge lower frame).
Although my main conclusion is that the 10th generation Intel Core chip still has something to give in this 2020 , mainly in the segment of laptops for the masses. Although I will not lie either, at this point with the announced 11th generation, with all and that promise of performance leap in the integrated graphics, it seems like waiting a bit to acquire a much more capable team.
Although I think the biggest concern of laptops with 10th generation Intel processors must be what AMD is doing with their Ryzen 4000s , because they wave the flag of having a great price-spec ratio and it seems that they are fulfilling it.