Is it worth paying for a warranty extension? According to the case, being the best in which we never need it. But today we will see a counterexample, a man in the US who saved $ 30,000 in breakdowns in a Kia Sorento.
From Reddit comes a story that is at least surreal. An unidentified customer bought 10 years ago a 2012 Kia Sorento 2.4 in United States. The SUV's original warranty wasn't bad, 10 years or 100,000 miles (160,934 km), but the owner wanted more peace of mind, given its projected high mileage.
The dealer who sold you the car made you an offer: that the guarantee reaches 10 years regardless of the mileage per $7,000, so it would be exempt from any major breakdown. In addition to that number, the money would have to be spent on scheduled maintenance and whatever wears out. Well, he accepted.
Throughout these 10 years, the Kia Sorento's odometer has accumulated an astonishing 608,061 miles, or what is the same, 978,580 kilometers. The story has transpired thanks to an employee of the concession, since the Sorento has ended up being repurchased by the dealer in exchange for another model for $ 1,425 – practically nothing.
Doing almost a million kilometers with a four-cylinder engine is pretty good. It is the 2.4 MPI of the family Theta II, coded as G4KE, a supposedly proven mechanical base. Its benefits are normal, 178-179 CV and 230 Nm of maximum torque at 4,000 RPM. It is not a very heavy car, especially for the United States.
However, history begins to change sign when we find out that it has needed nine engine changes (9), so each one has lasted almost 100,000 kilometers, a very low figure for a modern engine. For oil changes it would not be, he has done 203, practically every 5,000 kilometers, so he did not rush the intervals.
The automatic gearbox has been another component that has not stood the test of time very well, requiring four gearbox replacements (4). Maintenance shouldn't have been a problem either, the transmission oil was changed 20 times.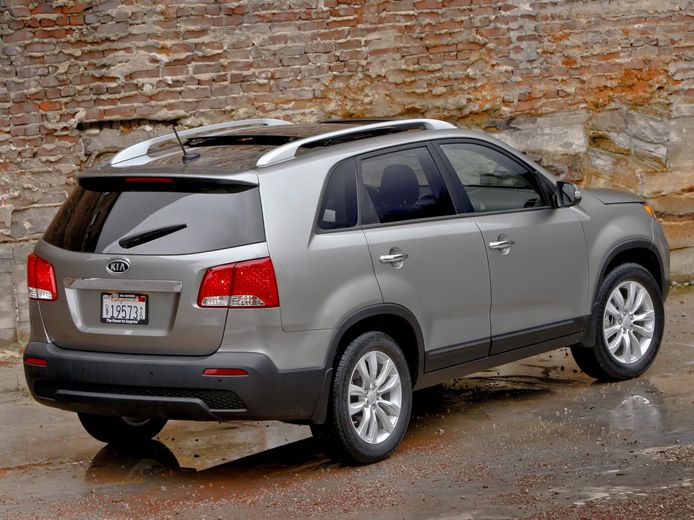 The million dollar question is how was this man driving? Okay, the annual mileage was very high, almost 100,000 km per year, which makes a monthly average of more than 8,300 km, so we can safely assume that he had had enough of doing the motorway. Specifically, between California and Minneapolis, that are about 3,000 km.
Why so many engine changes? The informer gave clues that the Sorento was melted down by the owner, he was driving it "on board", arriving at the workshop with very serious internal damage. Damaged pistons, connecting rods, cams, cylinder heads, and even a split crankshaft were found.. Apparently negligent use was not determined, because the car kept going and needing major repairs almost on a regular basis.
Knowing the United States and how the police spend it, going too fast as usual does not seem very reasonable, they would have sewn fines. It may have oil consumption problems, a known problem in the US for those engines and that have even been sued collectively against Kia.
Only in changes of engines about 33,500 dollars were saved, at 4,500 dollars each, to which the cost of the gearboxes would have to be added. Of course, in exchange, he went every 5,000 kilometers to carry out maintenance in the same place. Well, they would see him once or twice a month.
The Kia Sorento will now be for sale with a beastly mileage, but with a single owner card and a recently changed engine/gearbox. Anyone who doesn't know this car's abuse history might think they're getting a bargain, maybe.
The customer in question paid $18,000 to keep a Saturn Vue Red Line from the dealer, surely one of the last units before the bankruptcy of General Motors (until 2009). By the way, we knew that car in Europe as Vauxhall Antara. Let's hope he gets better treatment than poor Sorento.
Source: Reddit