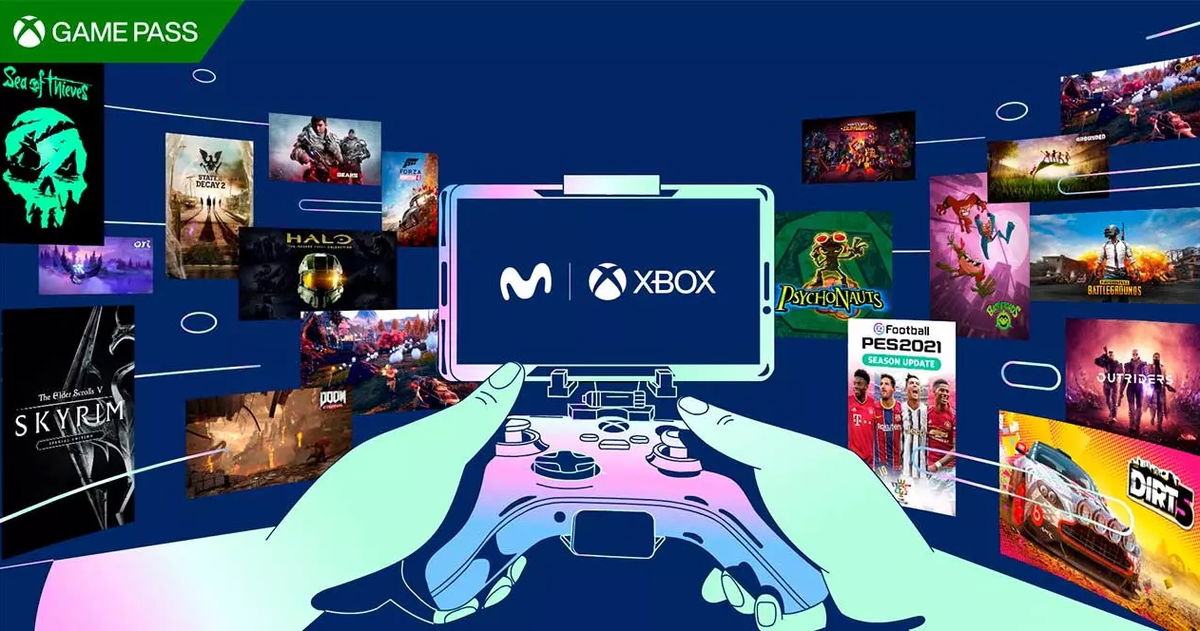 Share
With your Movistar Fusión package or a mobile contract, you have access to a free month of Xbox Game Pass Ultimate.
Xbox GamePass is one of the star subscription services in the video game sector, making available to its users a catalog of more than 100 available games, highlighting works by such important brands as Bethesda, Electronic Arts or Activision, among many. This is one of the most successful strategies of the Xbox brand in recent years and now they have signed a great alliance with the telecommunications giant in Spain, Movistarto offer the service for free.
Thus, If you are a Movistar Fusión customer, you can request a month of Xbox Game Pass Ultimate for free right now and enjoy the service without the need to have an Xbox console, since the program can be enjoyed on PC, tablets and mobiles. In addition, the catalog of available games is constantly renewed, so you can enjoy new exclusive titles from Xbox and other major publishers that join the service. But, what requirements must you meet to have access to this Movistar promotion with Xbox Game Pass? How long does it last? We tell you.
Xbox Game Pass on Movistar for Fusion customers and mobile contract
Movistar and Microsoft have signed an agreement whereby all those current clients or new hires to Movistar Fusion can claim in a way totally free and without permanence one month of Xbox Game Pass Ultimate. Therefore, if you are already a customer of the telephone company with any of the Fusion packages, you can already claim the free month of Microsoft service. Also, if you have a mobile contractyou can also claim it without any problem through your private Movistar area, the Mi Movistar app, by going to your nearest brand store or even by phone call.
However, you should know that this promotion is only available for one monthso if after that time you want to continue subscribing to Xbox Game Pass, you have to pay €12.99 per month, just as you can cancel it at the time you want if you are not convinced. The best news in this regard is that, just for being a Movistar customer and joining this promotion, you receive a bonus of 20GB/month that you can activate on any of your mobile lines at no additional cost.
How to start playing with Xbox Game Pass
You already have your free month of Xbox Game Pass, but, How do you start playing the more than 100 games that the catalog has? The first thing you have to do is select the platform you are going to play on. If you have an Xbox One or Xbox Series X|S console, it's as simple as accessing the Game Pass application within the console and selecting the title you want to start playing. If your choice is the PC, a tablet or a mobile, this is what you should do.
So the first thing you should do is create a Microsoft account where you can redeem the code you have received from Movistar. Therefore, it generates an email from Outlook or Hotmail to associate it with your Xbox Game Pass account, with which you will have completed the first step. Also it is recommended that you have an Xbox controller to receive the best experience, although a large compendium of games have touch controls to play it on mobile phones or tablets. Now it all depends on the device you use to play.
If your choice is the PC, the easiest thing is to access via the Xbox Windows appto which you can have access without any cost from the Microsoft Store. As soon as it is installed, it will be as easy as going to the section cloud gaming to have access to the entire catalog and start playing from that precise moment. Note that the fluidity of the game will depend on your internet connection.
On the other hand, if you choose a tablet or mobile to enjoy Xbox Game Pass, you have the official service app both in the app store like in google play. Once installed, it is as easy as accessing the cloud gaming catalog and start enjoying those that interest you the most.
How to cancel Xbox Game Pass on PC, tablet and mobile
You have already enjoyed your totally free month of Xbox Game Pass Ultimate thanks to the promotion with Movistar, but you do not want to continue with the subscription. What do you have to do to cancel it? Here we explain what you must do to turn off auto-renew and that you will not be charged next month.
On PC, you will need to access Microsoft services page and sign in. There you can see all the subscriptions you have active. Select the Xbox Game Pass and click Manage. The last step will be to press on Cancel to disable automatic renewal.
On tablets and mobiles the process will be the same, you will have to access the Microsoft services page link from the device you are using and follow the steps above.
What games does Xbox Game Pass include?
The Xbox Game Pass catalog has great titles that you can enjoy within the reach of a click, although it is about a variable collection that is constantly updated. However, titles exclusive to Xbox, Bethesda and Activision Blizzard are always present, so you can play sagas like Gears of War, Halo, Forza or Call of Duty, among many others, just by being subscribed to the service. However, there are video games from other types of well-known brands such as Electronic Arts, Bandai Namco, Take Two or Square Enix.
you can check the catalog of video games available on Xbox Game Pass to know what titles are available right now in the Microsoft service and thus know what options you have for your gaming sessions, something that can be crucial in your decision to renew the service or not.
Related topics: Xbox
Share
Sign up for Disney + for 8.99 euros and without permanence Subscribe to Disney+!