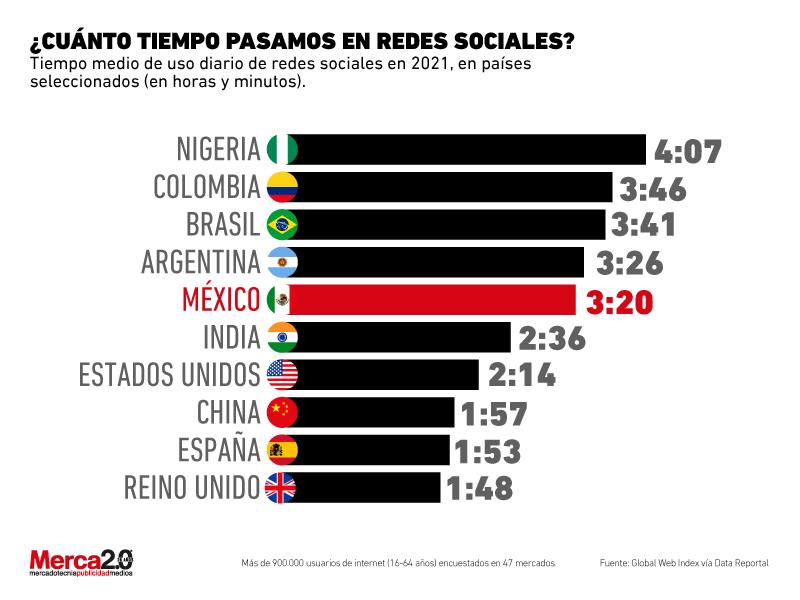 we show you how long users from different countries connected to social networks stay connected daily.
Currently, social networks are shown as indispensable spaces in the daily life of millions of people around the world, who use these platforms to meet all kinds of objectives, such as being informed, entertained and even educated, characteristics that go beyond their main mission, which was to connect people with their respective social circles.
According to the Digital 2022 study carried out in a joint effort by We Are Social and Hootsuite, Currently there are more than 4,620 million users connected to social networks worldwide (a growth of 10 percent compared to previous years), in other words, more than 58 percent of the world's population is already connected to social media.
Also, there are some of these platforms that have been shown as favorites in the eyes of Mexican Internet users; According to the graph shown by Statista on the social networks with the highest percentage of users in Mexico As of January 2022, WhatsApp was proclaimed the leader by being present in 94.3 percent of Mexicans, Facebook in second with a presence of 93.4 percent, Facebook Messenger in third with 80.5 percent, Instagram in fourth with 79.1 percent. and TikTok in fifth with 70.4 percent, among other recognized platforms that are used daily such as Twitter, Pinterest, etc.
Having the high presence of these platforms in the daily life of users, social networks have become spaces that go beyond sharing and consuming digital content, since it is a space that has managed to benefit millions of people in the world. work environment, including in terms of job search.
A study published by the MX Internet Association on the Internet job search in Mexico 2021, shows some of the digital platforms that are mostly used by the company's recruitment teamwhere social networks have been considerably present, since LinkedIn is positioned as the second main employment exchange among companies with 10 percent acceptance, while Facebook is in second with 9 percent, only being surpassed by OCCMundial that is in first place with 62 percent acceptance.
Social networks have endless benefits to exploit for those who like to spend a lot of time in these digital spaces that have proven to be the communication channel par excellence of the present and futureallowing the world population to be aware of any type of event that could occur in any geographical point on the planet (even from the other side of the Earth) in a matter of seconds, only requiring in return an internet connection that allows you to receive such information.
Social media is proclaimed as the great of digital communication, accepted by both users and companies, how will these platforms continue to impress us in a couple of years?
Now read:
Order pizza from Little Caesars and receive "stone"; delivery disappoints customer
"I want my coffee"; BBVA offers coffee and an apology after erroneous deposits
From shopkeeper to dogfluencer: dog becomes the best store advertisement