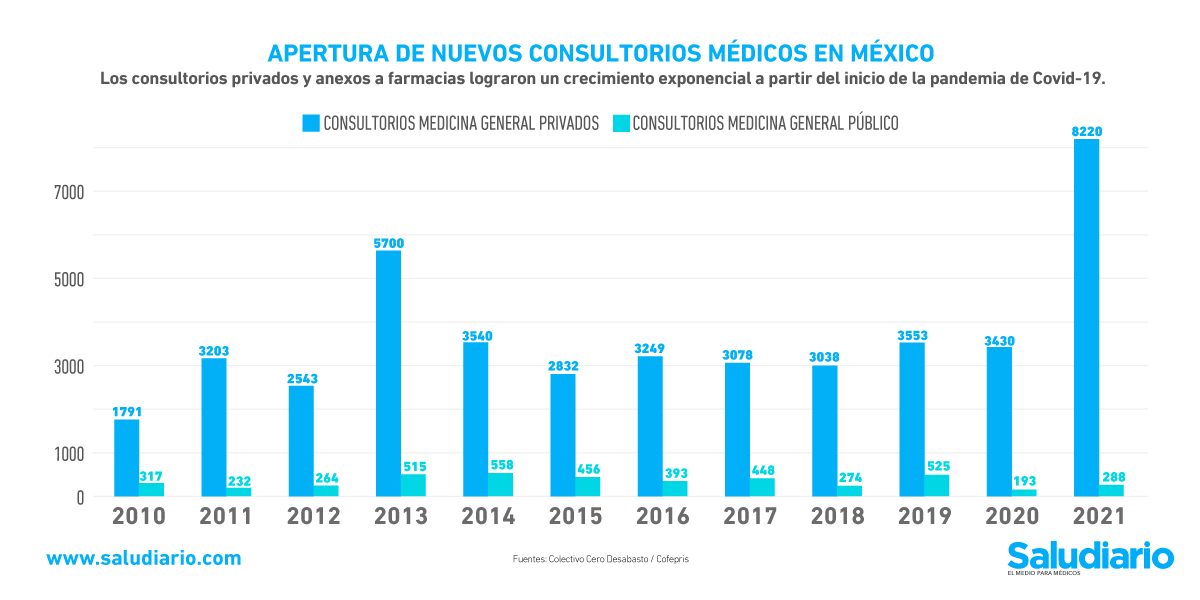 2021 broke a record as the year with the largest opening of medical offices in Mexico.
NOM 178-SSA1-1998 establishes the minimum infrastructure and equipment requirements for outpatient medical care establishments.
The highest authority on this issue is Cofepris.
Health is one of the essential sectors for any society. Caring for the integrity and well-being of patients is not easy and that is why qualified people with the right knowledge are required. With this in mind, in countries like Mexico medical offices live a golden age because there are more and more spaces of this type.
Although these places were already showing an upward trend, the Covid-19 pandemic was the trigger that exploded this business. During 2020, a exponential increase with respect to the opening of patient care centers.
The main failures of public health centers
In this sense, one of the problems of the IMSS and ISSSTE is the waiting time to be able to enter the office. In both it is too high due to all the patients who come to be treated. Due, waiting rooms look crowded and have become hotbeds of infection.
For their part, the offices attached to pharmacies have become the great winners of this situation. In addition to offering an immediate service, they also stand out for their affordable prices. To date, general consultations cost between 40 and 50 pesos.
Due to the above, the Zero Shortage Collective made an analysis about the number of medical offices that are inaugurated per year in Mexico. Naturally, both 2020 and 2021 were the best years for this industry.
There are more and more private medical practices
However, what stands out the most is the difference between the general public and private clinics.
As an example, in 2020, 193 public spaces began operations. On the other hand, within the private field the figure was 3,430, so the difference is abysmal.
While for 2021 the situation was repeated, although now in a more noticeable way. Within the public field, 288 general medical offices were inaugurated in Mexico. And in the private sphere, the record number of 8,220 new spaces was reached, being the largest figure in history.
For its part, regardless of whether it is public or private, the highest authority on this issue is the Federal Commission for the Protection against Sanitary Risks (Cofepris). In order to open a service space, it is mandatory to request the corresponding permits.
In that vein, the Official Mexican Standard (NOM) 178-SSA1-1998 It is the document that establishes the minimum infrastructure and equipment requirements for outpatient medical care establishments.
For now, we share with you a graph prepared by the editorial team of salutary about number of general medical offices that are opened each year in Mexico.