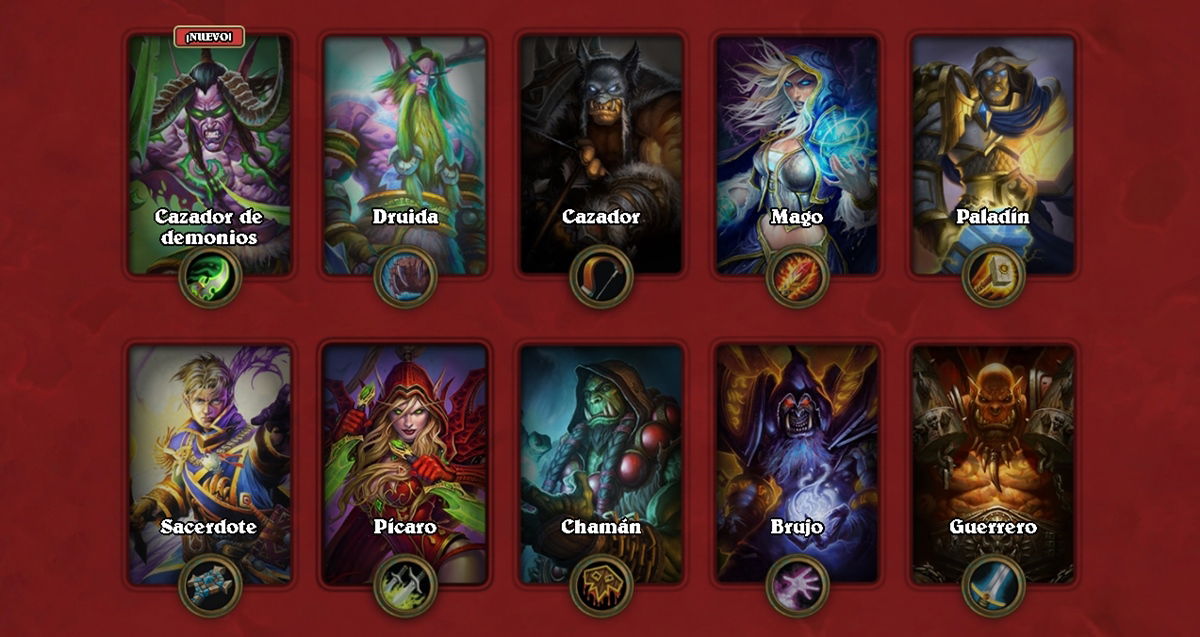 When entering a Hearthstone game, the first thing we have to do is select one of the available Heroes. These are the characters who command the minionsand each of them has certain skills and cards that identify them because they have a certain way of fighting.
It is clear that the type of Hero you choose for your games influences the results, and perhaps having a favorite can be a bit complicated because they all have their advantages and disadvantages. This is why a good player knows each of the Heroes well to accommodate them when necessaryso in our complete Hearthstone guide we are going to show you everything you need to know about them.
Demon Hunter
It is a very offensive class, with devastating and extremely fast attacks, his "Outcast" is a keyword (unique effect) that identifies him, which gives him an advantage when it comes to mana crystals or obtaining cards.
Hero Power: Demon Claws
Grants +1 attack to the Hero during the current turn, this allows him to deal more damage to minions or enemy Hero.
Alternative Heroes
Illidan Stormrage.
Demonic Illidan.
Aranna Starseeker.
Hunter
It is another of the offensive ways of playing, but with very strategic and beneficial attacks if you learn to use them. The Hunter makes use of Beasts with great attack power and effects, in turn, he has Shot and Trap cards that allow him to activate secrets and attack from long range with guided projectiles.
Hero Power: Steady Shot
gives you +2 damage the Hero to attack the enemy Hero.
Alternative Heroes
Rexxar.
Wandering Rexxar.
Rexxar Warsong.
Alleria Windrunner.
Sylvanas Windrunner.
Druid
He is a Hero who focuses on unleashing the wrath of nature on his enemies, so he has several ways to apply plays. The Druid is an extremely versatile thanks to his Treant minions, beasts, and spells. What stands out the most about this one, though, is that it has the "Pick One" keyword on some cards, which allows you to select one effect from the minion's two available ones, and it also has cards that grant extra manaan advantage that not all Heroes have.
Hero Power: Shapeshift
Grants 1 armor and 1 attack during the current turn.
Alternative Heroes
Malfurion Stormrage.
Malfurion Shan'do.
Hazelnut Lady.
Lunara.
Elise Starseeker.
Wizard
It is one of the most used by players because it has the ability to master Arcane magic, and therefore can do direct damage to the enemy Hero with their spells. Minions of this class have powerful effects and some of them can freeze opponents. It's a good choice for being unpredictable, as it also has many ways to trigger secrets.
Hero Power: Fire Blast
Deal 1 damage to the selected enemy Hero or minion.
Alternative Heroes
Jaina Brave.
Medivh.
Khadgar.
Fire Mage Jaina.
Scholar Jaina.
Kel'Thuzad.
Paladin
Paladins are very good at defensive strategies, they stand out mainly because they have the ability to generate Divine Shields, Holy Warriors and Healing Spells.
Hero Power: Reinforcement
Summon a 1/1 Silver Hand Recruit.
Alternative Heroes
Uther the Enlightened.
Lightforged Uther.
Uther rider.
Lady Liadrin.
Prince Arthur.
Sir Plasta.
Priest
It is a class known for having great healing power and a good way of dealing psychic damage. Beyond this, they also highlight the Silence and Clone abilitiessomething that can drastically turn an entire match if used wisely.
Hero Power: Lesser Heal
Restores 2 P. of health of any selected target.
Alternative Heroes
King Anduin.
Anduin Wrynn.
Tyrande Whisperwind.
Madame Lazul.
Rogue
As a Rogue you opt for a fast and devastating style of play, with these cards you can use the Keyword "Combo", which gives certain special abilities to your minions. On top of that, you can replay cards and generate very powerful spells with little mana investment.
Hero Power: Dagger Mastery
Add a weapon with 1 p. Of attack and 2 p. of durability.
Alternative Heroes
Maiev Shadowsong.
Valeera Sanguinar.
Shaman
Being a Shaman gives you many benefits and many ways to strategize thanks to its versatile spells and minions. His Keyword is "Overload", a feature that allows you to cast card effects all at once, but on the condition that you reduce mana crystals from the next turn. He is also capable of spawning Totems and making his units evolve during the match.
Hero Power: Totemic Call
randomly summon one of the following Totems:
healing totem.
Stoneclaw totem.
Scorching totem.
Wrath of Air Totem.
Alternative Heroes
Thrall.
Warchief Thrall.
Morgl the Oracle.
King Rastakhan.
The Thunder King.
Lady Vashj.
Sorcerer
The Warlock masters the dark arts, so he can generate Demon armies and use curses to benefit from combat. In this class you can be unpredictable and agile because you can discard cards from your hand to summon powerful minions, or manipulate your life to get boosted effects of some cards.
Hero Power: Life Tap
Draw a card in exchange for 2 p. of health.
Alternative Heroes
Gul'dan.
Shadow Gul'dan.
N'Zoth.
Nemsy Necrospark.
Mecajaraxxus.
Warrior
The warrior is a class with extremely powerful attacks because they can wield a wide variety of Weapons, while minions gain Armor to improve resistance. also has a "Fire friend" which allows cards to benefit from hits they take, which can sometimes come from allies that affect the entire board.
Hero Power: Armor
Get 2 p. of armor and they add up every time you activate the power.
Alternative Heroes
Corrupted Garrosh.
Garrosh Hellscream.
To the death.
Magni Bronzebeard.
These are all Heroes available in Hearthstoneif you want to get your favorite, try to try each one of them to know which one best suits your style of play.