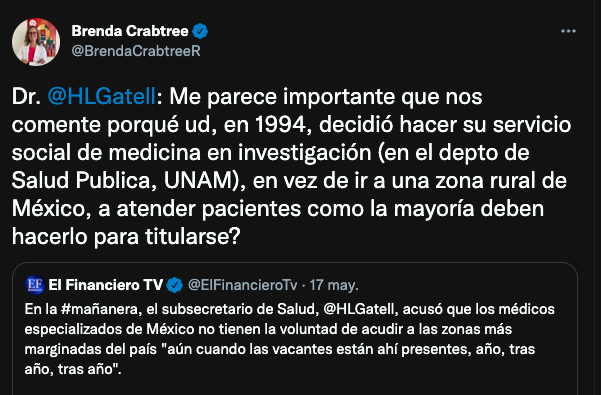 When López-Gatell did her social service in 1994, she preferred to stay in Mexico City rather than move to rural communities.
The government insists that there is a shortage of doctors in Mexico.
Due to the above, the decision was made to hire 500 Cuban doctors.
During the last days a strong division has been generated among health professionals. Everything was generated when both President Andrés Manuel López Obrador and the Undersecretary of Health, Hugo Lopez-Gatellcharged that Mexican doctors do not want to work in rural zones.
To the above they also indicated that Mexico has a deficit of doctors, mainly specialists. The reason is because for years there was no investment in health. As a result, both hospitals and trained people are now needed to care for patients.
Are doctors lacking or poorly distributed?
Now, it is not only about the number of workers but that they are poorly distributed. While most of them are in the big cities, in the towns there are very few or they simply do not have attention.
In this way, when the inhabitants need a service, they must travel for hours to nearby places to find hospitals and doctors. This is a situation that millions of people have faced for years.
With this in mind, the federal authorities signed an agreement for the hiring of 500 Cuban doctors. They are all specialists and their main mission is to care for people in remote areas.
The doctor criticizes his own guild
For his part, the Dr. Lopez-Gatell He pointed out that this decision was made because Mexican doctors do not want to work in rural areas. He added that every year different calls are published by the government but they are not taken.
In the #morningUndersecretary of Health, @HLGatellaccused that specialized doctors in Mexico do not have the will to go to the most marginalized areas of the country "even when vacancies are there, year after year, after year." pic.twitter.com/DftNqtv0zs

– The Financial TV (@ElFinancieroTv) May 17, 2022
Before his statement, the Mexican doctors immediately responded and accused the official's hypocrisy. In particular, they point out that he is the least suitable person to give an opinion. Everything is due to the fact that during his career he has never worked outside the big cities. For the same reason, he does not know or know what reality is like in those places.
Specifically, Dr. Brenda Crabtree indicated that in 1994 Dr. López-Gatell decided to do his social service in research medicine within the Department of Public Health at UNAM. Instead, he was able to select any space far from the big cities to complete his career as thousands of young people do every year.
dr @HLGatell: I think it is important that you tell us why, in 1994, you decided to do your social service in research medicine (in the Department of Public Health, UNAM), instead of going to a rural area of ​​Mexico, to treat patients like most do they have to do it to qualify? https://t.co/SQ3kQXxfAh

— Brenda Crabtree (@BrendaCrabtreeR) May 18, 2022
On the other hand, another of the complaints made by professional doctors is that the main problem of working in rural areas is insecurity and violence. These are places that do not offer sufficient guarantees of care for the people who work there.
In this vein, stories of attacks and aggressions against interns and professional doctors who work in clinics in rural areas are constantly reported. With this in mind, the drawback is not the remoteness but the conditions that prevail in those places.
For now, what do you think of López-Gatell's words about Mexican doctors in rural areas?